CScalp Terminal Review – Crypto Scalping Software for Day Trading
CScalp is a free crypto scalping terminal for day trading. With CScalp you can easily and simply trade in the leading cryptocurrency exchanges. More than 7000 traders from 50 countries run the terminal every day. The service is ideal when the speed of making trading decisions is required.
CScalp interface is optimized for crypto scalping — it is focused on the order book, the deals grid, and clusters. The workspace is set up for simultaneous work with several instruments on different exchanges.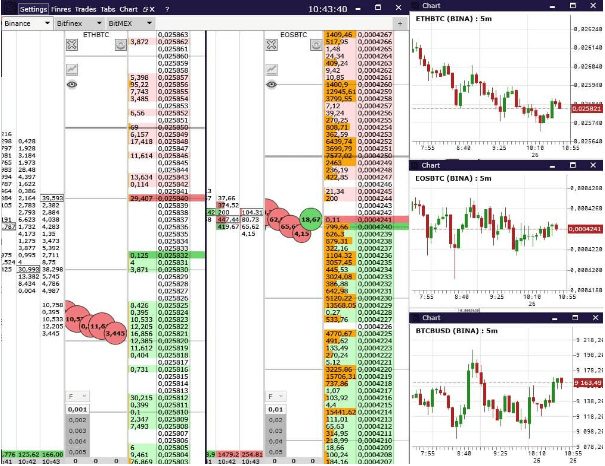 The terminal is constantly being updated and continues to add new platforms to the list of supported exchanges. At the moment, CScalp works with Binance, Bybit, BitMEX, Bitfinex, OKX, and DYDX.
CScalp features:
connect to multiple trading platforms simultaneously;
connect in quotation view mode without performing trading operations;
add and delete order books and display tickers in them for any trading platform from the list;
simultaneous trading of several instruments;
placing and withdrawing orders with one click;
customizing the display of dynamic market rate (DOM style), tick chart (chart of past deals), cluster (cluster analysis);
fine-tuning of the type of incoming market data;
customizing of information display about the portfolio, financial results, and performed deals;
possibility to mark levels on the charts;
possibility to draw trend lines and price levels;
switching timeframes.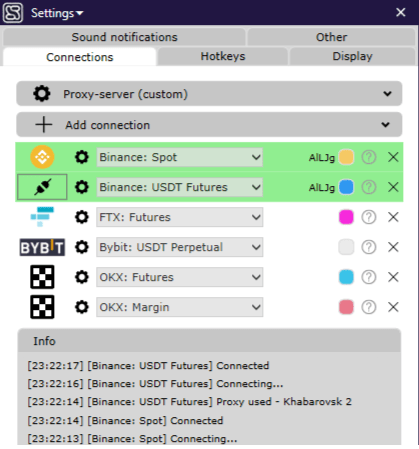 In addition, CScalp terminal has a number of useful features and tools for scalpers:
Multi-accounts. In CScalp traders have an opportunity to connect several accounts of the same exchange to trade through one license of the terminal. This function is primarily useful for professional traders who trade on several accounts at the same time.
Risk Calculator. This tool is designed to help traders calculate the best moment to enter the position and the ratio of reward to risk. Risk calculation in CScalp is available only for Binance and FTX open-ended futures.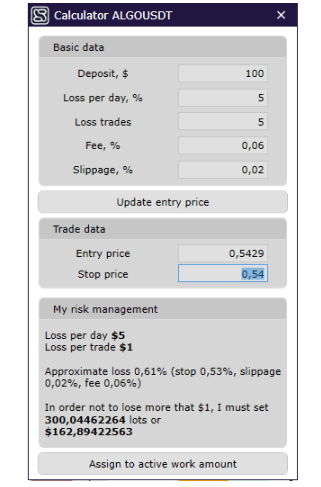 Hotkeys. The function is implemented for quick and convenient navigation on the terminal.
In addition to the service with analytical data CScalp users are provided with:
Trader's Diary. This is an online tool where the main trades are automatically recorded. The trader's diary allows to evaluate user's actions and find mistakes;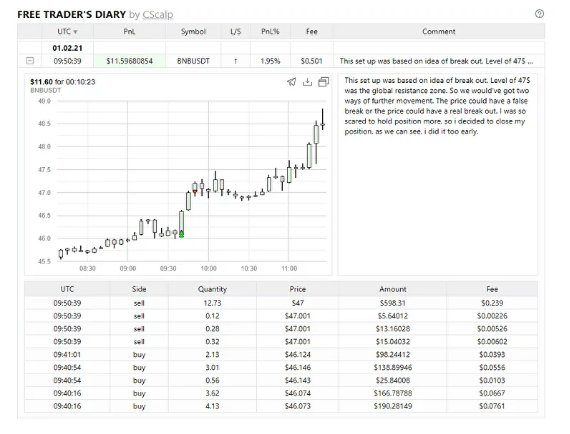 Trader's Chat. It is created in the messenger Telegram. Here traders share their successes, discuss problems, ask questions and get answers;
Signals for trading. These are free Telegram channels with ideas and a system of tips for scalpers, created by the CScalp community.
Scalping course and video tutorials on YouTube. CScalp team has developed a special base for teaching newbies in trading and scalping in particular. All information is presented in detail and you can ask questions in the chat.
To work with CScalp traders need to download and install the software on their computers. The terminal works on Windows and Linux operating systems and is updated daily. There is no application for mobile devices yet.
Conclusion
CScalp trading terminal is easy to use, convenient and safe for all its users. It easily connects to the six most popular crypto exchanges and has many useful features for scalpers. Also, the terminal has a user-friendly interface and a wide set of tools for technical analysis. Moreover, CScalp is not only oriented toward professional scalpers — the service team supports beginner traders and helps them to master the basics of trading.