6 Top Crypto Prop Trading Companies: Up to $2,000,000 in Funded Accounts
Becoming a professional crypto trader is a lucrative career, but not everyone has the capital to start or wants to risk their funds. This is where prop trading firms come into play. These firms can provide you with capital ranging from as little as $500 to millions of dollars, giving you room to just apply your expertise and make profits consistently. 
Today, we have compiled the 5 best crypto-prop trading firms in the market, with options for beginners, semi-professionals, and experts. These firms can offer up to $4 million in funds and come with attractive offers for all traders.
Top 5 Crypto Prop Trading Firms 
The best prop trading firms are:
1. HowToTrade.com
This company believes in people with high emotional intelligence and spends a great amount of time nurturing traders joining their platform to discover those with a lot of underlying talent. 
To be funded by HowToTrade, you'll need to pass the straightforward and transparent criteria shown on their website. Your evaluation process will be made in a demo account, so you're not risking anything while working toward approval.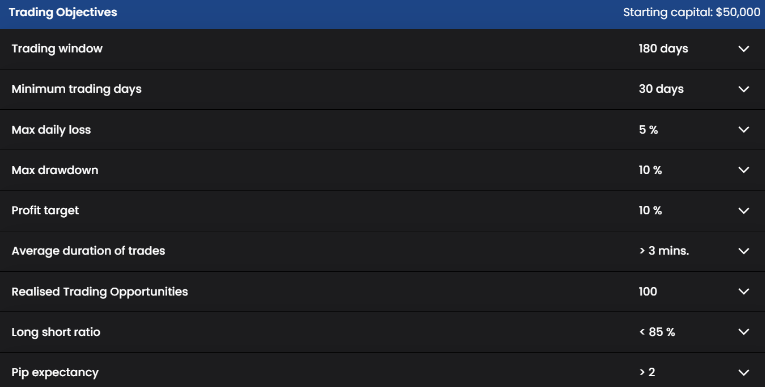 As a funded trader at HowToTrade, you get to keep 70% of the profit, and withdrawal is allowed at any time, twice a month. The funding gets started at $50,000 and can scale up to $2,500,000 if you keep delivering results. 
Markets allowed to trade are: 
Forex 
Indices
CFD
Commodities
Digital currencies
If you want a platform that will provide you with educational content and attention, start with proprietary trading at HowToTrade.com
FTMO
FTMO is a proprietary firm that wants to discover new trading talents by providing them with the funds they need to grow their accounts. It is based in the Czech Republic and fully follows European financial legislation. 
The prop firm offers various trading instruments like forex, crypto, indices, stocks, commodities, and bonds. Additionally, it works well with MetaTrader 4, MetaTrader 5, and cTrader. 
Traders can receive up to $400,000 with a leverage of 1:100 and keep up to 80% of the profits when they start trading. Having such a favorable price split makes it easy for traders to make money, invest in crypto currency and also attracts more new talent to the platform.

How It Works 
FTMO has a two-step process for evaluating prospective traders. The first step is the FTMO challenge. You will have to pay a fee for this process depending on your capital and risk level.
The challenge requires you to earn at least $1000 in 30 days. Once this is complete, every new trader has to go through the verification process, which follows basically the same rules as the challenge. When you succeed at becoming a funded trader, the fee paid during the challenge will be returned back to you following the first profit split.
But if you don't succeed, the fee won't be returned, and you will have to pay again if you still want to trade on FTMO. In addition, any trader who has earned at least 10% in profits over four consecutive months can use FTMO's growth plan and get up to a 25% capital increase every four months. There is no limit on your ability to scale, and within a year, a profitable trader can be managing up to $600,000.
Account Types 
$200,000 – €1080 a month (90% profit split)
$100,000 – €540 a month (80% profit split)
$50,000 – €345 a month (80% profit split)
$25,000-€250 a month (80% profit split)
All accounts come with unique trading tools, and traders can select the risk level they are comfortable with. 
Pros and Cons 
Pros 
Traders keep up to 80% profit.
Free trial challenge 
Ability to scale 
Tutorials, Q&As, and educational material are available.
Cons 
No holding over the weekend.
Smaller initial capital than competitors 
You can only earn when you get a professional account.
       2. My Forex Funds 
My Forex Funds is a fast-growing brokerage firm that offers various account options to users. It provides funded accounts without signing up for the evaluation process. Working with a trusted platform like this, is one way to reduce the risk associated with crypto trading. The company is based in Toronto, Canada, and has more than 80,000 traders in 150 countries.

Account Types 
My Forex Funds Are Rapid 
This account allows traders to start earning profits immediately without going through an evaluation process. However, this account itself is some sort of demo account where the firm will evaluate you for three months before granting you access to more capital.
My Forex Funds Evaluation 
This was created for semi-professionals who need access to more capital. To access the funds in this account, the trader will need to go through a two-stage evaluation process.
My Forex Funds Accelerated 
This account doesn't have an evaluation process but is not for everyone. It is designed for professional traders who have spent years in the market and have proof of profitability.
Programs 
$324,000 – $99 a month (50% profit split)
$405,000 – $245 a month (50% profit split)
$1.08 million – $970 a month (50% profit split)
$1.35 million-$2,450 a month (50% split) 
Pros and Cons 
Pros 
No daily drawdown 
No evaluation is needed.
No time limit for profit target  
Cons 
50% profit split for all programs 
        3. The 5%ers 
For traders who want to start with proprietary trading, the 5%ers are a solid option. It grants traders up to $1.28 million to increase their trading ability and helps new talent transition to full-time trading. The company's main headquarters are in Israel, but they have an office in London as well.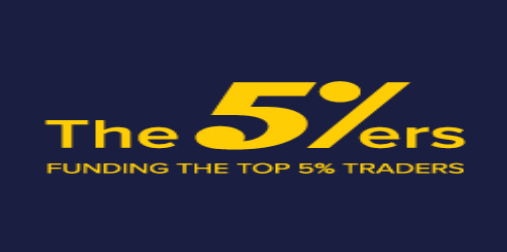 How It Works 
Traders new to the platform will be assigned a Level 1 funded account. Their trading style, profit target, and performance will be evaluated by the firm. Also, traders have to pay a one-time fee to have access to the account.
This account serves as the basis for the evaluation process, as traders are expected to make consistent returns while minimizing their risks. The program requires traders to maintain a 6-7% gain in net profit, and traders under the "aggressive" program are required to sustain a net profit rate of 12%. When you pass, you will receive your first payout and an official trading account.
Account Options 
The options available are divided according to account size and the amount of immediate funding available. These options are:
$24,000-$60,00 in instant funding ($275 per month)
$40,000-$10,000 in instant funding ($450 per month)
$52,000 to $13,000 in instant funding ($565 per month)
$80,000-$20,000 in instant funding ($875 per month)
All options come with a 50% profit split. Each time you reach a milestone, they will double your funds, and you can have access to over $1 million in no time.
Pros and Cons 
Increased potential for aggressive growth 
Funds doubling for every milestone 
Can hold overnight or weekend positions 
Access to professional guidance 
Cons 
Limited leverage options The leverage available is 1:6 for low-risk accounts and 1:5 for aggressive accounts.
50% profit split.
     4. City Traders Imperium
This firm is excellent for traders who want to start small but still enjoy the perks of a funded account. It was established in 2008 and has an office in London.
City Traders Imperium places importance on steady trader development and welcomes different trading styles. Traders can start with an account as low as $2,500 and get up to $200,000 with a maximum of $400,000 as they earn more profit.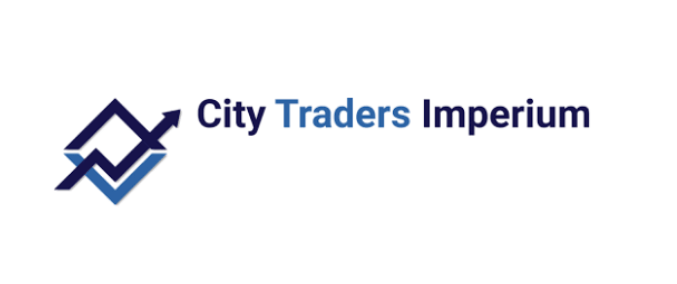 Evaluation Programs 
You can choose between the classic funded trader program and the standard funded trader program. The classic program has a one-year evaluation phase and a profit target of 7%, while the standard program has a six-month evaluation phase and a profit target of 9%. Both programs have account sizes of $2,500, $5,000, $10,000, $12,500, and $17,500.
The Classic Evaluation Program is highly favored by new traders who want more time to learn the market and work with simpler requirements. However, traders can conclude the evaluation plans and request a withdrawal if they have completed 30 active trading days.
Traders who make it through the evaluation stage are awarded 400% of the initial evaluation balance with a 10% growth target and up to 100% profit share. If you fail the evaluation process and want to try again, the firm offers discounts on the evaluation programs of up to 20%.
Direct Funding Program
Professional traders that don't want to go through the evaluation process can join the direct funding program and start earning immediately. There are four different account sizes:
$20,000 – £1,059 one-time payment 
$40,000 – £2,099 one-time payment 
$50,000 – £2,599 one-time payment 
$70,000 – £3,649 one-time payment 
All accounts enjoy a 70%–100% profit split, and the account doubles at every 10% profit target. 
Pros and Cons 
Pros 
There are frequent competitions and coupons for the best traders, with a $400,000 live trading account for the winner. 
Strong online community 
Extensive educational resources 
Scalable profit split of up to 100%
Excellent reputation 
Cons 
Strict drawdown rules 
No free trials 
Low leverage 
       5. Lux Trading Firm 
Lux is a prop firm that was created to bring professional traders together to discover trading opportunities. It prioritizes trader strategy execution, analysis, and trader growth. The firm offers traders up to $2.5 million for trading activities, with profit sharing of up to 65%. 
There are not a lot of strict rules like at other firms, and it offers an easy experience to new traders.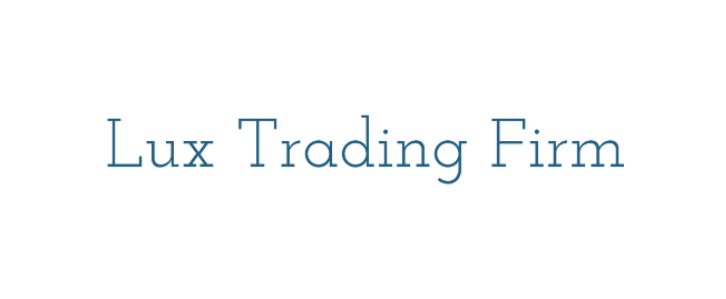 Account Sizes 
The firm offers three different account sizes, which can increase after the trader reaches certain profit targets.
The accounts include:
$5,000 to £299 per month 
$10,000 to £399 per month 
$15,000-£499 per month 
All account sizes come with a 65% profit split.
 How It Works 
When you buy a funded account, you are given a demo account before you can begin trading properly. Traders need to meet a minimum of 6% profit growth, and you have 29 days to complete the challenge. If you succeed, you can move to a larger trading account.
Every time a trader makes up to 10% profit, the firm will increase your capital until it reaches the $2.5 million mark.
Pros and Cons 
Pros 
There is no time limit for profit targets.
EAs allowed 
Fast scaling 
Cons 
Conclusion 
Take time to consider each platform before deciding on the best one to start with. Except if you are an experienced trader, it is advisable to go through the evaluation process and get a good footing before you start making profits properly.