BREAKTHROUGH IN THE WORLD OF CRYPTO TRADING
Cryptocurrencies are here to stay. That's almost a fact of life. And the cryptocurrency markets create opportunities and wealth and they get you excited, but they also let agony sear through you.
A couple of years ago, cryptocurrency markets witnessed a bull run that lasted until January 2018. Both pros and inexperienced traders were caught by surprise with the deep and violent corrections that followed. And suffered losses of around 80% and sometimes up to 95% that year. It's 2021 now. And the history repeats itself (although not quite in the same magnitude). Within ten days, call it even two weeks, BTC, ETH and co. lost almost half of their value. And investors are in search of who or what is to blame.
There is a company located by the lake of Zurich, in Switzerland, that has created a cryptocurrency trading platform which, in the hands of both, the veteran professional trader and the less experienced amateur investor, has the tools to navigate such market rollercoasters.
QoinIQ was founded in January 2020 by a very small team of financial experts with a combined century-long pedigree in the financial industry, be it in investment banking, derivative product structuring, warrants/options and algorithmic trading, teaching in banking and finance faculties, financial analysts, senior UHNW private bankers/members of investment committees and specialists in finance high tech, with experience in crypto trading and arbitrage. Before they founded QoinIQ, they had performed extensive market research & analysis to find out that many trading platforms lacked the features and depth to trade efficiently and effortlessly.
And they shared the same beliefs and values: that everyone, not only a privileged few, should have access to premium financial services and opportunities to create wealth, that cryptocurrencies and their underlying technology are becoming the new mainstream and are the means to reach that goal. And they created QoinSuit, a crypto trading platform that aims to become the benchmark in efficiency, user friendliness and speed.
In essence, QoinSuit is developed by traders for traders.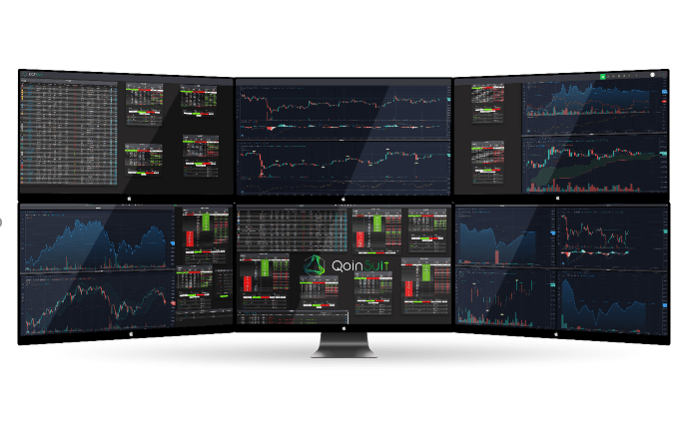 In search of who or what to blame for these corrections, both back in 2018, as well as the current one, the lack of tools to perform efficient risk management ranks very high on the list. QoinSuit's creators packed it with features that are not being offered by other crypto-trading platforms, to address exactly that caveat.
Process streamlining and risk management efficiency are supported by QoinSuit's innovations that include a decentralized order management (the order book resides with its own servers), a broad market overview capability for several markets simultaneously (supporting cross-market trading or arbitrage) and conditional order types that go beyond simple limit orders, or "stop loss", "take profit" and "trailing stop" order modifications, that often prove insufficient in times of high volatility. The 2018 and 2021 corrections? Case in point! The platform supports multi-book trading; you will exercise control over order management of spot crypto rates, futures and options, simultaneously. And, if you are active in the field of high-frequency trading, QoinIQ will introduce a unique scalper book.
And what features does QoinSuit demonstrate? Well, for starters, a horizontal book, a core function of the platform. It displays trends, tickers and time stamps for thirty last trades, use of the deep book for additional trades' tracking, quick dispatch of market orders (single or multiple) to the exchange, or allows for direct order entry via the tool itself. With a mouse click… A real-time display of the position and aggregate P&L sums up the picture. The orders window helps to keep track of all orders, filled and pending (all parameters of the latter can be easily changed), or recall any transaction from the order history. Follow all cryptos of your choice on any exchange they are listed, with real time data analysis and configure the watchlist as you deem necessary. A portfolio window allows tracking filled orders with price, volume and realized P&L (intraday or total) together with all position sizes and balances, but also helps a trader design and implement position strategies by entering conditional orders, partial or full.
There are vertical books, chart graphs with technical analysis tools a toolbar for quick access to key features and the ability to customize the entire platform layout. Not to mention that QoinSuit may be viewed in a single display or, if a trader prefers to keep an eye on much more data, uninterrupted, the system supports the use of multi screen displays. Or several chart graphs in a single monitor. Or in as many as a trader can arrange within a person's field of vision…
QoinIQ has already launched an ICO in Switzerland with Altcoinomy (www. https://onboarding.altcoinomy.com/intro?icos=qiq) ending on June 30th and an IEO in Korea with Probit (https://www.probit.com/en-us/ieo/qiq-round1/1) ending on June 22nd, to raise funds for further development of QoinSuit, creation of an opinion crowdsourcing tool and a dedicated trading tool for crypto derivatives.
With QoinSuit's capabilities, a trader could afford spending time away from the terminals and avoid riding the market rollercoaster. Happy fishing, golfing or cooking! Again..
Visit qoiniq.com for more information and play with qoinsuit.com to experience its power.