Types of Forex Brokers: Dealing Desk Vs No Dealing Desk
While the selection of a forex broker is crucial for the safety of your funds, it is also significant to know different types of brokers for a successful forex endeavour. There are two types of brokers in the market, dealing desk and no dealing desk. In this piece, we'll review each of them in detail.
Dealing desk brokers are also known as Market Makers. These types of brokers do not offer direct access to liquidity providers. Instead, market makers manage the market themselves and quote prices of different tradable assets above or below the real-time price. When a client places an order, it is first interpreted by dealing desk brokers.
While dealing desk brokers usually make money through spread charging, market makers tend to offer fixed spreads to their clients. Dealing desk brokers are suitable for both novice and professional clients depending upon their trading preferences. Not to mention, dealing desk brokers trade against their clients. If a client wins, they lose and vice versa. Since dealing desk brokers do not hedge their positions with liquidity providers, they need to pay winning clients out of their earnings.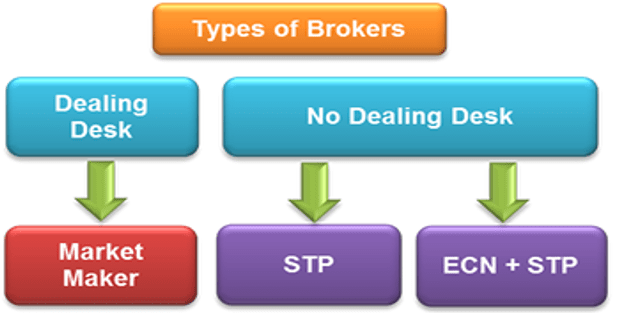 "No dealing desk brokers are sometimes referred to as ECN or STP brokers. As opposed to the working of dealing desk brokers, clients can access the interbank market directly with no dealing desk involved. No dealing desk brokers usually do not get involved in dishonest practices, " according to online brokerage research firm ForexToStocks.
Traders can open or close their positions in real-time. No dealing desk brokers usually offer floating or variable spreads. While the prices of underlying assets are quoted transparently, there is a risk that the spread charge might increase significantly. Not to mention, you may also need to pay a commission on each position while trading with no dealing desk brokers.
No dealing desk brokers are further classified into two more types, ECN and STP. Given below is a quick overview of each type;
 ECN: ECN stands for Electronic Communication Network. While ensuring maximum market transparency, ECN brokers make information accessible to all market participants. These brokers share actual details of the order book, including the price quotations of different Intermarket banks. As there is no markup added to the spreads, ECN brokers charge commission fee from clients.
STP: STP is an abbreviation used for Straight-through-processing brokers. After receiving clients' orders, STP brokers pass them to liquidity providers without interpreting them.
As no dealing desk brokers are connected to the interbank market and allow direct access to liquidity providers, a majority of traders prefer to go with no dealing desk brokers.
Since the forex market is full of legitimate and scam forex brokers, therefore you need to be very careful while staking your hard-earned money. Besides a legitimate broker, it is equally important to know how different types of brokers work so you may choose the one that suits your trading needs.