TRENDING COIN IN 2019
Maybe experienced investors who witness the rapid change of the market also understand the current financial "come quickly and go quickly". So when the opportunities are coming, we need to know how to catch up in time to achieve great success, increase our wealth. If you missed Bitcoin, what next opportunity will be for new investments in the future? The answer is Trustcoin.
About Trustcoin
Trustcoin is a official coin of Trustinvestment Group with licenses registered in the United Kingdom, United States and Hong Kong. The Trustinvestment project started in May 2019 with a agree signing ceremony to sign a contract for supply of solar energy technology and equipment with Lyon Group, one of the most famous corporations in Australia.  Trustinvestment aim to be the world's leading cryptocurrency service suppliers on multi-algorithm cloud platform.
Trustinvestment was established in the United States under License No. 7495493, address at 919 Northe Market Street, Suite 950 Wilmington, Delaware 19801 USA. The Office is licensed in the United Kingdom under License No. 12079296, address at 20-22 Wenlock Road, London, United Kingdom, N1 7GU.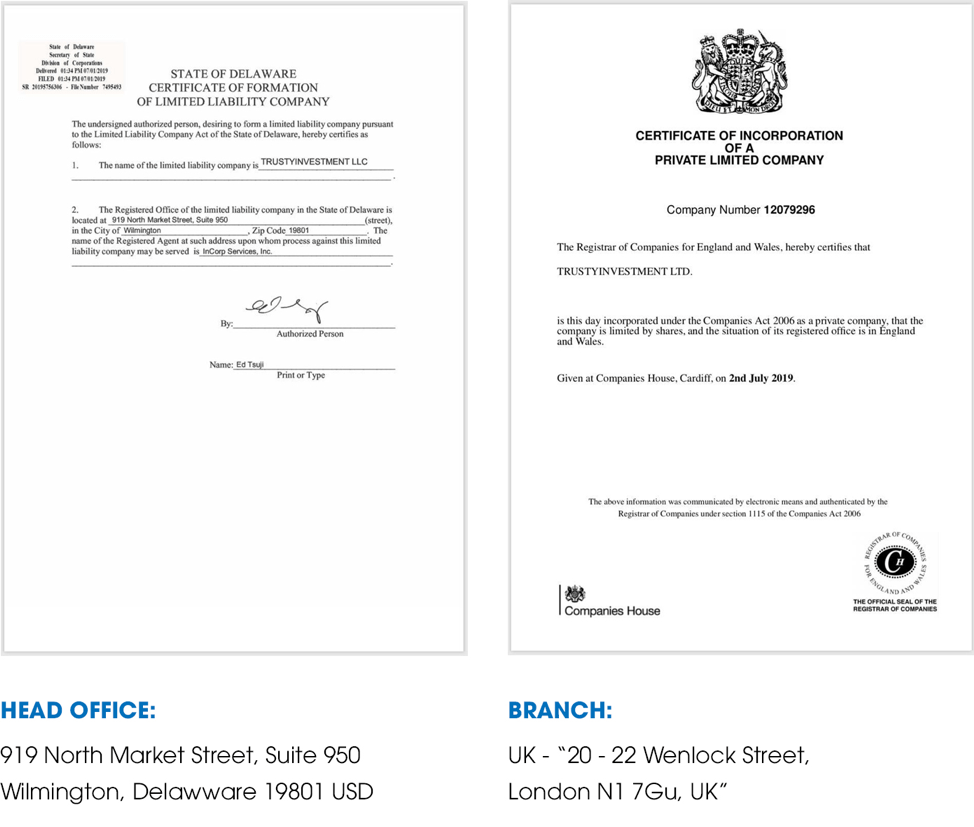 Trustinvestment Licence
Trustcoin belongs to G – floor coin – Trustexc and has its own Wallet wallet. Trust has a Trustinvestment ecosystem, helping the Trustcoin to grow well. Trustinvestment is an autonomous mining solution focusing on renewable energy sources, which is proposed to be extend to the global community. Technology developed by them representing solar energy exploitation clusters – module maintenance demand, mobility, flexibility, low maintenance cost, closed systems designed for optimal mining speed.
Trustcoin was created by a team of world-renowned programmers with years of experience. They have spent a lot of time researching to overcome the previous disadvantages of Bitcoin
Technology of Trustcoin
Trustcoin brings Blockchain 3.0 technology with the foundation of ADA. Trustcoin currently has a total supply of 200,000,000 coins. Currently, Trust has issued 100,000,000 coin, while 100,000,000 is still in the process of exploitation. The starting price is $ 0.1 and so far has increased by 55% after only 3 weeks with a flexible development strategy based on superior technology platforms.
On August 15, the Trustinvesment project had an ICO, each ICO account was bought 100,000 Trustcoin for $ 0.13 – $ 0.14 at the current price.
So what makes Trustcoin to rise so strongly and always be sought by investors? This is thanks to the ecosystem of Trustinvestment
1.Trustcoin is the coin of the exchange
First we need to understand what is G – floor Coin? G – floor Coin is a term used to refer to coins issued by a coin exchange through an ICO campaign or in the form of a reward. The purpose these exchanges create their own coins is to:
Maintaining the system
Developing Technology
Supporting investors in reducing transaction fees (trade)
And some other purposes.
When Binance launched, they gave away all those who registered 100 BNB and BNB reached $45, up 450 times in just one and a half years. It can be seen that G – floor coins are growing from a few dozen to a hundred times and with Trustcoin of Trustexc, you will also see the same breakthrough as other coins.
With G – floor coins, we do not care about "going to G – floor or not?" And "the liquidity is high or not". Because it is a private coin of the exchange, surely after the ICO they will post the token on their exchange to trade and use it as an intermediary coin. Of course, the liquidity will be very large, so the coin has solved a big problem for investors in terms of liquidity.
An important thing to help G floor become HOT and attract many investors by "cheap transaction fees". Many people when trading on the floor often do not pay attention to the transaction fee, but actually if you trade a lot, this fee is really too much. The introduction of floor coins is a tactic to attract traders of the exchanges to compete with other exchanges, when you use the floor coins to trade, you will receive a reduction in transaction fees (fees will gradually decrease according to year, usually the first year will be reduced by 50% and the following years will be 25%, 12.5%, …)
2. Trust Wallet
BNC exchange is considered the No. 1 in the world and has purchased Trust wallets. And Trust wallet is a decentralized mobile wallet with a clean interface and high security, designed to enhance the acceptability of cryptocurrencies for everyone. Trust provides a secure wallet to send, receive and store cryptocurrency assets and integrate the Swap browser so that they can use Swap and trade cryptocurrency from smartphones, especially for free.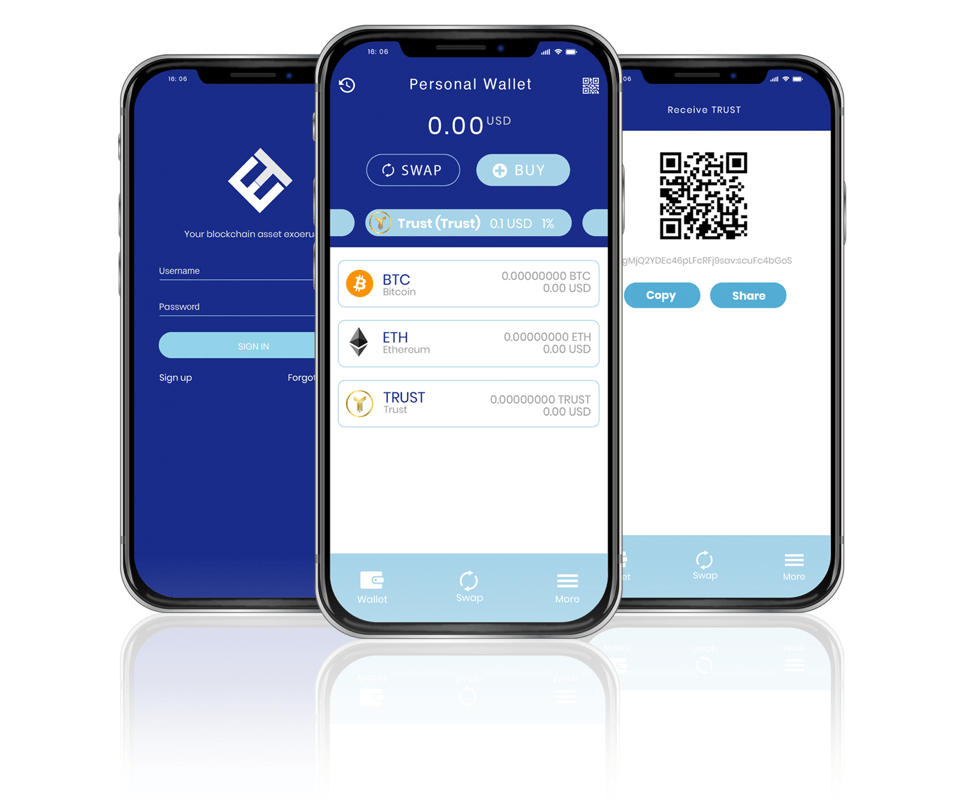 Trust Wallet is the original wallet on Trustexc.com that allows users to trade cryptocurrencies directly
2019 is considered a trend of G-floor coin. Trustinvestment is a landing ecosystem. Investors who deposit Trust to invest on Trustinvestment.net, will immediately be added to the account an additional 10% of the initial Trust transaction amount. The Trust has been applying a stable price increase as follows, for every 1 million of Trust sold outside the community, the value of Trust will increase by 10%. So if 10 million Trust is sold, the price of Trust will increase by 100%, meaning that with 100 million Trust sold, the value of it will increase to 1000%.
That means the minimum that G-floor guarantees the value of investors when owning a Trust is X10, not counting the market demand that can push the price of the Trust higher.
3. The world's largest mining center for solar applications in Australia
The world's largest cryptocurrency mining center is operated based on clean and cheap energy, electricity power is created by solar power plants with overwhelming ASIC extraction equipment to mine the remaining 4 million bitcoin. In addition, Trustinvestment also uses Artificial Intelligence to take profits from 17 million bitcoin in circulation.
Their flexible strategy is based on the following 3 main technologies:
3.1 Green Energy
They produce renewable green energy using solar power and CSP with heat storage for their 24/7 operation.
3.2 A new technology – ASIC
ASICs are devices with circuits and chips specifically designed for cryptocurrency mining. It is referred to as a "plow" because of its higher performance, in order to distinguish it from the "buffalo" – the VGA digger – which uses traditional computer graphics cards to mine cryptocurrencies.
3.3 Artificial intelligence science
AI with artificial intelligence can make definitive decisions about where to place orders, cut losses or allocate funds appropriately to maximize profits. The amount of profit you gain can be from 5 to 30% monthly by AI Trader.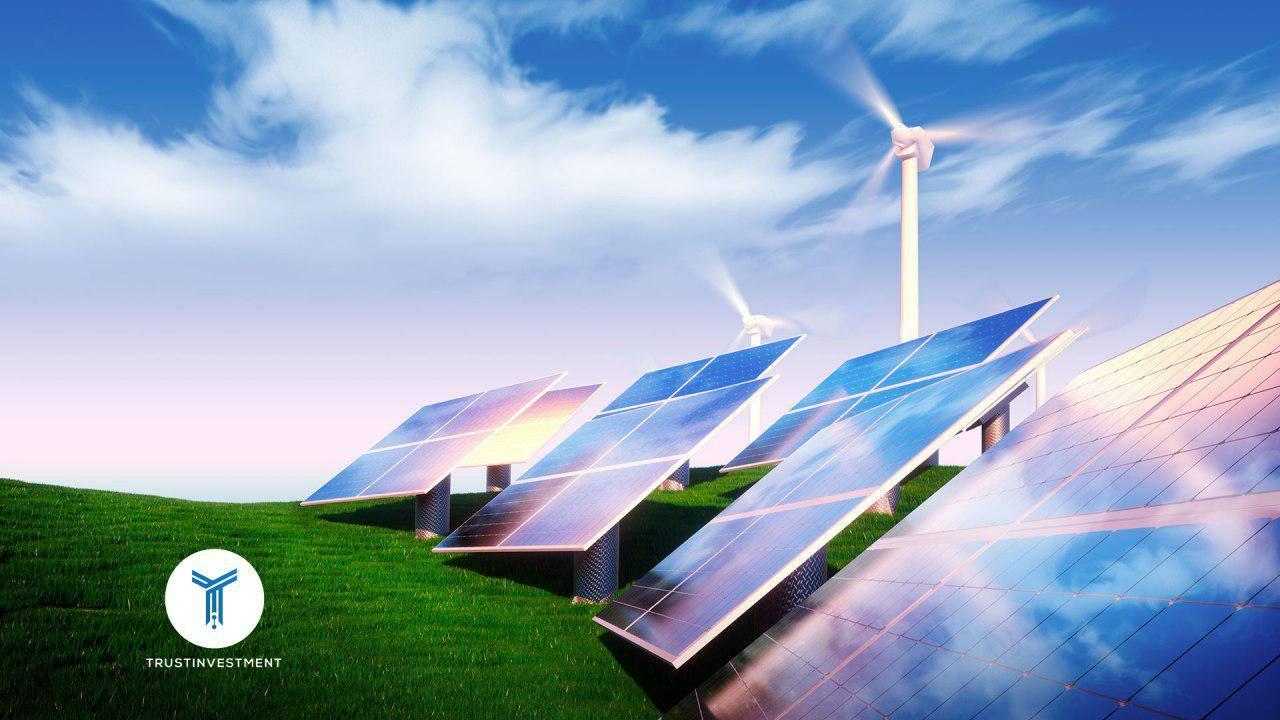 Their flexible strategy is based on the following 3 main technologies
This information is enough to see the power of the Trustcoin. Owning $1 million in the market is not easy and so is finance. But if you take advantage of the growth of floor coins like Trustcoin, everything can become a reality.
Don't miss this rare opportunity with a new coin, the trend of 2019 – 2020. Success comes only when you are prepared and seize the opportunity.
Investors can contact us directly or join information channels to update the market and get our best support.