The Most Comprehensive TenX Review Today
TenX is a digital wallet and a physical debit card that allows holders to spend digital coins in stores, including those that do not accept cryptocurrencies. Although businesses that accept digital coins for payment are increasing, the pace is very slow.
Besides Overstock.com and perhaps a few others, store options for people who use digital coins are few and far between. The reality of having coins that one cannot spend has made some people hesitate to jump into buying cryptocurrencies.
However, the scenario of having coins you cannot spend is now changing with TenX. This post is a comprehensive TenX review to establish how it works and whether it can effectively bridge the gap between cryptos and fiat currencies.
What is TenX?
TenX is a crypto-based payment platform comprising of a bank account, physical debit card, and a digital wallet designed to help make cryptocurrency payment in the real world easy. On their website, the caption "spend in the real world at real time" is being used to redefine the niche by allowing crypto users to spend their coins at over 42 million points of sale across the globe.
The platform is designed to help connect businesses and assets on the blockchain to the real world, and thereby extend the application of decentralized benefits.  But this is not all.
The TenX platform also allows developers to create smart contract modules so that businesses can accept payments from different coins. Think of it this way: you make payment for an item using a coin such as Bitcoin, but TenX receives the payment in USD.
The TenX platform and token launched in mid-2017 with an Initial Coin Offering (ICO) that raised $39 million. The ICO target was reached in less than 36 hours.
According to CoinMarketCap site, the price of TenX grew from $1.10 in early July 2017 to $4.77  in 14 August 2017. It also hit another peak of $5.00 on December 25, 2017, the highest mark in its history, before taking a bearish trend and sinking to $0.50 in August 2018.
The image below is a caption showing the price movement of TenX coin in the market.

How Does TenX Work?
The core mission of TenX is to make it possible for blockchain assets to be spent instantly just like fiat currencies. To achieve this, TenX uses a built-in wallet and card system on the COMIT network. COMIT is a routing protocol designed to facilitate direct payment across blockchains.
This is a multi-currency wallet designed to facilitate the management of digital coins. This means that it works through private keys and public keys that help users to securely send and receive tokens.
The good thing about TenX PAY wallet is that it is available in desktop, web and mobile versions. This means that you do not have to be on your desktop to make a payment using your TenX wallet. Simply download and install TenX on your Android or iOS smartphone to access the platform on the go.
Today, TenX wallet stores Bitcoin, Litecoin, Ethereum, and most ERC-20 coins. However, the TenX development team has indicated it is working on progressively increasing the supported coins.
When you join the TenX platform, transactions can be done using the TenX app or the TenX debit card. It is important to note that your coins remain as cryptocurrencies on the TenX PAY token wallet until the time of the transaction.
Take a look at the TenX app in the image below: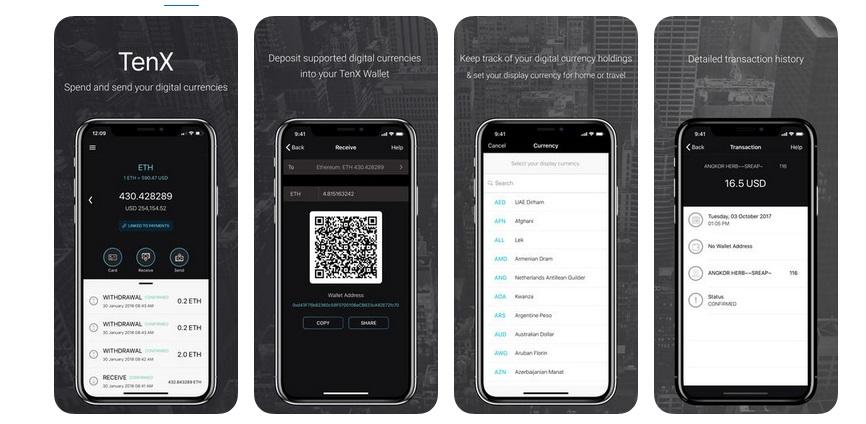 The TenX Decentralized Security Smart Contracts (DSS)
Decentralized security smart contracts are created to help users take greater control over their digital assets. For example, the contract allows users to set daily spending limits, purchase limits, and even withdrawal limits.
Indeed, you could even select the types of coins that you want to spend with the card. For example, a user could plan to make purchases with 40% Bitcoin, 30% Ethereum, 15% Litecoin, and 15% Dash.
A Closer Look at the COMIT Network
TenX is fully integrated with the Cryptographically-secure Off-chain Multi-asset Instant Transaction (COMIT) network designed by the TenX development team. However, it operates separately with a different site and whitepaper.
The main objective of the COMIT platform is to allow new blockchains to plug in its system and connect to others through the COMIT Routing Protocol. The routing protocol sets standards that outline how blockchains communicate with each other after plugging into COMIT.
The COMIT network has now made it possible to exchange one crypto asset for another at a lower transaction fee. However, blockchains have to meet the following requirements before they can be allowed to plug and use COMIT network:
To run a COMIT transaction, the user is required to have a wallet that is already connected to the COMIT platform. The recipient/ business also will need to be connected to the COMIT network.
When a user initiates a transaction to an approved business address, it is passed via a network of Liquidity Providers to check for the one with the best exchange rate. Liquidity Providers are intermediaries such as exchanges that convert assets from one form to another.
In the diagram below, note that the user (U) is making payment using Bitcoin, but the recipient business (B) is receiving it in USD. Note the Liquidity Providers:
The TenX Fee and Rewards
TenX does not charge a transaction fee like other cryptocurrency exchanges. You will only be charged a one-time fee of $15 and $1.50 for the TenX debit card and virtual card issuing, respectively. The card does not have an annual fee. Users are only charged $10 if they spend less than $1000 annually on the card.
Note that you can earn rewards for using the TenX card or holding the native tokens. For example, users receive a reward of 0.1% for every purchase they make using their TenX cards.
It is important to note there are spending limits on TenX platform. A standard account has a withdrawal and spending limit of 2500 EUR/day. However, you can raise the spending limit to 10,000 EUR and 20,000 EUR by upgrading your user account.
What is TenX PAYToken?
TenX PAY tokens are the native coins on the TenX platform. The total supply of the PAYtokens that will ever exist on the network is 205,000,000. By December 2017, about 105,000,000 entered the market.
To buy and trade TenX PAY tokens, you can join the Upbit, LATOKEN, Liqui, or Bittrex exchanges. Note that the exchanges require users to register and verify trading accounts before purchasing TenX. You also will need to fund the account and pick the right crypto pair such as TenX/BTC to buy the coins.
The TenX Development Team
The process of developing TenX started several years before the launch of the TenX ICO in June 2017. The founding team that comprised Michael Sperk, Dr. Julian Hosp, Toby Hoenisch, and Paul Kitti was concerned that the crypto community was encountering significant difficulties trying to use coins for conventional payments.  
Fenbishi Capital, a blockchain venture capital company, was an early investor in TenX. Note that Vitalik Buterin (founder of Ethereum) is a general partner at Fenbishi Capital.
The development team aims to progressively improve the TenX infrastructure to make the platform a leading ecosystem in the crypto niche. The team wants to encourage more businesses to join the blockchain space because it is a technology whose time has already come.
The Future of TenX
While the blockchain niche unfolded rather fast between 2009 and 2018, the adoption by the community has been slow. This has been caused by a lack of acceptance  of crypto coins in conventional stores and poor cross-chain interoperability.
The whole industry appears doomed. However, development of new crypto ecosystems such as TenX has brought some hope that the industry can still grow. TenX has provided a solution in a manner that is easy for all to understand. This puts it in a good position to grow and become the next big player in the industry.
If you are planning to join the cryptocurrency niche or want to diversify, this TenX Review recommends the project. Here are some of the indicators that TenX could become the future of the blockchain:
The platform has no transaction charges. This method of operation is likely to attract many users and increase the value of the platform and native coin.
TenX is not just a platform for its native coin. Rather, it is a payment ecosystem for many coins. This implies that the demand for its use and application will be more than the individual crypto networks in the market.
The ability to help users make direct payment using crypto assets (but allow businesses to receive funds in a preferred fiat) is likely to attract more users.
TenX's availability across multiple platforms, including mobile phones, is likely to appeal to more people because they can follow their accounts and shop with digital coins on the go.
Note that when dealing with cryptocurrencies, it is prudent to be cautious. Although all indicators are positive, you need to follow the basic rule of the thumb when investing in cryptos: make sure to only invest what you have and spread the risk.