5 Exchanges That Are Believed to Be the Best Trading Platforms for Ripple
In the past when you heard the word 'cryptocurrency', the first thing that came to everyone's minds was Bitcoin. To some, this is still the case; they believe that Bitcoin is the cryptocurrency and the vice versa to also be true.
Of course, the statement is correct in one way; Bitcoin is a cryptocurrency, but cryptocurrency is not made up of only Bitcoin but a host of other currencies. One of these currencies is Ripple.
When it comes to the top five cryptocurrencies with the highest capitalization, Ripple needs no introduction as it has managed to secure a position of being the third most traded cryptocurrency around the world. Perhaps this is due to the fact that Ripple is the only cryptocurrency with a backing from traditional legacy financial institutions.
In addition, the coin has been integrated into the operation of thousands of small businesses around the world. Below is a video of how Ripple is improving the payment processes of small- and medium-sized companies.
Awesome, right?
At this juncture, it is only fair that you learn how to be a part of this great innovation. Thankfully, that is what this guide is all about, showing you some of the best trading platforms for Ripple.
There are numerous exchanges that offer decent exchange rates and well-matched trading pairs, but we'll only narrow down to some of our best picks to help you get started fast.
What is Ripple (XRP)?
Ripple is a cryptocurrency, a currency exchange, a real-time gross settlement payment system, and a remittance network powered by Ripple. As I mentioned before, this is the third most capitalized cryptocurrency asset after Bitcoin and Ethereum.
XRP allows enterprises such as banks and other financial service providers to offer their clients a reliable option to source for liquidity for cross-border currency transactions.
Ripple is a distributed, open-source platform that seeks to capitalize on the weaknesses of the conventional money payment systems such as credit and debit cards, PayPal, bank transfers, among others. According to Ripple, these payment systems expose users to a lot of transaction delays and restrict the fluidity of currencies.
The platform aims at replacing traditional payment systems through offering a faster, safer, and more convenient alternative for making payments.
Both the platform's exchange and tokens are called Ripple, and their mantra states one frictionless experience to send money globally.
Where Can I Trade XRP?
Most exchanges that trade Ripple are limited to crypto-to-crypto transactions. This means that you can only trade Ripple with another cryptocurrency and not fiat currencies such as the euro or the dollar.
You'll need to acquire the currency you wish to trade with XRP on a platform that accepts fiat, and once that happens, you can proceed to trade the two currencies.
There are a couple of great platforms that offer XRP trading; below are just a few:
Binance
Bittrex
Changelly
Swapzone
Coinmama
Buying XRP on Binance
Binance is an exchange that was established in 2017 but has bagged a reputation worth over 10 years of existence. This, the team claims, is due to a number of features offered by the platform including better security controls, low trading fee (0.05%), as well as its faster transacting speeds.
To buy or trade XRP on Binance, you'll need to set up an account on the exchange. The platform offers a fast signup process and actually accepts users from all around the world.
Once you're done signing up, navigate to the fund's section and click on "Deposits". You will find all the listed cryptocurrencies supported by the Binance platform.
Since Binance does not support the purchase of Ripple using fiat currencies, you'll need to acquire another cryptocurrency such as Bitcoin or Ethereum and use it to acquire XRP.
This will require you to use a platform such as Coinbase that accepts fiat currencies when buying cryptos. Getting started on Coinbase is quite simple. Head over to their website and click on the "Get Started" icon on the top right corner of your screen.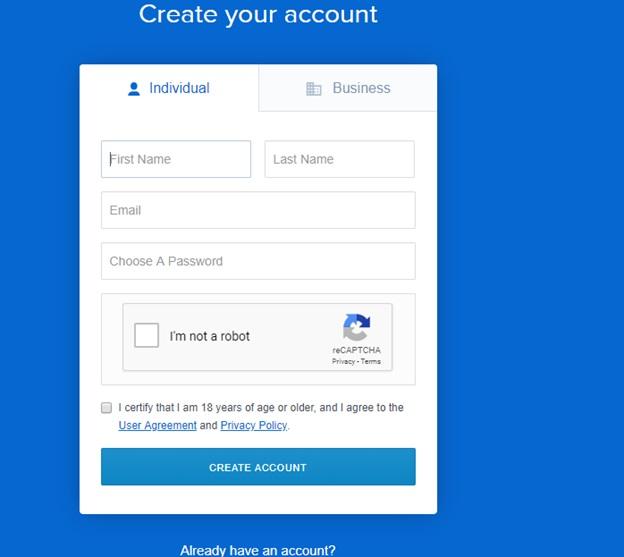 Fill in the required fields and read through their User Agreement and Privacy Policy documents, then create your account.
You'll receive an email that will require you to verify your signup details together with your phone number.
You will then gain access to your created account.
Proceed to buy your coins; preferably, choose either Bitcoin or Ethereum as they have higher liquidities. Once you're done, your coins will be received in your online Coinbase account.
Head over to the menu indicated as "Account" and click on it.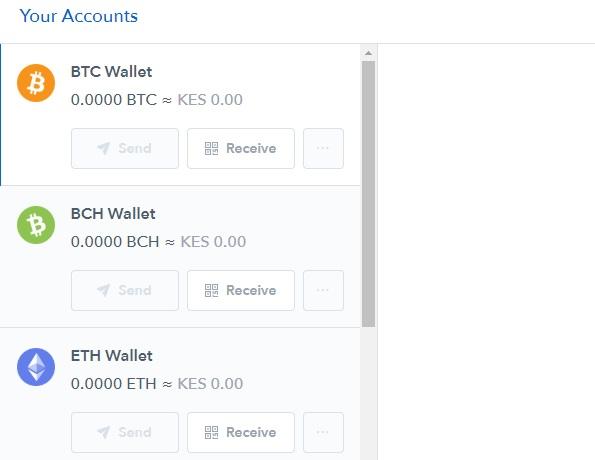 Click on "Send" and enter the number of coins you wish to send to your Binance wallet. Copy and paste the address of your Binance account to Coinbase, then click send to transfer the funds.
The purchased cryptocurrency will be received and on Binance, you can go ahead and trade it with Ripple.
Buying XRP on Bittrex
Just like on Binance, you'll need to create an account on Bittrex to get started.
The process is pretty much straightforward, only requiring you to sign up using your email address and password.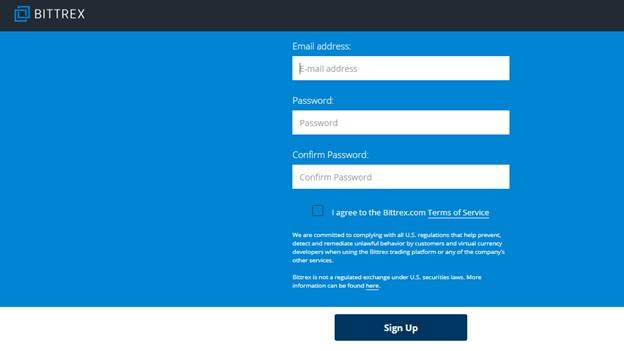 Once you're done signing up, click on the wallet tab. You will be taken to a page where you can view all the deposit addresses of the cryptocurrencies on the Bittrex platform.
You can then choose the currency to use to purchase XRP, after which, you will be required to type in the code of the currency you will be using to purchase Ripple. If you're using Ethereum, you can type in the search bar "ETH" and then click on the green arrow to reveal the deposit address. In case you will be sending the funds from a different exchange, you'll need to paste the address to that platform.
Next, you'll need to send funds to your Bittrex account. Bittrex permits payments using both fiat and cryptocurrencies. So, depending on what you will be using, send money to your online wallet and proceed to trade it with Ripple.
Buying XRP on Changelly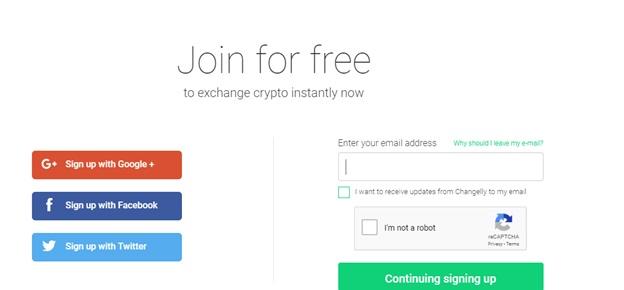 Changelly is another Ripple exchange that requires you to use either Bitcoin or Ethereum to acquire XRP.
The exchange doesn't have an inbuilt wallet, so you'll need to store your funds on a separate hardware or software wallet. You can pretty much use any type of wallet, but the most secure ones are the hardware ones as they store your coins in an offline cold storage area.
Ripple prefers not to have many unutilized accounts being set up on its platform; this is why you'll need to have a minimum of 20 XRP in your account for you to get started. However, if your first transaction will be more than 20 XRP, then you're all set.
Once you have a wallet ready for your Ripple, head to the Changelly site and click on "input currency". Here, you will be able to enter the currency you wish to trade for Ripple.
You can basically pick and use any coin listed on the site, but it is highly recommended that you use either Bitcoin or Ethereum due to their high liquidity.
The output section will have Ripple, which is the currency you wish to receive.
The next step will require you to key in your XRP address, which is your Ripple address and the destination tag, which is a description of the transaction.
You can now proceed to trade your chosen coins for Ripple. The transaction shouldn't take long, and you will be able to receive the coins in your Ripple wallet.
Swapzone
Swapzone is a platform that assists users to swap XRP with 300+ other assets freely. The interface lets users convert assets directly from one's wallet, without having to create an account or register. Besides, the service helps to compare different providers and find a suitable deal for handling Ripple transactions securely, rapidly, and at the best rate.
The process of using Swapzone is quite simple:
Go to the main page, choose the currency you'd like to swap, and enter the amount.
Choose XRP to receive.
Review the exchanges to see which ones are right for you. You can sort your results based on the service provider, the top rate, the fastest service, and the best rating from the service provider.
Confirm which exchange you want to use and click Exchange. 
Then, enter the wallet address that you wish to use.
Send in the deposit to the generated wallet address and wait for the transaction to be processed.
What makes Swapzone a great fit is that it provides a better array of XRP exchange pairs along with the details needed to make an informed choice like exchange review, transaction speed, KYC details, fixed or floating rate. The support line takes on the job of solving the cases by cooperating with the partners.
To learn more on how to exchange XRP at the best rate check https://swapzone.io/learn/bitcoin-to-ripple/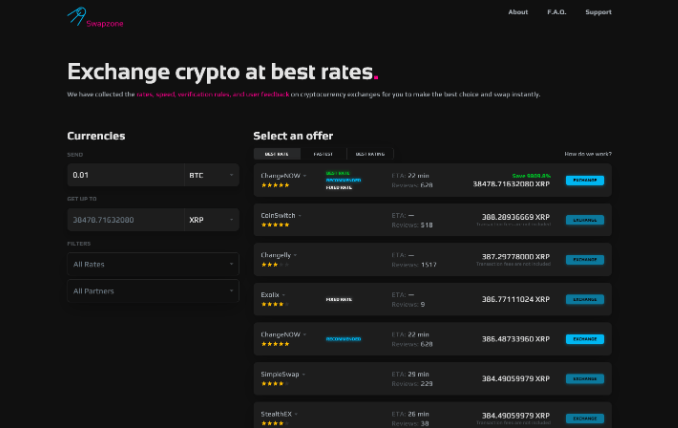 Buying XRP on Coinmama
Coinmama is a cryptocurrency exchange that has been around for quite a while now. The Coinmama team has been adding more coins on their platform over time to be able to provide its users with a wider variety of trading pairs.
More recently, the platform included Ripple on its platform. However, Coinmama does not allow US-based users to purchase Ripple due to some stringent laws and regulations surrounding the coin.
But for non-US users, you can proceed to create your account on the platform and locate Ripple among the listed assets.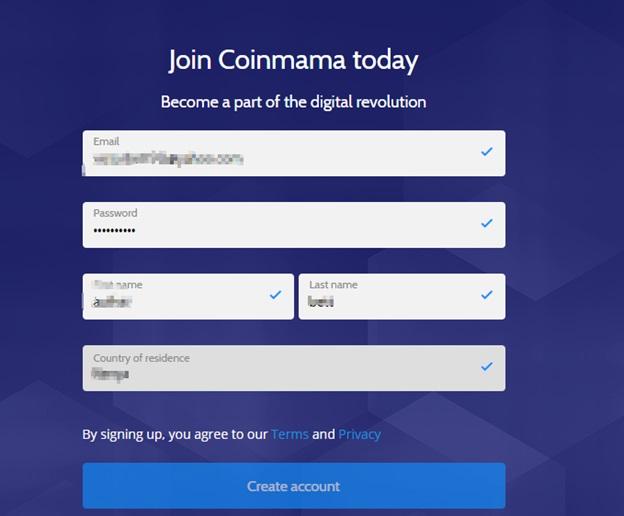 Once you've created your account, navigate your way to the area with the list of assets. Select one of the provided packages as shown below and proceed.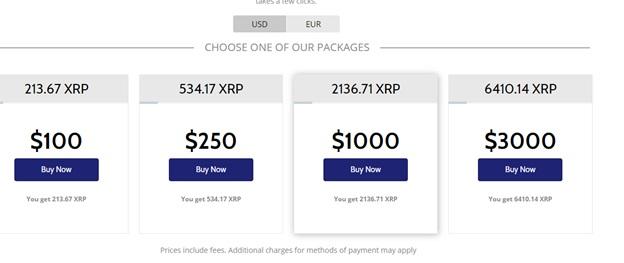 You're required to have a crypto wallet prior to making any purchase on the platform, so be sure to have a valid wallet address before completing the purchase. Once that's done, purchase your Ripple coins and they will be delivered to your wallet.
Storing Your Ripple Coins
Online storages are never safe for cryptocurrency assets. Individuals have woken up to all sort of horrific sceneries on their accounts that left them bankrupt with no one to turn to.
One of the most important concepts you need to grasp about online businesses is the security of your transactions.
Cryptocurrency burglars are everywhere and are getting smarter by the day; this means that traditional ways of guaranteeing the security of your online assets are no longer effective.
Most exchanges have top-notch security standards, but the safety of your cryptos begins with you. A great way of ensuring that your funds are secure is by getting an offline storage device for your coins. I've seen great reviews on two hardware wallets that I highly recommend; these are the Ledger Nano S and Trezor wallets.
After getting the wallet of your choice, keep your personal data such as passwords and secret words private; this will ensure that no one else gains access to your wallet even if you misplace it. Writing your password or PIN on open places or somewhere in your phone might not be a good idea; yes, it may be convenient for you, but it will be for the burglar too.
Frequently Asked Questions
Can I buy XRP using debit and credit cards?
Yes, you can. Ripple is traded on a good number of platforms that allow credit and debit cards as a payment method. However, since Ripple cannot be traded directly using fiat currencies, it may not be possible to directly purchase XRP using a credit or a debit card. But like we mentioned earlier on in this guide, you may need to use a different coin such as Bitcoin to purchase Ripple.
Bitcoin can be purchased on many exchanges using fiat currencies and, by extension, credit and debit cards.
What method of purchasing XRP is considered to be the best?
The most secure and common way of acquiring Ripple is through buying Ethereum or Bitcoin from Coinbase or Coinmama, then transferring the same to Binance to use to exchange with Ripple.
This is because Ripple is currently not available for purchase by using fiat currencies.
What is the best trading platform for Ripple?
Ripple is available on a decent number of exchanges including Binance, Coinmama, Coinbase, Bittrex, Cex.io, and more. However, among the stated ones, I have found Binance to be more secure, easier to use, and simpler to sign up on, and it also offers the best trading rates and fees.
The Bottom Line
As we conclude, you now have some of the best choices when it comes to the exchange to acquire Ripple coins. After buying your XRP coins, store them offline on a secure device due to the risk of being faced by threats such as hacking or system failures.
My two cents: If you're serious about making cryptocurrency your investment vehicle in the long run, consider investing in a more lasting security solution such as a hardware storage device. You may not get them for a few pennies, but trust me when I say they are worth every last dime you spend on them.
I hope you found this guide useful and, as usual, if you have any comments or questions in this regard, feel free to post them down below and on our social media platforms.
Psst, one more thing, what is your prediction for the Ripple price in the coming days?