Binance Review – Should You Go for It?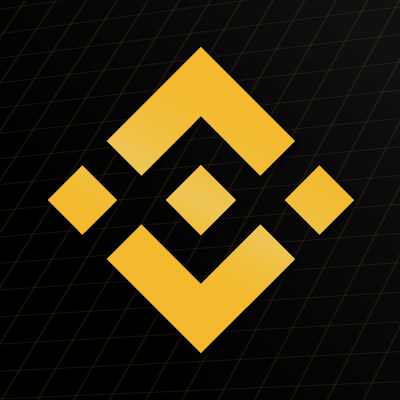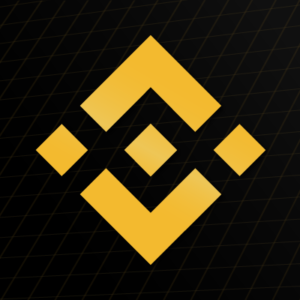 Binance is not new to cryptocurrency traders; it is quite popular and operates globally.
Having been launched just a year ago, the platform has been on an upward trend and currently boasts a market cap of $896 million.
For an exchange that is hardly one year old, anyone can see that this team means business, or do they?
Well, we hope to find that out in this Binance review.
Overview of Binance
Registered company name: Binance Cryptocurrency Exchange
Cryptocurrencies listed: BTC, XRP, USDT, ETH, NEB, XVG, TRX, NEBL, ETH, NEO, FUN, ETC, BCC, POE, DASH, ELF, ICX, BNB, ZRX, APPC, and more.
Fiat Currencies listed: None
Deposit method: Cryptocurrency
Trading fees: 0.10%
Deposit fees: None
Withdrawal fees: Varies
Supported countries: Operates globally
Now that you have an overview of the platform, let's get you the finer details.
What is Binance?
Binance is a cryptocurrency exchange headquartered in China. It was started in July 2017 by a team tech of gurus whose aims are to offer a platform that has high-level security, a robust set of trading tools, unique trading chart features, and more.
The platform strategically runs parallel interfaces; one is suitable for beginners while the other contains advanced features suitable for expert traders.
Beginners are able to execute simple trades easily on the basic platform, and they can, later on, upgrade to the more advanced channel. The advanced ones can make use of more complex tools such as margin trading.
What is the Cost of Trading on Binance?
Setting up an account on Binance is absolutely free. Whether you choose to download the mobile app or sign on their website, you'll not be required to make any payments to join. Additionally, the platform also allows users to make deposits to the platform at zero charges as long as the currency is one of those that are supported.
Enough freebies, right? Let's now look at transactions that will cost you some money.
The first transaction is a withdrawal; users are charged for funds withdrawn from the platform. The fee you'll be charged will depend on the currency you withdraw.
Next, you'll also be charged a 0.10% fee for every trade you engage in. You can use the recently launched Binance token (BNB) to pay for the fees. If you're keen on making a savings of over 50% in fees, then you should consider trading by making payments using BNB.
Take note of the fact that BNB is a token traded on exchanges; it is bound to vary in prices from time to time. Should you decide to hold it for a while, make sure that you hold it like any other traded asset that might fluctuate significantly in value.
How to Purchase an Assets on Binance
Purchasing coins on Binance is fairly simple; being a crypto-to-crypto platform, you'll need to acquire the coins of your choice on an exchange that accepted fiat currencies and then use the acquired finances to trade on Binance.
Once you've acquired the coins, you can start trading on the exchange.
Below are the steps for trading on Binance:
If you checked out the Binance website, you can view the markets and the traded asset pairs. So, if you're looking to trade specific currencies and you're not so sure where they're listed on the exchange, you can find that out from their homepage without having to sign up.
Before you trade on the platform, you'll need to sign up for an account on the platform. The process is a piece of cake with only a few fields required to be filled in when signing up. Take a look below: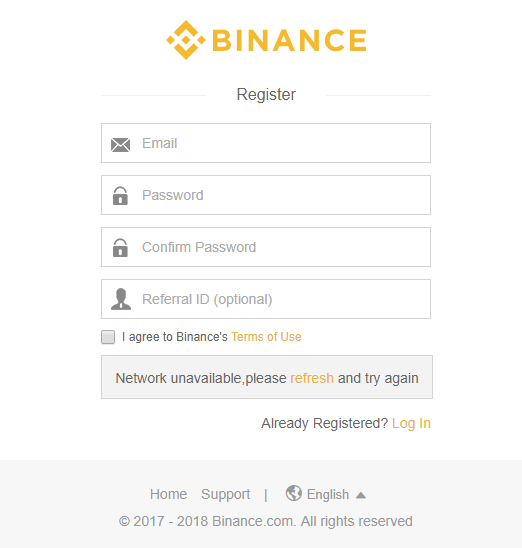 Once you're done with the sign-up process and your account is confirmed, you should be able to log in to your account. Ensure that the URL of the website is secure by looking out for the letters https at the start of the domain address. This will cushion you against phishing attacks.
Before you start trading, you'll need to deposit funds into your account. Navigate to the Funds section and click on Deposits/Withdrawals. A list of supported currencies will be displayed; if you don't see the currency you need just yet, type it into the search bar.
Once the coin appears, copy the address of the coin or QR Code and paste it somewhere as you will be using it shortly.
If you have funds on a separate wallet, simply paste in the copied address to and send the money to the exchange. If, on the other hand, you're looking to purchase funds from another exchange, you'll need to follow the procedures of that exchange until you arrive at the point where you need to paste the address of the location for sending the coins.
After sending the coins to the copied address, it will typically take a few minutes for the funds to be received in your Binance account. Don't panic when your transaction doesn't appear sooner than you expected in your account; sometimes pending transactions tend to appear in the order book before being released to the account.
Once the funds reflect in the account, you will need to choose the panel to use (basic or advanced) before starting to trade.
Is Binance Safe?
Binance was developed with a lot of security protocols. The most common ones include ISO/ICO 27001:2013 and CCSS. These security protocols ensure that the platform is secured from outside attacks.
On the part of the users, the platform offers two-factor authentication both in SMS and Google Authenticator. This ensures that any activity in a user's account gets authentication from the owner. The only downside with this platform's SMS authentication is that it only supports Chinese phone numbers.
It is important to note that the Privacy Policy of this platform acknowledges the fact that they collect user information and store it in a server. If you're concerned about privacy, you may want to review their privacy policy before getting too comfortable on the platform.
Where can One Get the Binance App?
The platform can be accessed directly through their official website using your phone or computer. However, if you're comfortable using your phone or tablet, consider downloading their application from the App Store or Google Play Store.
How Secure are User Funds on the Binance Platform?
By the time I was crafting this Binance coin review, information about the manner in which the user funds are stored on the platform was not included on their website. However, in early 2018, there were rumors of a possible Binance scam.
It was later discovered that the platform had been a victim of phishing and API attacks. The burglars exchanged their Viacom coins with other stronger coins, creating a demand for their own coin. This enabled them to sell the Viacom coins at very high profits before disappearing.
The scammers impersonated the official Binance, leading to loss of millions for unsuspecting traders. However, Binance has since created awareness about its brand to be able to help traders differentiate between the genuine and fake website.
Customer Support
This is one of those platforms that you can be assured of for great customer support. In 2017, the exchange encountered a public outcry due to the poor state of customer service.
Well, it seems they finally got a hold of it. Most online Binance exchange reviews speak well of the platform's customer support, something not so common with other crypto platforms.
The platform now supports multiple languages, including English, Spanish, Italian, and Chinese.
In addition, they also offer support through their email and social media channels.
Pros & Cons
Pros
Contains over 100 altcoins for users to choose from
Carters for both beginners and expert users through their basic and advanced panels
Supports several languages
High trading volumes; thus, high liquidity of assets
Boasts a processing speed of 1.4 million transactions per second
Offers members of the crypto community a bounty reward program
Relatively low transaction fees
Cons
Apparently, their Android application contains a few bugs here and there
Some users may find it offensive and a violation of their privacy when the platform collects and stores their information
A few users have complained of delayed withdrawals during certain times of the day
The platform is based in China and seeing as their government has not been the biggest fan of the crypto trade, it is still unclear how such trading environments will impact the platform's future
Conclusion
Binance has indicated on its white paper plans to continue to make the platform even better for its users with more unique features that are geared towards making the trade more profitable. However, there are no clear timelines for the implementation of the new features. That notwithstanding, here are some of the features expected to be rolled out on the platform:
Futures
Spot trading
Anonymous instant exchange
Decentralized on-chain exchange
As you can see, the future is quite bright for the Binance team.
I hope you found some useful information in this Binance review to help you decide whether or not the platform works for you. In the end, what really matters is the security of your assets, the methods of payment, the traded pairs, transaction fees, and the transparency of the platform's operations. From where I'm seated, I give this platform a clean bill of health after checking it against all of these metrics.