Buy Zcash: Where and How to Buy It
I'll try to take a wild guess on this one — you've learned of a project called Zcash and after researching about it, you now feel it's high time you put your money into it, right?
But whatever the reason is for your reading this article on how and where to buy Zcash, I'm glad you're here!
To help you get started on buying Zcash, I'll share with you three of the best exchanges to acquire the coin from, and after that, we'll use one of them to illustrate how you can go about purchasing Zcash.
I'll also highlight some the pros and cons of the listed platforms just to give you an overview of what each has to offer.
To start with, let's understand what Zcash is!
An Overview of Zcash
If you're confident in your understanding of Zcash, you can either skip this section or watch a more detailed version of this section in the video below:
Zcash is a blockchain project launched in 2016 by Zooko Wilcox whose main focus was to develop a private and untraceable platform catering to the payment needs of cryptocurrency users around the world.
Currently, the Zcash value in terms of market capitalization stands at $645 million with its coin trading at $124.648 as of today.
The Zcash team is made up of an experienced group of programmers and computer science academics who work around the clock to ensure that the platform functions optimally.
The native code used to develop Zcash was derived from Bitcoin, but they modified it to differentiate it from its parent code in two ways — in terms of privacy and performance.
Take, for instance, a transfer of funds within the Zcash network — there's no doubt that everyone will see that the funds were transmitted through the network; however, it is not possible to trace who the sender or the receiver is. This not only enhances privacy but also boosts the security of the transactions on the platform.
Below are some of our recommended platforms for trading Zcash.
Where to Buy Zcash
Binance
Binance is an exchange with roots tracing to China. However, they have since moved their headquarters to Japan due to the unfavorable regulations surrounding cryptocurrency projects in China.
Despite being about a year old, the platform has fought its way up and currently ranks among some of the world's largest cryptocurrency traders. Binance currently boasts more than 100 coins listed on its trading platform with Zcash among its top revenue generators.
The platform only runs crypto-to-crypto transactions, meaning users cannot use fiat currencies such as the USD, EUR, or GBP to make a purchase on the platform. Some consider this to be a disadvantage but compared with what the platform offers, I'd say it's an only a small negative.
Pros
Relatively low transaction fees
Has a wider selection of altcoins
Highly secured
Contains two panels, a basic and an advanced one.
Cons
Does not cater to the trading of fiat currencies
Kraken
Kraken is a well-diversified exchange and caters to the trading of a range of currencies both fiat and cryptocurrencies. Created in 2011, the exchange allows users to make purchases using various payment methods including bank transfers, debit and credit cards, and more. Unlike most other platforms, Kraken does not apply higher transaction fees when you buy Zcash with a credit card.
Being around for close to a decade has exposed Kraken to many regulators who have registered the platform to ensure that the safety of its users is guaranteed. In addition, Kraken has a water-tight sign-up process that is in line with its security policies.
Pros
Allows its users to make payments using fiat currencies
Has a well-secured platform
Applies lower transaction fees
Has a user-friendly platform
Cons
Their customer support is reportedly slow due to the high number of users
HitBTC
HitBTC is an Estonian-based exchange that trades Zcash and several other coins on its platform. At the moment, the exchange offers a total of 200 coins to its user base, with Zcash being among the top-rated coins when it comes to trading volume.
HitBTC offers a significant advantage to those who wish to transact using fiat transactions to either deposit or withdraw from the platform. Users from the EU can use SEPA (Single Euro Payment Area), while those from the rest of the world are eligible to use SWIFT.
However, you still can use your bank account to complete a transaction on the platform; the only challenge with this is that transactions take relatively longer to be confirmed due to bank-related procedures. It is important to note that the longer period taken for bank transactions to be verified is common in almost all exchanges since banks tend to countercheck cryptocurrency-related transactions for security reasons.
As a standard measure of the time, it takes for bank transactions to go through crypto transactions, be advised that you may need to wait up to three working days for your transaction to be confirmed.
If, on the other hand, you wish to make your payments using cryptocurrencies, the transactions are instant and command a fee of 0.10% of the transaction amount. However, HitBTC charges a higher fee for its withdrawal transactions.
Be careful not to leave your coins on the exchange; the platform nearly had a security breach in 2015. Even with that ordeal, this remains to be one of the most secure platforms in the crypto space today.
Pros
The platform's fee is comparatively low
Allows its users to transact in both cryptocurrency and fiat currencies
Has more than 200 altcoins for traders to choose from
HitBTC has a simple-to-use platform
Cons
Takes longer to verify bank transactions
There you have it!
With a choice of three platforms to choose from, I hope you won't have a problem making up your mind on the one to use.
As I mentioned at the beginning of this guide, we'll use one of the listed platforms to demonstrate how to buy Zcash.
Let's get right to it!
How to Buy Zcash Using Binance
Buying Zcash on Binance is a fairly simple process. But since Binance is a crypto-only platform, you'll need to purchase cryptocurrency first to be able to buy Zcash on the platform.
Preferably, go for either Ethereum or Bitcoin, then exchange the same for Zcash on Binance.
The fastest and easier way to acquire cryptocurrencies using fiat currencies is through Coinbase.
The first thing to do is to head over to Coinbase and sign up for an account if you don't already have one on the platform.
The sign-up process is quite easy; all you'll need to do is to provide your basic personal information such as your name, email address, a password, and your phone number. You'll be required to verify your phone number and your email address, and once that's done, you'll be able to access your account dashboard as seen below: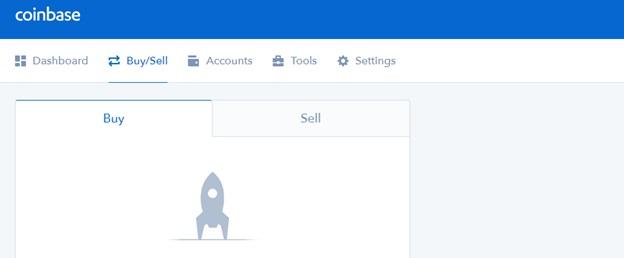 Click on the Buy/Sell icon and select Ethereum or Bitcoin from the list of currencies. For the purposes of this demonstration, let's pick Ethereum.

Each coin will have its equivalent price in fiat currencies; select and proceed to pay for it.
Initially, users of the platform were able to buy Zcash with PayPal, but the company suspended the payment method following some undisclosed issues.
The bottom of the page will contain an area for entering the amount of fiat money you wish to exchange with Ethereum. This should be slightly more than the amount needed to purchase Zcash to cater for transaction fees.
Once you're done entering the amount, click on the Buy Ethereum Instantly icon.
To transfer the Ethereum coins to Binance, click on the Account icon at the top of your account page and scroll down; select Ethereum, then click Send.
You'll be required to paste your Binance address. Head over to Binance and create a new account in case you don't have one set up.
Once you've signed up, navigate to the Funds section, then Deposit.
Search for ETH in the drop-down menu, then select Ethereum.
Your Binance deposit address will be displayed as shown below:

Copy the address and paste it in the required area on your Coinbase account.
Once you're done, click Send, and the funds will be received in your Binance account within 10 minutes.
Buy Your Zcash on Binance, For Real This Time!
After your Ethereum coins are received, you can now exchange them with Zcash by clicking on the Exchange button on your home screen.
Select Basic to for the beginner interface.
Click on ETH on the right side of your screen then type in ZEC and search for it. Select ZEC/ETH.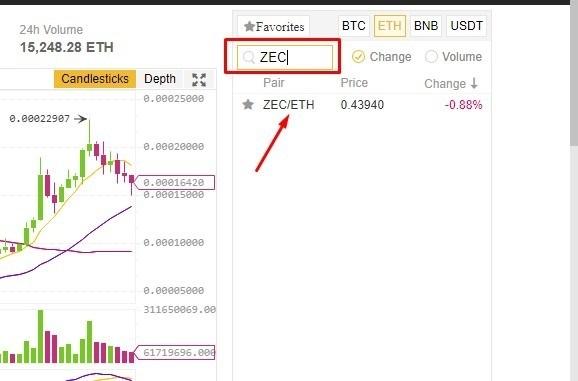 You will be taken to the trading screen of Zcash and Ethereum.
At the bottom of the page, you will see a page indicated as Buy ZEC. Click on Market, then enter the number of coins you wish to buy.
Once you've entered the amount and confirmed that everything is correctly keyed in, click on the Buy ZEC button as seen below: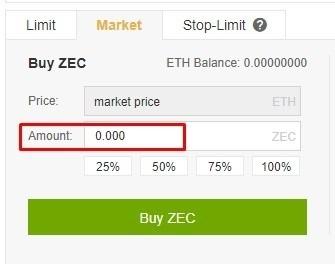 You will receive your Zcash coins in your Binance wallet instantly. Transfer the coins to your offline wallet and store them safely.
Conclusion
By now, you should have a clear understanding of where and how to buy Zcash. You also should have an idea of what to look for in a good cryptocurrency exchange.
Remember to store your funds in a cold storage device such as a hardware wallet. This will significantly reduce the chance of getting hacked and losing your hard-earned money.
Once you've purchased your Zcash, let me know your prediction of its price in this last quarter of the year. Also, do you plan to hold it for the long haul, or only for a short period of time?