The Complete Poloniex Review for Beginners


Poloniex is a cryptocurrency exchange based in San Francisco. Being one of the leading exchanges operating globally, Poloniex has managed to provide its clientele with some top-level features to help them trade profitably. One of the greatest features of the platform includes margin trading; if you've traded on a number of exchanges, then you may have realized that most of them lack the feature.
Before we delve deeper into this Poloniex review, let have a brief overview of the platform.
Overview of Poloniex
Company name: Poloniex Digital Asset Exchange
Listed cryptocurrencies: BTC, ETH, XRP, DOGE, XLM, ETC, STRAT, LTC, SC, DGB, BCH, LSK, XMR, LOOM, BAT, and more.
Listed fiat currencies: Nil
Trading fees: 0-0.15% for makers and 0.05-0.25% for takers
Deposit fees: Nil
Withdrawal fees: Varies with the amount being withdrawn
Payment methods: Cryptocurrencies
Supported countries: Operates globally
How to Get Started on Poloniex
You'll need to create an account on the platform to be able to trade on it.
After the short analysis above, you should have an idea of whether or not the platform suits you. If you're still with me, let's proceed and set up an account.
1. Visit the Poloniex site and create an account.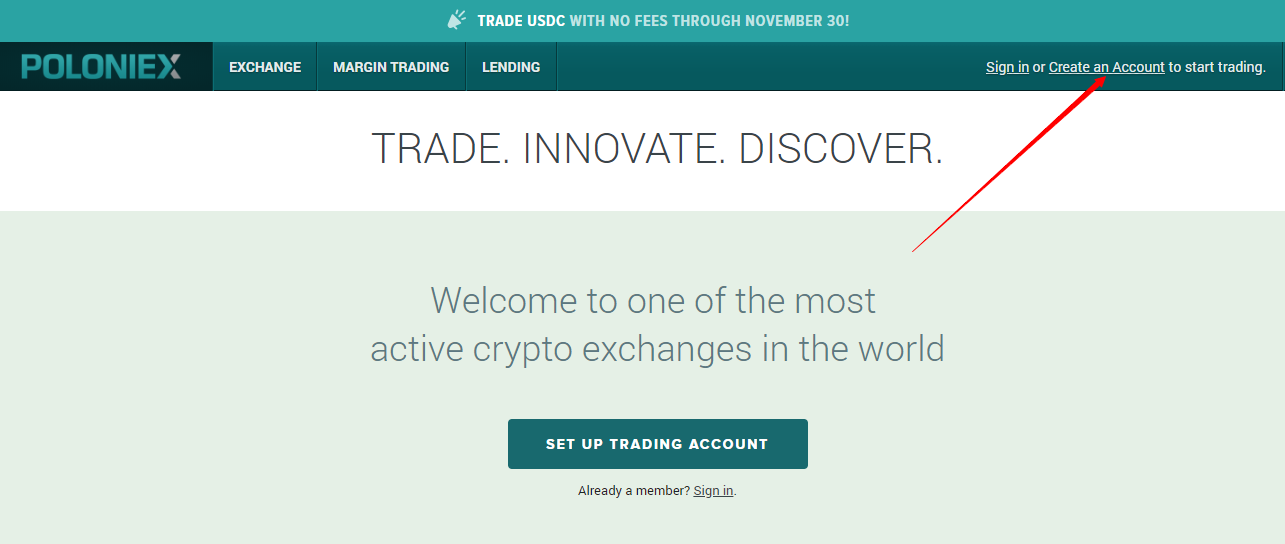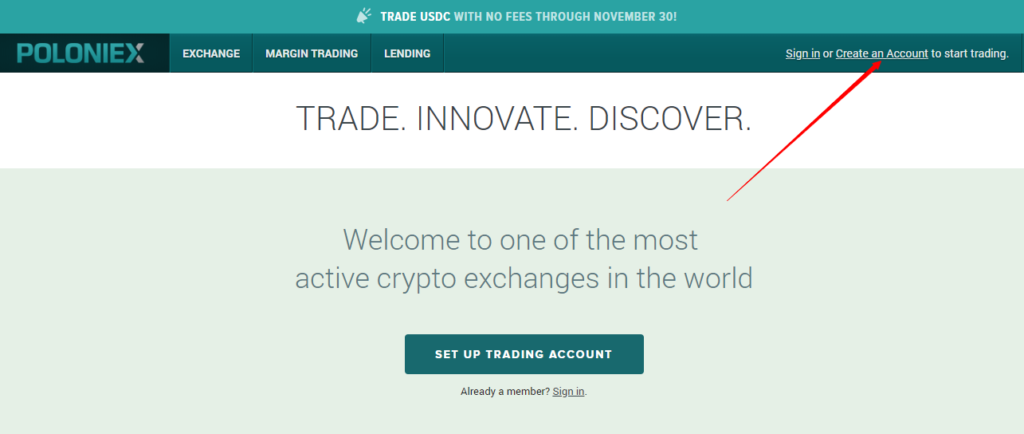 2. You will be directed to a page where you'll need to fill in your personal details, including your name, country of residence, email, among other things.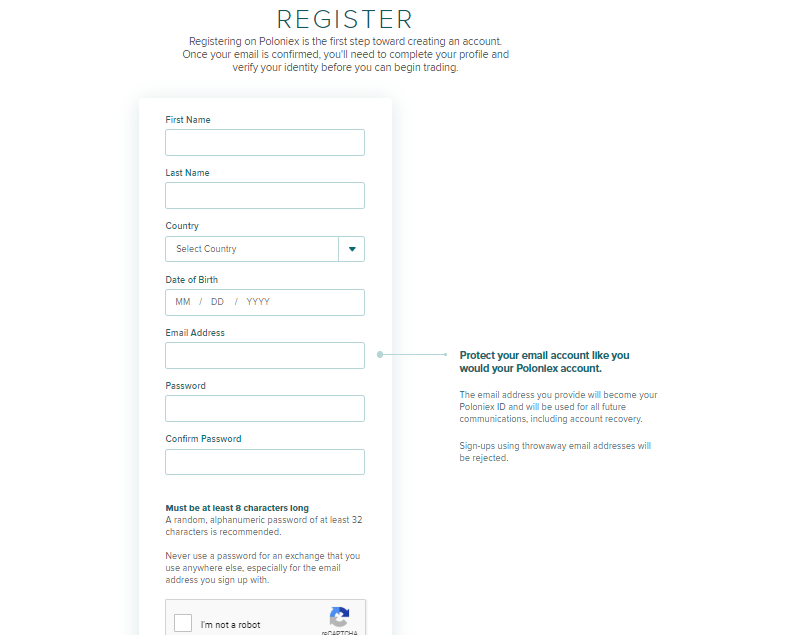 Once you're done, check the reCAPTCHA box and submit. You'll need to confirm your email by clicking on a link sent to the email used to register.
Once that's done, you'll be set to start trading on the platform.
How to Deposit Funds in Poloniex
Now that you're ready to start trading, the next step is to deposit money to your Poloniex account. Since this is a crypto-to-crypto only exchange, you'll need to deposit cryptocurrencies only in your account.
Let's assume we need to fund our account using Bitcoin cash.
This is how you'll fund your account:
1. From your home dashboard, navigate over to the Balances button. Click on it and select Deposits/Withdrawals as seen below:

2. You will then be directed to a page with a list of cryptocurrencies available on the platform. Head over the search bar and type in the currency you need to buy; in our case, we need Bitcoin Cash.
When you search for Bitcoin Cash, you should be able to locate it since it is one of the listed coins. Click on the Deposit button at the far right of your screen as seen below:

You will now be able to acquire an address to your wallet on the exchange. You can use the address to send fund to the exchange either from another wallet or trading platform.
Perhaps the most important thing to note here is that each coin has a different address; do not attempt to send Ethereum to a Bitcoin Cash address.
Once you send your funds, your account will be funded and you can start trading of the platform.
Accepted Payment Methods
As stated before, this platform does not currently deal in fiat currencies. Therefore, if you needed to deposit fund to your account, you'll need to buy coins from an exchange that accepts fiat currencies such as Coinbase and then send the coins to your Poloniex wallet.
Similarly, all withdrawals are in the form of crypto; in case you need the money in fiat, you'll need to convert it by sending it to an exchange that accepts fiat currencies.
Cost of Trading on Poloniex
The fee applied when trading on Poloniex will depend on your position; this means that as a maker, you'll be charged a different fee for different transactions. The same applied to takers.
Here's a breakdown of how the fees apply to depend on the maker or taker status: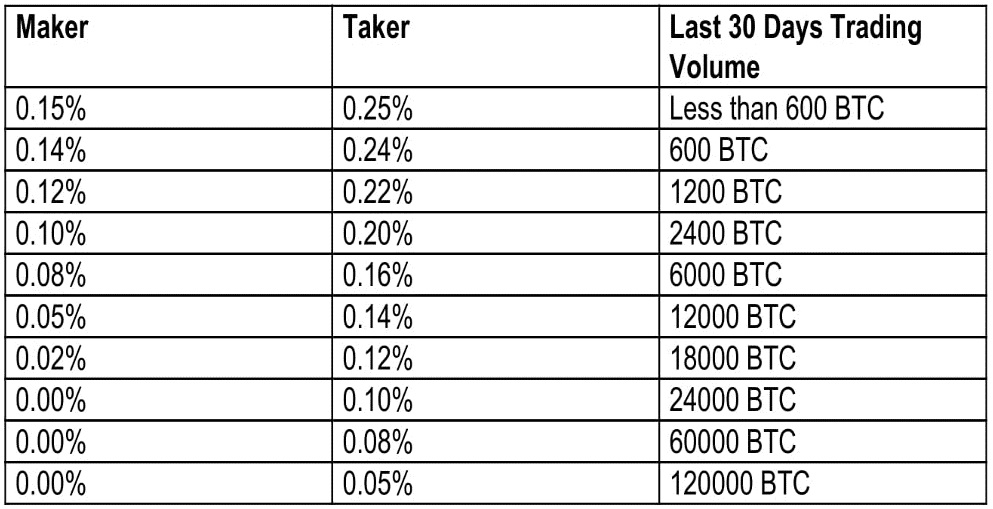 Essentially, trades on the Poloniex platform take place between two parties, named a maker and a taker.
The maker is the person who creates the order in the exchange order book. The taker, on the other hand, is the person that takes the maker's order if all the conditions are met.
Their concept of makers and takers can be quite complex.
I found the video below on makers and takes by Binance a bit simplified; I hope it helps you get the concept.
The amount charged in each case depends on the traded volumes in the last 30 days.
How Long Does it Take for Deposited Funds to be Received?
The transaction times for deposits may vary due to the native platform of the currency transferred or network traffic. However, the average time for deposited funds to reflect in your account is 30 minutes to a maximum of 1 hour.
Most users have reported the same duration when it comes to withdrawals too.
What are the Transfer Limits?
The trading and withdrawal system of Poloniex is a tier-based one. The limit set for each account depends on the level of verification of the holder of the account.
The lowest trading limit is set at $2,000 daily; however, once verified, the limit will increase up to $25,000.
The verification process involves submitting your personal details, which include a photo ID, proof of physical address (you can submit a local utility bill in this case), and a photo of you holding your national ID. The Poloniex team uses the data to maintain an honest and trustworthy database of users.
By the time I wrote this Poloniex.com review, there were plans to unveil a third verification level. However, details relating to its daily limit were still not available to the public. Be sure to bookmark this post as I will be updating it as soon as the info is released.
Customer Support
When I visited the Poloniex website, I found out that the platform has a lot of avenues for channeling a query. I also noticed that their resource centers are fairly good.
But despite all these, a few online Poloniex exchange reviews say otherwise…
A number of individuals expressed their disappointments in the duration taken by the Poloniex customer support to resolve an issue.
I'm yet to personally experience their customer support standards; but if you have any testimony regarding the same, please share with us in the comments section.
Is Poloniex Safe?
We (ICOHOLDER) take the security of your assets very seriously; that is why we try as much as possible to portray the true nature of each platform we review.
And even when we decided to review Poloniex, we drew our conclusions from a range of sources and from what we gathered, we believe that this is one of those platforms that consider the security of their platform to be paramount.
They have in place a number of measures to help keep the burglars out.
Firstly, they maintain more than 90% of the user's funds in cold storage; this ensures that all online-related dangers are avoided.
Secondly, Poloniex maintains an audit program that keeps track of system activities with an aim of fishing out any suspicious transaction in their network.
Apart from these two strong security controls, the platform guarantees the privacy of its user data and maintains it in an encrypted form to prevent anyone from using it wrongfully.
Overall User Reviews
Of course, no platform can ever be perfect; this means that there can never be 100% positive feedback regarding any product on the entire planet.
Whenever we look for reviews about a product, we try as much as possible to get the average feedback from a wide range of reviewers.
In the case of Poloniex, we found mixed reviews. Most of the negative reviews resulted from slow customer support.
However, the platform was also hailed for having numerous trading pairs, useful trading tools (margin trading), and high trading volumes.
Pros & Cons
Pros
Margin trading
Stop loss orders
High asset liquidity
A wide range of altcoins to choose from
Fair trading fees
Cons
No use of fiat currencies
Slow customer support
Conclusion
From this Poloniex review, you can clearly see that the platform is safe, offers great trading tools, and charges relatively low fees. If they can work on the issue of slow customer support, which may partly be caused by the high number of users, then this stands to be one of the best platforms for trading altcoins globally.
And while at this, I have noted in a number of past reviews the issue of customer support when it comes to cryptocurrency exchanges. Whether this is an issue with most or all exchanges, I can't possibly think of an excuse for any of the platforms.
Well, on the brighter side, the benefits of trading on Poloniex clearly outweigh the downsides; so, if you're interested in trading like a pro by placing stop-loss limits, margins trading, and more, then this might just be the platform for you!