Jaxx Wallet Review – One Wallet To Rule Them All
The increase in the number of cryptocurrencies and the security problems associated with storing your cryptocurrency on exchanges has given rise to a number of crypto wallets.
One of the most user-friendly among these wallets is the Jaxx wallet. It was developed by Decentral – a leading startup in the blockchain space credited with opening the second Bitcoin ATM in Canada and an investor and advisor to Vitalik Buterin in the initial stages of Ethereum.
But what is Jaxx? Jaxx wallet was started in early 2016 and crossed 400,000 users within one and a half years. It is a multi-currency wallet that can be used to hold 20+ cryptocurrencies, including Bitcoin, Ethereum, Dash, and others.
Apart from the multi-cryptocurrency feature, it is also known for its easy-to-use user interface, cross-platform compatibility, and enhanced security.
In this review of Jaxx wallet, we will look at the main features of Jaxx and if it can be a wallet of choice for you.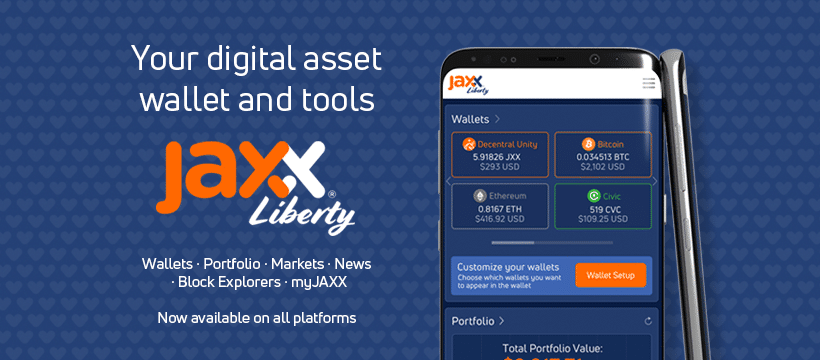 Main Features of Jaxx
Jaxx wallet comes loaded with many features like multi-currency support, a user-friendly interface, support for multiple operating systems and devices, top-notch security, and great design. It also has native camera scanning, offers easy switch between coins kept in the wallet, master seed backup, and excellent customer support to top it off.
Here we will look at the main features of Jaxx that makes it better than its competitors. However, if you prefer video rather than text, here is a great wallet review by FXEmpire on Youtube.
User Interface
The most significant advantage of the Jaxx wallet is the focus on simplistic design and user-friendly interface. This makes it more intuitive to use than the other crypto wallets in the market.
Tasks like moving from one currency to another, sending/receiving payments, adding crypto addresses, and QR code scanning are a breeze with Jaxx. It is an excellent wallet for anyone new to the world of cryptocurrencies or if you are an infrequent user.
However, pro users seem to be unsatisfied with slow processing, bugs on the app, and other performance issues. Although Jaxx's team is quite pro-active in responding to bugs, it still needs more work.
Security
Another great feature of the Jaxx wallet is its top-notch security. A unique practice followed by Jaxx is to store your private key on your physical device rather than their own servers.
This protects your wallet from any hacker attack on Jaxx as there is no central server containing keys for all wallets. In order to hack Jaxx wallets, hackers would have to attack every physical device, which is not feasible.
A lot of digital currency has been lost in hacking attacks on central exchanges like the Coincheck hack at $534 million, the Mt. Gox debacle at $487 million, the Bitfinex fiasco at $72 million, and others.
Jaxx enables the creation of a mnemonic seed at the time of wallet creation. This seed can be noted by users and enables them to access wallets.
But asking the users to keep their keys safe is also fraught with risks. In 2017, Jaxx reported a loss of $400,000 worth of funds due to a security breach.
Analysts suspect that the breach was due to the fault of a user rather than Jaxx, and since then the security team at Jaxx has confirmed that they have resolved the weakness that led to the hack.
Cross-Platform Compatibility
One of the great benefits of Jaxx is its availability across multiple platforms. Jaxx wallet app is available on mobile (Android, iOS), desktop (Windows, Linux, OS X) and browser (Chrome). The only platform lacking is a website presence.
Customer Support
Apart from the above features, they have an excellent customer support team, which is quite responsive to resolve any user queries.
The Jaxx team is also transparent, interactive, and open to responding to comments, questions, bugs, and future plans on Twitter or Reddit.
Privacy
Jaxx also offers heightened privacy to users as it does not ask for email or other personal information at the time of wallet creation.
Future Plans
In future, the team at Jaxx has plans to introduce a hardware wallet for storing crypto coins.
Hardware wallets offer maximum security when it comes to storing coins as they generate and store the key on the device, which is de-linked from the network when not in use. This makes it near impossible to crack.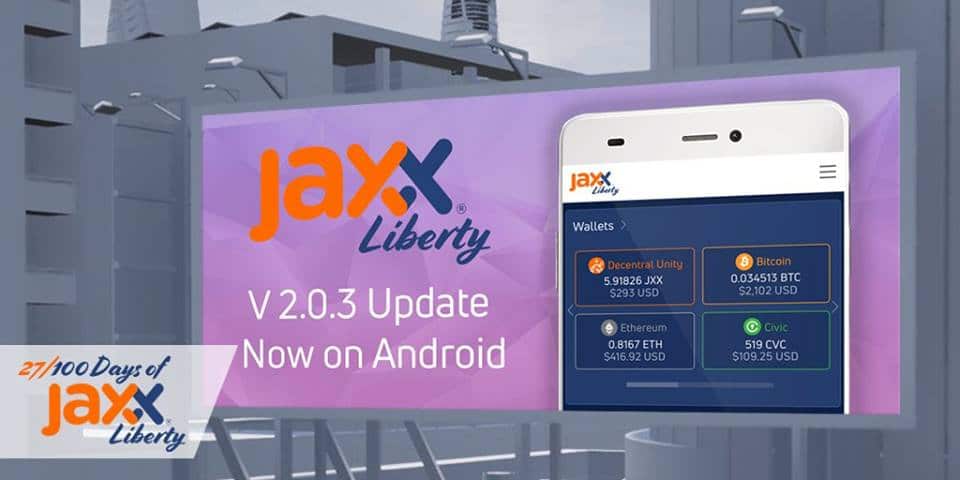 Is Jaxx a Good Choice?
Based on the Jaxx review above, it comes at the top among our recommended wallets and appears as a wallet of choice for our users.
Jaxx has one of the best user interfaces among wallets, which is intuitive, and all operations can be completed from a single screen.
It also offers tight security by storing keys on the physical device of the user rather than a central server but lacks two-factor authentication, which is a security concern.
They offer support for most of the popular currencies out there, including Bitcoin, Ethereum, Litecoin, Dash, Monero, and more.
It offers cross-platform compatibility across mobile phones and desktop and enhanced privacy for users without asking for email or any other personal information.
They have some performance issues where users have complained of lag and buggy performance. But they compensate for it with a super responsive team that resolves user queries in a flash and is also available for comments and future direction on Twitter and Reddit.
Overall, Jaxx can work great as your first wallet or if you want to use it infrequently for keeping your crypto coins secure, but if you are an advanced or a frequent user, the performance issues can be irritating.
Considering this review of the Jaxx wallet, we give it an above average rating of 3.5/5. So, go ahead and download the Jaxx wallet now by directly going to their website and let us know what you think?