Is Stratis Cryptocurrency A Good Investment?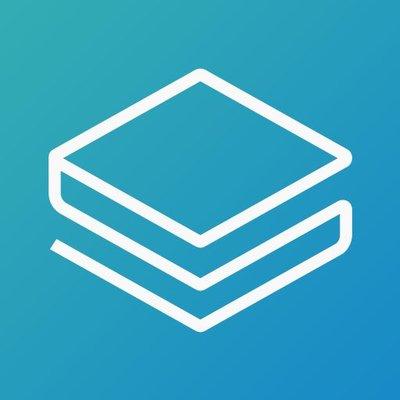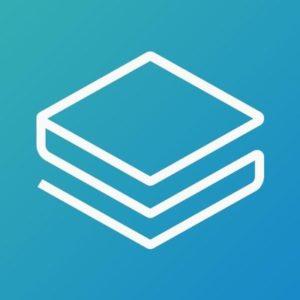 When Stratis announced their partnership with Earth Twine in August 2017, its potential as a possible threat to Ethereum became imminent. But this was only a single pointer. Stratis also partnered with the giant Microsoft while its value grew by more than 14,000% between its launch and the close of September 2018.
For investors, trying to narrow down to the most potential asset in the crypto niche can be confusing. By improving on the Ethereum's model of supporting decentralized applications, the crypto community speculates that Stratis's value could explode in the coming years.
This post is a comprehensive analysis of the Stratis cryptocurrency and blockchain platform to establish how it works and answer the burning question: "Is it the ultimate coin that could rival Ethereum and become the next Bitcoin?" Welcome to discovering more about Stratis.  
What is Stratis?
Stratis is a decentralized cryptocurrency and a blockchain development platform that assists enterprises to create, test, and deploy new apps. Here is a closer look at its history.
A Glance At Stratis History And Core Goals
Stratis coin's development can be traced back to mid-2016 when it held its initial coin offering (ICOs). During the Stratis ICO, 84,000,000 Strat tokens (STRAT) were sold at a price of $0.007. The ICO raised $600,000 that went to the development of the platform to help it realize the core objectives.
The project was created by Chris Trew who is the current chief executive officer (CEO). Trew created Stratis by forking NBitcoin. However, Stratis differs from Nbitcoin in that it is primarily coded using C# instead of the C++ programming language.
The main goal of Trew was making Stratis a one-stop shop for all blockchain services and running it as a blockchain-as-a-service (BaaS) platform. The Stratis development team takes a hands-on approach to implementation and hosts decentralized apps to assist them to realize the optimal potential of smart contracts.
STRAT Performance in the Market
The price of STRAT has grown rapidly to deliver a high return on investment (ROI), especially to early investors. By the close of October 2018, the price of STRAT had grown by 14,900% to $1.5.
Those who cashed their STRAT in January 2018 when the price hit a record high of $21.21 enjoyed about a 302,757% return on investment. Impressive!
Take a look at the price performance in the figure below, courtesy of CoinMarketCap:
How Exactly Does Stratis Work?
As the benefits of blockchain technology become clearer, many are the businesses that target to take advantages of it but find it an uphill task because of the involved complexity. Now, Stratis comes to make this simple using the following structures and features:
Stratis Operates as a Blockchain-as-a-Service (BaaS)  Platform
To appreciate how Stratis BaaS operates, consider it as a form of a toolbox that comprises of different tools to help businesses run blockchain-related activities plugged into the main network. The Stratis platform uses C# as the main programming language because more developers are used to it.
This implies that even if you only have basic computing skills in C# programming, it will be easy to follow the Stratis services to take advantage of key features such as Fiat Gateways and the ICO platform.
Perhaps the most complex thing when it comes to creating a blockchain is designing the core code from scratch. Think of it this way; if the process is already complex to computing experts, where does a novice even start? The starting point is Stratis.
Stratis's development team has done most of the coding so that only a small bit is left to complete the task. Stratis allows businesses to craft blockchain and run them plugged into it as side-chains.
The side-chain model helps businesses to spend less time developing blockchains so that more resources can be dedicated to organization development. This implies that you no longer have to look at tokens being released into the market and wonder how they did it. Stratis makes creating new blockchain, token, and launching them easy and prompt.  
The Stratis Fiat Gateways
The biggest handle that has been preventing cryptocurrencies from mass adoption is the difficulty of linking then to fiat currencies. Because digital coins are volatile and unregulated, many businesses do not want to hold them.
To make it easy for businesses to use fiat currencies, Stratis was created with the target of integrating fiat gateways. According to the Stratis white paper, fiat gateways allow businesses to use the blockchain to send digital coins in a form that is readily accepted by mainstream consumers.
A business selling items such as fashion clothing would not hesitate to sell to clients with Strat coin because the Stratis gateways will help to convert the coins to the preferred fiat currency such as USD or GBP. When the gateway is finally launched, businesses will be able to enjoy speedy, transparent, and prompt transactions.
A Closer Look at the Stratis Architecture
The Stratis platform is created on a Bitcoin Full Node platform by utilizing the NBitcoin library, C# and Microsoft .NET framework. The platform has three main components that help control various layers of the Stratis node.
Here is a demonstration of Stratis 3-layer architecture:
The Stratis Bitcoin Full Node helps users to interact with the Node Policy Layer, the Infrastructure Layer, and Interface Layer. The node controls the user interface (Application public interfaces (APIs) and effects rules for verifying transactions.
LibConsensus runs directly from the Bitcoin core to provide codes for the consensus layer that defines the valid blocks on the Stratis system.
NBitcoin is used to fill gaps in the Consensus Layer by helping to deal with messages running between nodes in the Stratis Network layer.
The Stratis ICO Platform
Whether you have a blockchain-based or another high value project, its objectives can only be realized if there is ample funding. With initial coin offerings (ICOs) becoming important methods of raising funds from the crypto community, Stratis has moved to make the process simple and realistic.
In line with the Stratis roadmap, Stratis released the ICO platform in May 2018. See the roadmap image below for all the features as ascribed for 2018.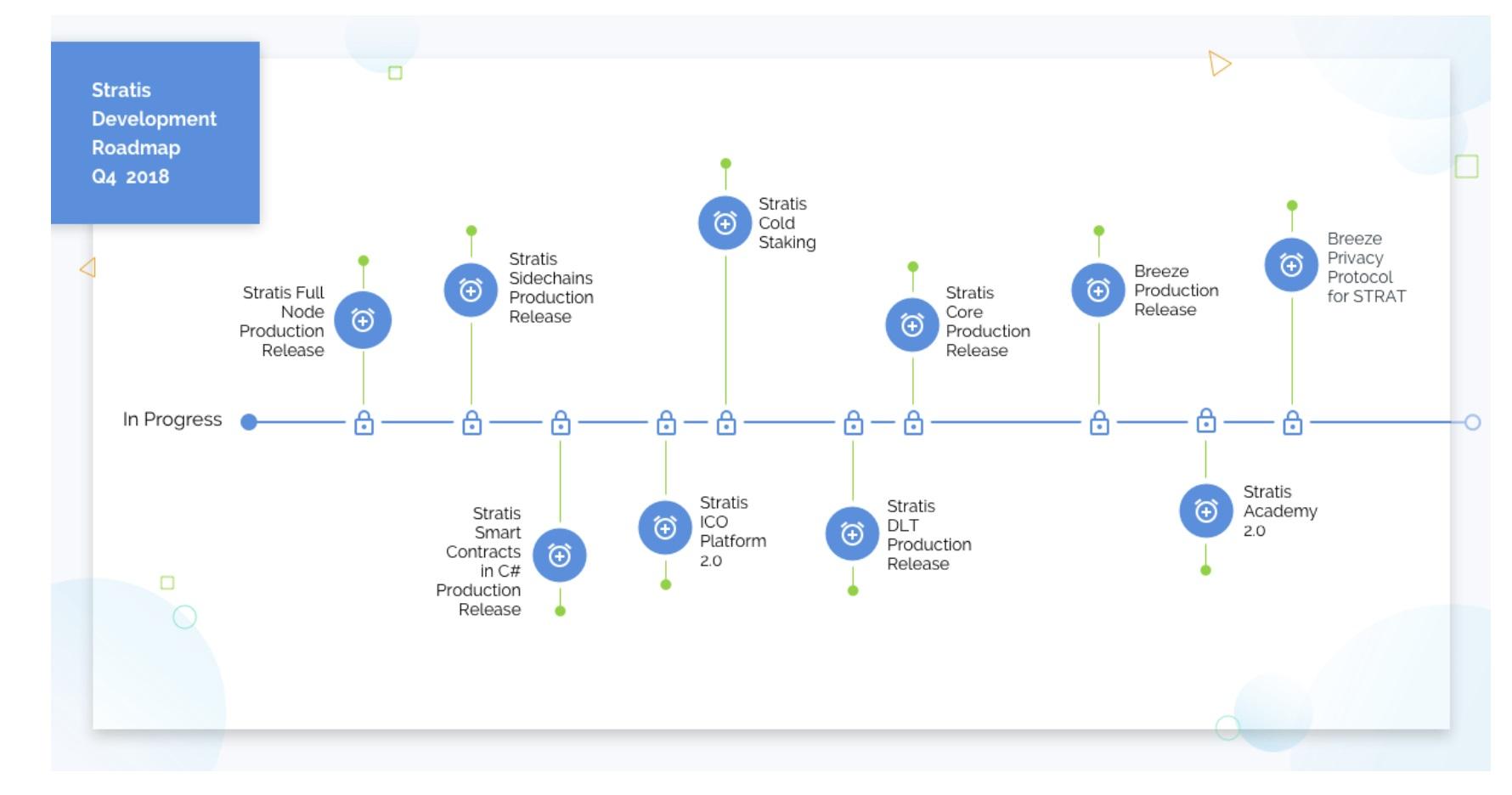 Having studied other ICO deployment platforms such as Ethereum, the Stratis development team added rich features aimed at addressing their inefficiencies such as deployment complexities. Here are some of the main features of the Stratis ICO platform:  
A unique design that allows users to easily customize it in line with individual branding needs.
The ICO platform integrates Changelly to allow buyers pay for tokens with USD, STRAT, and over 50 other cryptos.
The platform has integrated both anti-money laundering (AML) and know your customer (KYC) services to conform to local laws.
It supports hierarchical deterministic wallets that provide users with a high degree of security.
The Stratis team provides consultancy and technical support for startups to effectively plan, initiate, market, and successfully run their ICOs.
Stratis Currency and Proof of Stake (PoS) Consensus Algorithm
The STRAT coin was initially launched as a proof of work (PoW)-based crypto but was later shifted to the proof of stake (PoS) consensus model. Proof of work consensus protocol is considered less effective because it requires a lot of energy and raises the danger of centralized mining. Even Ethereum, the second most valuable cryptocurrency network, has also expressed the desire to move to proof of stake protocol.
At Stratis, PoS is considered a good option because people who want to mine the network are required to own some stake. This implies that it is hard for them to conspire to harm the network because their stake will also be in danger.
For users, proof of stake (PoS) protocols is seen as the ultimate thing because they only need to stake the STRAT tokens to be able to mine the network. It is simple and easy to use even with a standard CPU and GPU.
Where to Buy Stratis
Strat cryptocurrency, like other coins such as Ripple, is sold in cryptocurrency exchanges. These are centralized markets that help to bring together sellers and buyers so that the in the exchanges. To be sure to pick the right exchange; it is advisable to carefully review its focus on security, avoid trading using all your coins, and move the Strat cryptocurrency prices are driven by demand and supply.
Note that though a lot of markets have listed the Stratis cryptocurrency, it is important to be extra cautious because the exchanges have become an easy target for hackers. If you look at the major attacks and losses in the crypto industry, the chances are that they took place in the exchanges.
From the Mt. Gox attack of 2011 where more than 600,000 BTC were lost to the recent Coincheck hack that saw over $500 million worth of crypto coins lost, the losses took place from the exchange when not trading them.
The following are the top exchanges that you should consider when planning to buy Stratis:
Binance. This is a crypto-to-crypto exchange that is based in Hong Kong. Though the exchange was started only in mid-2017, it has grown into one of the largest markets in the globe. It has a transaction fee of 0.1% with users buying Strat tokens getting a chance to cut the fee down further  by 25% if they pay using the exchange's native coin, referred to as BNB.
Bittrex. This is a US-based exchange located in Seattle, Washington. It was founded in 2013 and has won the hearts of the crypto community for its special focus on security.
All tokens are carefully scrutinized to avoid listing pump and dump coins. The transaction fee for selling and trading STRAT at Bittrex is 0.25%.
Poloniex. This is another exchange based in the US. It was started in 2015 and has grown steadily to join the top cryptocurrency exchanges based on traded volume. The transaction fee at Poloniex varies based on the traded volume. The highest cost is 0.20% for the taker and 0.1% for the maker when the traded volume is less than $500,000.
Cryptopia. This is a New Zealand-based crypto exchange that has been growing steadily in recent years. The exchange is preferred by STRAT traders because it allows them to make fiat deposits using New Zealand dollars and US dollars. Besides, it also runs a marketplace that facilitates users to sell and buy items with cryptocurrencies.
The transaction fee at Cryptopia is 0.2%. The biggest challenge for Cryptopia is that the exchange is seen as a localized market with a greater preference for people in New Zealand. For example, fiat deposits are only allowed through New Zealand banks.  
Note that once you select the preferred exchange, you will also need a wallet to store the Stratis tokens. Stratis staking wallet is the recommended option for users who want to receive dividends from the platform through the POS protocol. Other wallets that can be used to store Stratis coins include the following:
The Final Take
Stratis is an impressive blockchain-as-a-service platform and cryptocurrency designed to help redefine the crypto niche. The unique project structure has made it a preference for major companies such as Microsoft and Earth Twine that want to take advantage of the unfolding blockchain space.
The development team's knowledge of the underlying protocol and capability to follow its roadmap has made the community believe its value will rise in the coming years. If you have a business and have been thinking of how to take advantage of the blockchain niche, Stratis is a great option to start.
You can opt to create native coins or use the platform to fundraise through the Stratis ICO platform. Remember that you do not need to be an expert in blockchain technology. The Stratis development team can assist you to know how to go about creating tokens and successfully running them.
For those who want to take advantage of the high potential platform, Stratis is a good investment. Simply buy the STRAT tokens and hold them awaiting the price to grow. Make sure to also learn how to buy Stratis from a secure exchange and preferably store the coins in a staking wallet to enjoy dividends through the proof of stake consensus protocol.