ll The Robinhood IPO Drive Bitcoin's Recovery?
It's been a chaotic year so far for bitcoin. The World's most famous cryptocurrency managed to accelerate to new all time highs at the beginning of 2021, bringing with it a new wave of investor optimism before suffering a collapse so severe that it wiped out much of the asset's accumulation over the past six months. Now, as the market struggles to come to terms with its next steps, could Robinhood's IPO help to drive a recovery?
Although volatility in crypto is nothing new, bitcoin's recent crash has sent much of the market tumbling with it in a dip that's unfamiliar to many of the new investors who have arrived since the beginning of the Covid-19 pandemic.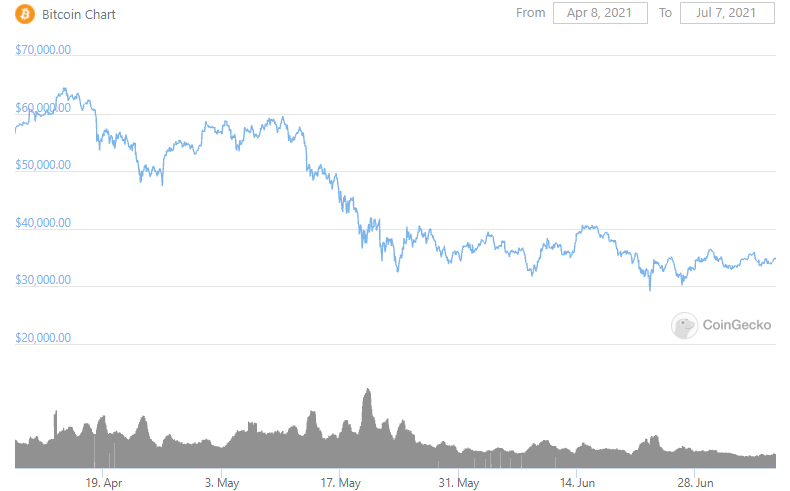 (Image: Coingecko)
From an April peak of $64,800, bitcoin shed more than 50% of its value during its crash. Although the initial downturn was met by high trading volumes, this level of activity has tailed off in recent weeks, leaving the market to crab around the $35,000 mark.
The reason behind this dip isn't exactly clear. Elon Musk sparked widespread concern at the carbon footprint of bitcoin mining by announcing that Tesla would no longer be accepting the cryptocurrency as payment for their range of cars, while continually tightening regulations surrounding cryptocurrencies in China have also caused fear across the market. 
Although the outlook appears to be uncertain for the near-term future of bitcoin, the arrival of investing app Robinhood's long awaited IPO may help to contribute to a cryptocurrency recovery, driving the price of assets up in the way that some believed Coinbase would do during its April initial public offering. 
Succeeding Where Coinbase Failed
To link Coinbase's IPO to failure is harsh, and there's still plenty of room for optimism that the cryptocurrency exchange's market value will recover as the market picks back up, but with some commentators anticipating the listing to bring a boost to the value of bitcoin, it's reasonable to say that the initial public offering did very little to arrest the decline of BTC across May and June. 
As Coinbase's price chart shows, the market value of the exchange has largely traced Bitcoin since the time of its April listing. 
While it's concerning for a publicly listed company to be so heavily pegged to the cryptocurrency market, it's unsurprising considering that Coinbase solely operates across the crypto ecosystem. 
However, Robinhood's listing offers something different to investors. Rather than Coinbase, Robinhood offers a more hybrid approach to investing, with the platform listing cryptocurrency, stocks and even IPOs following the launch of the platform's IPO Access portal.
(Image: Bloomberg)
As the table above shows, Robinhood has won favour with a huge volume of retail investors since the beginning of the Covid-19 pandemic. During the controversial recent GameStop short squeeze of early 2021 – much of which was conducted through Robinhood accounts – downloads of the app soared by over 800%. 
Maxim Manturov, head of investment research at Freedom Finance Europe says that "One of Robinhood's major issues is the lack of liquidity against the large demand on GameStop (GME) stock. The liquidity issue is however not uniquely Robinhood's problem, as many other brokers also experienced it when offering GME. This is because Robinhood had to put some limits and traders rushed to other platforms, such as Square, SoFi, etc. It was because of those limits that many investors were dissatisfied and filed complaints and claims against Robinhood; the company, however, denies any involvement in assisting third parties, as nobody outside the company influenced the decision on the limits. It is more likely that these restrictions are only about a technical need to provide liquidity, and the company needed to take a break to raise cash in order to cover the cost of transactions and pay off investors who wanted to cash out."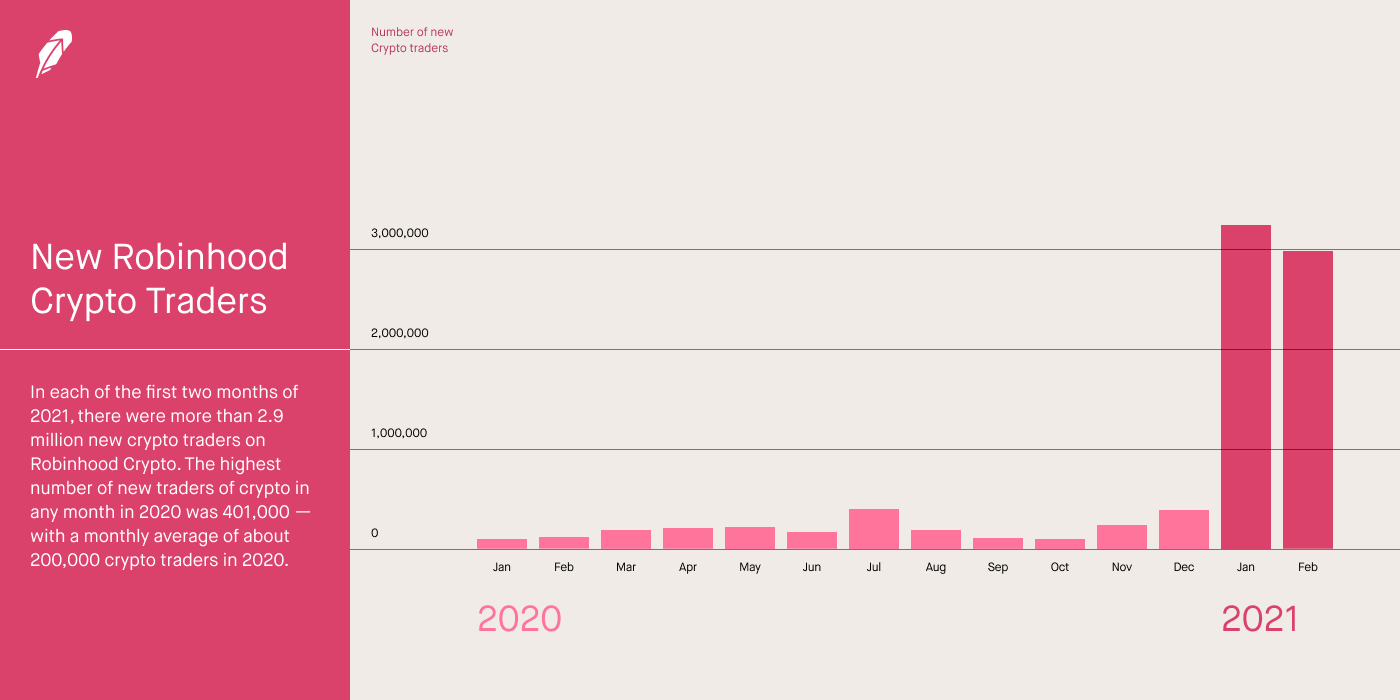 (Image: Robinhood)
As well as a huge number of stocks, Robinhood currently offers seven major cryptocurrencies for investors to trade. This window into the world of crypto has introduced many casual investors to the frenetic world of digital currencies and enabled them to buy and sell BTC without having to sign up to a dedicated crypto exchange. 
In the table above, we can see that Robinhood was averaging over 3 million new cryptocurrency traders a month at the start of 2021 – up significantly from an average of 200,000 in 2020. 
This makes the prospect of a Robinhood IPO much more tantalising than that of Coinbase when it comes to sending cryptocurrencies towards more mainstream acceptance. In going public, Robinhood can gain the validation and growth it needs to be the perfect gateway to crypto for retail investors – paving the way for much more widespread adoption. 
One of 2021's Hottest IPOs
Robinhood rarely strays from the headlines, and in 2021 the app has been embroiled in a number of controversies surrounding investor freedom, the gambling aspect of its business model and the rise of short squeezes across the stock market, but this hasn't stopped Robinhood from launching one of the world's most sought after IPOs. 
Many online brokerages have been scrambling to list Robinhood's initial public offering, including Freedom Finance Europe, a Nasdaq-listed company that's gone to the effort of creating a dedicated portal especially for investors to access and buy into the IPO – albeit after a registration process and a financial threshold of at least $2,000 is met. 
Other more traditional brokerages like Fidelity and TD Ameritrade are moving to accommodate the Robinhood IPO, albeit with far greater financial threshold requirements where in some cases investors will be required to possess over $500,000 in household assets before they can gain access to the initial public offering. 
Robinhood's IPO has the potential to be one of the most important of 2021, and its ramifications for the broader world of investment may be far reaching. As we move into a period of uncertainty for bitcoin and the cryptocurrency market, a successful floatation could be significant in terms of putting more retail investors in touch with crypto and giving them the assurance they need to embrace the likes of bitcoin. In an investing landscape with countless forces at play, a strong Robinhood listing may help to drive a BTC recovery in the short term.