Exodus Wallet Review: Is it Secure Enough for Your Coins?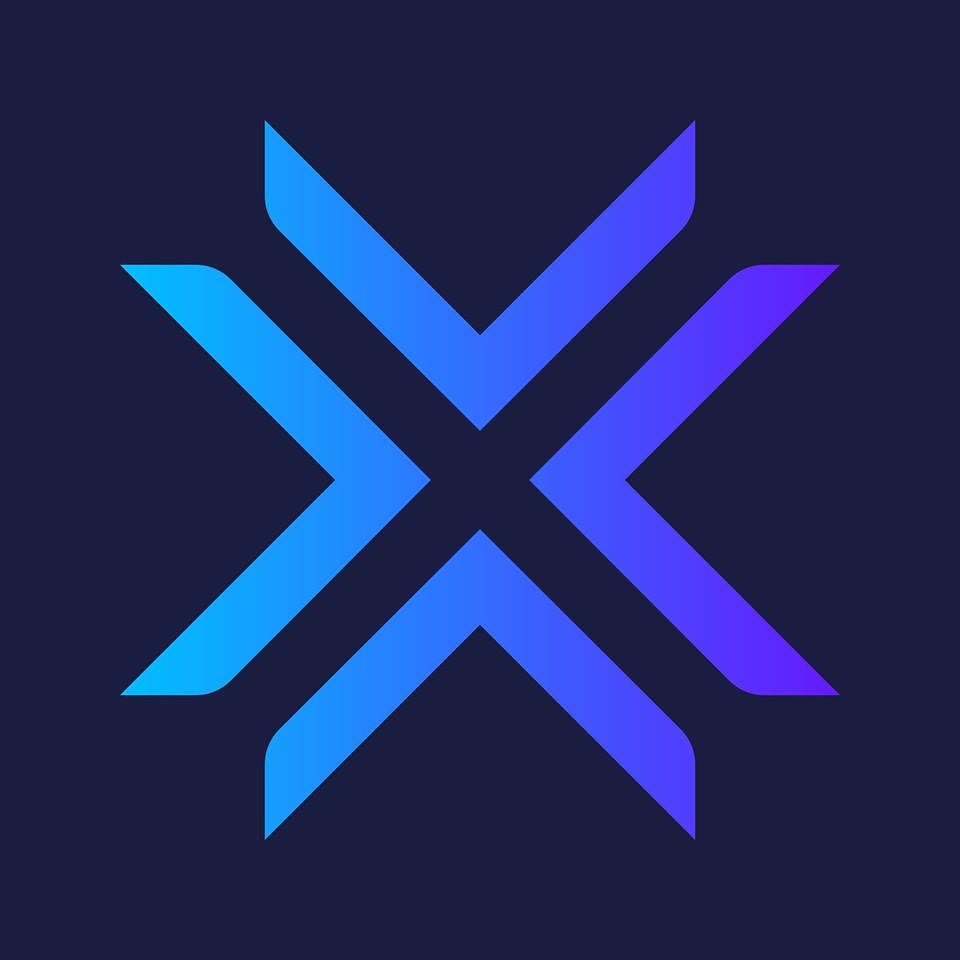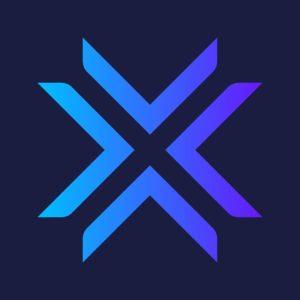 So, you want to join the crypto niche? Welcome! The one MUST-have thing in the cryptocurrency industry is a reliable and secure crypto wallet. This is a digital location for storing and managing your digital coins. One of the top options out there today is Exodus.
Exodus is ranked as the number one desktop wallet by trusted sites such as Bitcoin Exchange Guide and Finder.com because of its impressive features and support for a large number of coins. But the wallet has also suffered negative publicity as users consistently complain about losses incurred when storing coins in the wallet.
These complaints bring us to the main question: "Is Exodus secure enough for your digital coins?" This Exodus wallet review digs deep into the platform to establish how it works and help you make the right decision whether or not to use it storing your coins.
A Brief Overview of Exodus
Exodus is a software wallet (desktop wallet) created by JP Richardson and Daniel Castagnoli. Richardson, currently Exodus's Chief Technical Officer (CTO), has a rich background in blockchain technology having published over 200 open source libraries and authored a number of crypto software on the web.
On his part, Castagnoli, who is serving as the Chief Creative Officer (CCO), has a rich background in animations having worked in top brands such as Disney and Apple. He is credited for the intuitive appeal of the Exodus platform.
Exodus is designed to support many cryptocurrencies as a unique strategy to outdo others in the highly competitive niche. This implies that it is likely to deliver greater value, especially to users targeting to take advantage of new assets being released into the market.
However, Exodus's road to the top in the industry has not been easy. In mid-2017, the development team had to remove Dogecoin from the list of supported assets. Dogecoin had not updated its insight components for several years and the Exodus team found it was opening gaps for attacks.
Exodus Wallet: A 4.0 Star Rated Wallet
The unique design of the wallet and commitment of the development team to progressive improvement have helped it stand out from other wallets. People coming to the Exodus wallet are also impressed by the fact that they can store and manage about 100 assets from the same platform.
This Exodus wallet review rates the platform 4.0 stars because of the ease of use for both new and experienced crypto enthusiasts. Besides, it is also a free wallet. You will only need to pay when running transactions because they are processed through respective blockchains.
However, the platform's rating has stalled at the 4.0-star mark because the security does not appear water-tight. For example, the platform does not have 2-factor authentication and it also lacks Multi-Sig support (more on this later).
How Does Exodus Work?
The design of the Exodus platform is targeted at simplifying the access, use, and management of digital coins. The wallet distinguishes itself from others by combining the following three components:
This is the point where people spend most of the time sending and receiving digital coins. The Exodus wallet, like others such as Jaxx, operates through a set of codes that help users link and manage their coins in various blockchains. This implies that in reality, the Exodus wallet does not store crypto coins. What it stores is a set of three codes: primary keys, public address, and seed phrase.
The private keys provide access to your coins in a blockchain while the public keys serve as the address to your wallet. The seed phrase is a special recovery code that is only used to regenerate the private keys in the case of a loss. The private keys and seed phrase should never be shared with third parties.
The wallet allows users to filter their transactions by "received", "sent", and "exchanged" to help them manage their operations with ease.
If you have many coins in a multi-asset wallet such as Exodus, it can be a Herculean task following each of them especially when running several transactions. The Exodus portfolio page is designed to provide you with a breakdown of the coins you own as well as their associated value.
Whether you want to buy new coins or participate in initial coin offerings (ICO), the portfolio is very helpful because it provides the updated value of the coins in the market. You can also use the portfolio to know when a specific coin value is going down or up in order to take a position in the crypto market.
Integration with ShapeShift
To deliver a unique value position, the Exodus wallet has integrated ShapeShift into its system. ShapeShift is a leading crypto exchange that has cut a name for its security, unique trading features, and commitment to privacy. The exchange allows Exodus users to trade their coins directly from the wallet while guaranteeing them extra privacy and speed.
How to Create an Exodus Wallet
To use the features on the Exodus platform, you will need to start by creating the wallet. This can be achieved in a few steps as described below:
Visit the Exodus official website and download the app based on your platform (Mac, Windows, or Linux).
Follow the screen prompts to install the wallet successfully.
Once installed, open it and click the "wallet tab" on the left section of the platform. You are now ready to start using the wallet.
To add a crypto asset to the wallet, click "Wallet" and then "Receive" to generate a QR code (public address) that you should give to those targeting to send you coins.
Note that each asset in the wallet has its own private key. Therefore, how do you know the private key of a specific asset? First, you navigate to the Developer Menu, then Assets, and finally, View Private Keys. Make sure to copy the key and keep it away from third parties.
The following video outlines the process of creating an Exodus wallet
Is Exodus Wallet Safe?
When Richardson and Castagnoli created Exodus, they were aware of the serious threats of getting attacked. However, they used their experience in the blockchain platform to craft a strong and reliable platform that users could rely on for the secure storage of their coins.
To guarantee users of optimal security, the Exodus development team reviews the platform regularly to identify vulnerabilities and clear them. For example, they were forced to remove Dogecoin from their platform in 2017 for raising vulnerability to attacks due to a lack of updates.
The wallet also provides users with seed phrases that can be used to recover private keys in the case of a loss or damage to the main computer. Note that the seed phrase should be kept secure because its loss could mean the loss of your assets. Every asset on the Exodus wallet has its own seed phrase.
While the effort by the development team is indeed impressive, it is still below par compared to others in the industry, especially hardware wallets such as KeepKey and Trezor. This Exodus cryptocurrency wallet found that even with impressive design features, the following components still make it insecure:
The Exodus platform does not offer 2-factor authentication. This implies that it is easy for fraudsters to use keyloggers to steal user logins and gain access into their wallets. All that stands on the way between hackers and your assets is a password. This is very scary!
Exodus does not use the multi-signature feature. Multi-signature (Multi-Sig) is an additional layer of security on a wallet that requires another user to sign a transaction before broadcasting into a blockchain. It makes it very difficult for hackers because they have to break two platforms to gain access/control to your coins. Now, Exodus works without this layer of additional security.
NOTE: The Exodus leadership is categorical that the wallet should be used for light duty operations. This means storing only a few coins. If you need to handle a very large number of coins, they recommend the use of hardware wallets such as Trezor.
The Summary of Exodus Wallet
This Exodus Bitcoin wallet review found that the platform is carefully designed with an impressive design and appealing features. Here is a summary of its pros and cons: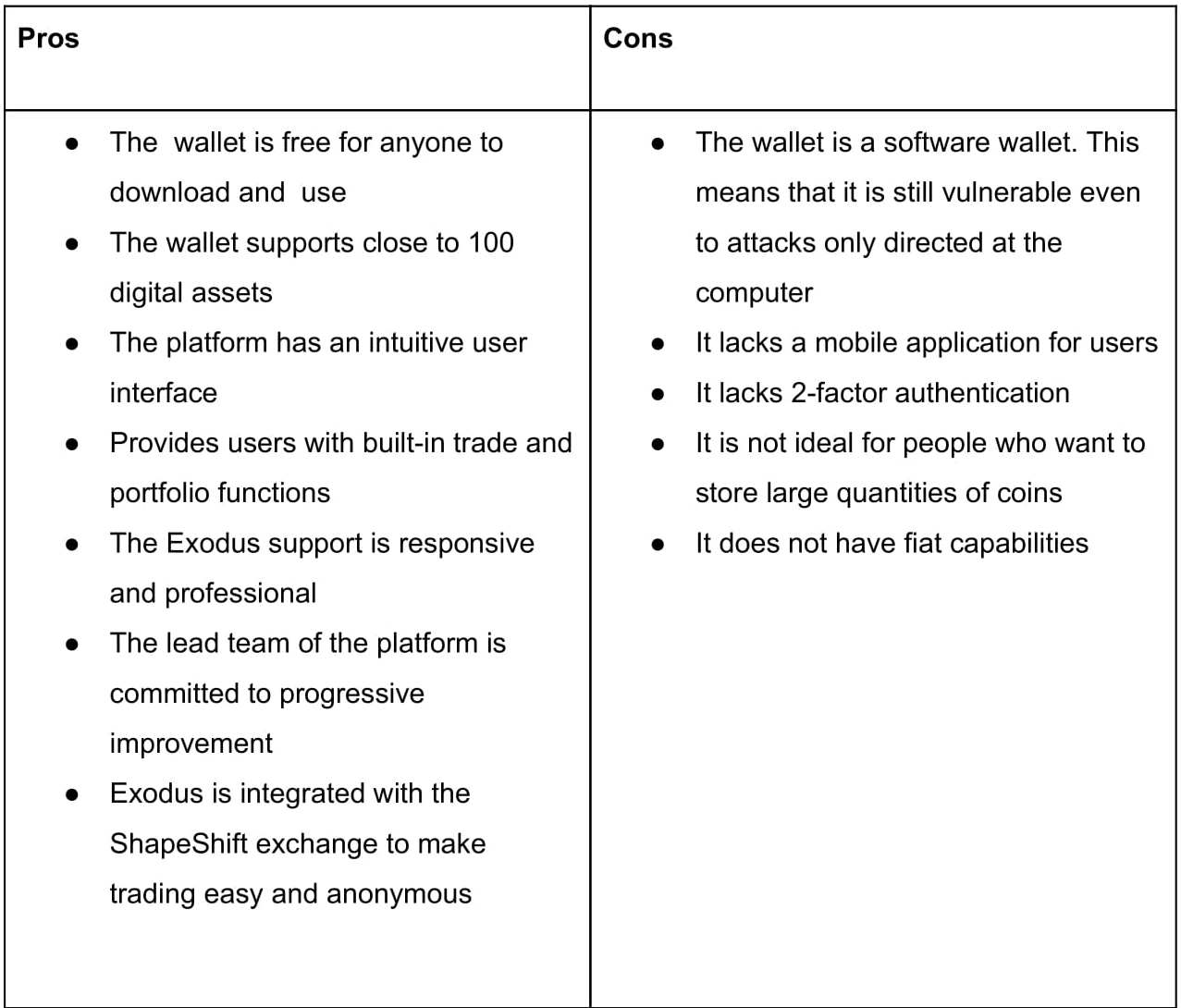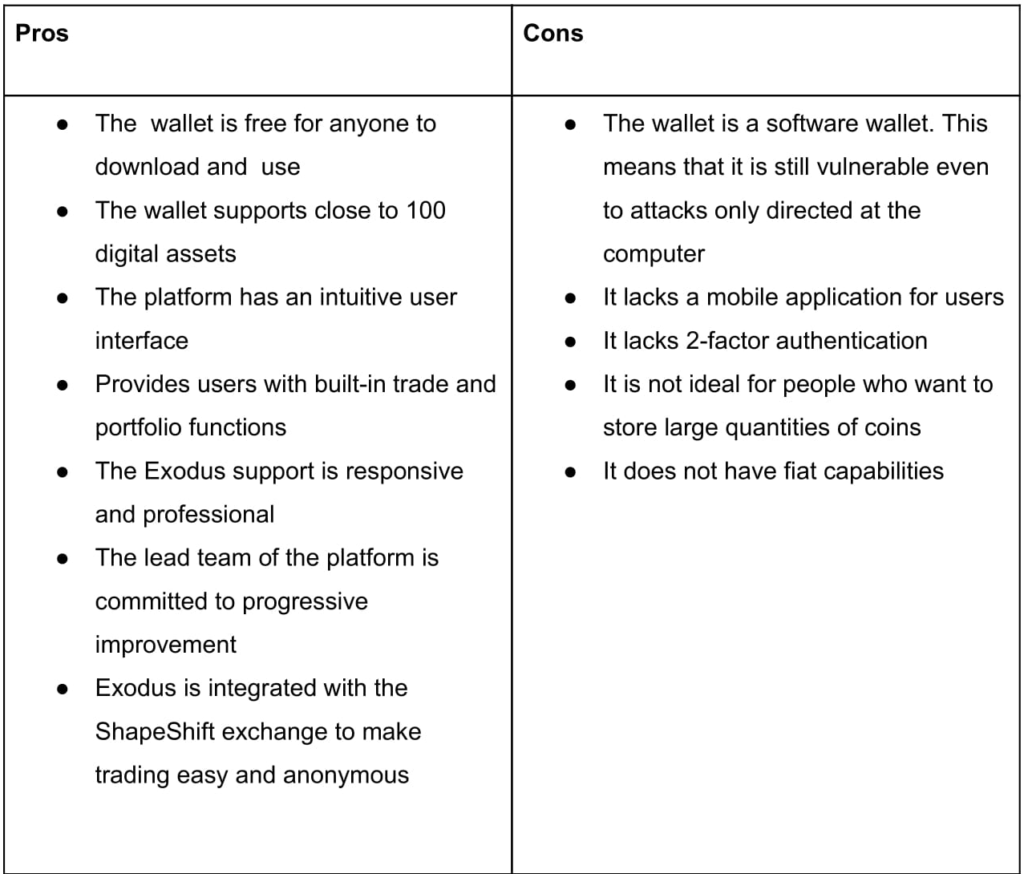 The best crypto wallet out there should provide a user with impressive design, security for digital coins, reliable support, and a commitment to progressively enhance the system for more value. Exodus scores well in all the above points but it lags behind when it comes to security.
Because of its design as a software wallet, it becomes an easy target for attackers. However, even its development team appreciates this fact and recommends that users should avoid storing large quantities of coins.
Now, back to the main question: "Is the Exodus secure enough for your coins?" The answer is "Yes" because no attack has ever been reported on the post and the development team is committed to improving security. However, the risks are still lurking.
The ideal way to operate with Exodus Bitcoin wallet is only storing a small number of tokens. If you want to store or move larger quantities of crypto coins, consider a more secure wallet such as Ledger Nano S.  
Even with the few coins you store in the Exodus wallet, it is still crucial to exercise caution. Here are four best practices to focus on for storing your coins safely in a desktop wallet:
Do not share your private keys and seed phrase with third parties.
Avoid visiting risky sites that raise the risk of attacks.
Keep your Exodus wallet and computer always up-to-date.
When trading in the exchanges, only use a small number of coins.