YoBit Cryptocurrency Exchange: Full Review 2020
Digital currency is becoming more popular today. This has provoked an increase in the popularity of cryptocurrency exchanges not only among investors but also among ordinary users. These digital platforms provide people with the chance to earn large amounts of funds in real-time. In addition, they provide a lot of helpful information that helps beginners to get acquainted with the specificity of their activities.
YoBit occupies a leading position among modern digital platforms created for making transactions using electronic coins. YoBit appeared on the cryptocurrency market 6 years ago. It became famous among numerous clients around the world. The article is devoted to the full review of this cryptocurrency exchange.
General Information
The cryptocurrency exchange was created 6 years ago by the European developers' team. It is registered in Panama (entity information: YoBiCrypto Corp. 0801-3254, Panama City, Plaza 2000 Tower, Calle 50) . It is a fairly famous virtual platform for making transactions with digital coins and fiat funds today. Pay attention to the fact that in addition to BTC and numerous altcoins, YoBit also supports Fiat funds.
The safety level of the digital platform is very high. The fact that it has never been hacked in 6 years is proof of this. Each user has the opportunity to trade without KYC and remain anonymous. YoBit supports different languages, including English and Chinese. This simplifies the use of clients from different countries of the world.
Many users positively evaluate the activity of this cryptocurrency exchange. Numerous positive reviews made on reliable sites indicate this. Daily trading volume is high and amounts to more than fifty million US dollars according to coinmarketcap. YoBit also has a bonus program with a crypto forum. This gives users the opportunity to get rewards for posting information on the forum.
It is easy to register on the virtual cryptocurrency exchange. This process does not require a lot of personal data. Depositing and withdrawing funds also does not cause difficulties for users. If any questions or difficulties arise during the trading qualified support staff will always help you solve them as soon as possible.
The above aspects are the key to the success of the YoBit. Users can make not only profitable transactions but also get professional support and get acquainted with the topical news about cryptocurrencies and transactions with them here.
Key Features of YoBit
The most important feature of YoBit is that it not only provides users with the opportunity to make trade transactions in real-time. Each of them can also use the following additional options:
FreeCoins. This system, which is available only on YoBit, provides some free coins by users for regular participation in trading and concluding at least 20 transactions daily.
InvestBox. This is an exchange deposit system, which implies that the user deposits digital coins as a deposit and then receives interest from the deposited sum. The amount of interest received varies depending on the type of cryptocurrency deposited.
Coinsinfo. Users have the ability to obtain complete information about a particular cryptocurrency with the help of this service. Information about the number of digital coins, their foundation, and methods of mining, as well as much other useful information, is provided here.
YoBit games such as YoPony or Dice, which give users a unique chance to increase their savings.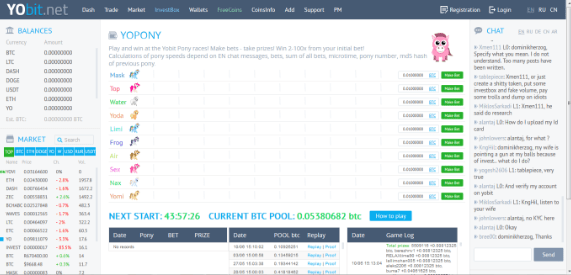 PM. This section is designed to allow users of the digital platform to communicate with each other by sending personal messages.
AddToken. Any user can add his token to the cryptocurrency exchange using this function. He must specify the number of bitcoins that he is willing to pay for adding a token. The decision that a user can place his token on the digital platform is made within several days.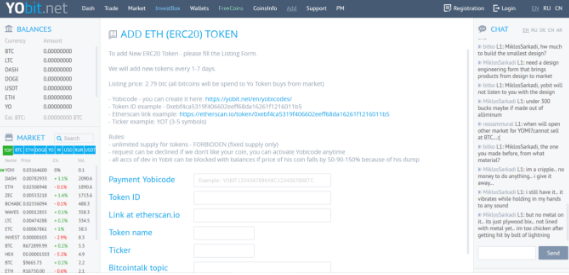 Registration on YOBit
Registering on YoBit is very simple. It takes no more than 1 minute, even for inexperienced users. You should fill out a simple registration form where you have to specify: 
User name; 
Valid email address; 
Password.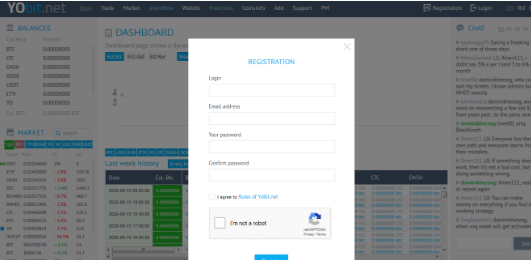 Confirmation of the email address is required to complete the registration process. You should follow the link that will be sent to the email address specified during registration. The YoBit creators recommend activating 2-factor authentication. This will increase the level of protection of your account from hacking.
Please note that you do not have to pass the KYC procedure when registering on the cryptocurrency exchange. This allows each user to keep his name secret and trade completely anonymously. You will be the only one who will know about your transactions.
How to Trade on the exchange?
First of all, the user needs to create a free account. This is a prerequisite for taking part in trading on the cryptocurrency exchange. If you do this successfully you can log in YoBit digital platform. Users can find data about the account summary and balance, and information about trading markets here. You will also have the opportunity to view the history of trading and communicate with other users via active chat. If you want to find out the current news in the world of cryptocurrency you should open the Twitter feed. The YoBit developers publish news daily in this section. All this will be very useful for you before you start trading.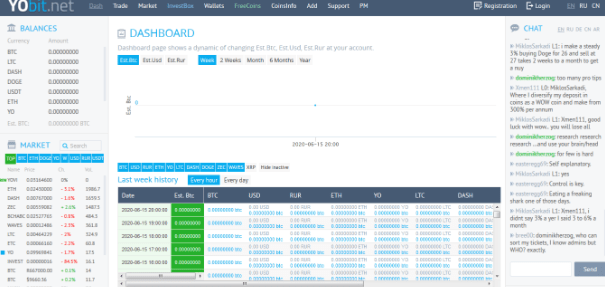 The user must go to the "Trade" section in order to go directly to the implementation of transactions with cryptocurrency. The following information is provided here: 
Graph of prices; 
Tools used for placing orders; 
History of all completed transactions; 
Book of market orders.
Users of the YoBit digital platform can immediately execute trading orders. It is easy to make transactions to buy or sell digital coins. You just have to specify the cost and volume of cryptocurrency that you will buy or sell. Even an inexperienced user can handle this task without problems. However, experienced professionals can miss advanced order types. This is due to the fact that YoBit does not yet support them.
Please note that you will have to use the "Wallet" tab. It is with its help that you can make a deposit to make transactions on the purchase of digital coins or withdraw funds received from its sale.
How to Deposit and Withdraw Money from YoBit?
Another advantage of YoBit is the ease and high speed of depositing and withdrawing money from the digital platform. This is due to the fact that this cryptocurrency exchange supports not only cryptocurrency but also Fiat money.
Commission fees are not provided when making a deposit. However, withdrawals are made only with the payment of commission fees. Their size depends on the kind of digital coins and the payment system used by the user.
If you want to charge your account with money or withdraw it in Fiat funds you can do this in US dollars. You can exchange cryptocurrency for Fiat and vice versa in order to make a deposit or withdraw funds from your account. You can use one of the following options to do this:
PerfectMoney.
Payeer.
Visa or Mastercard.
Capitalist.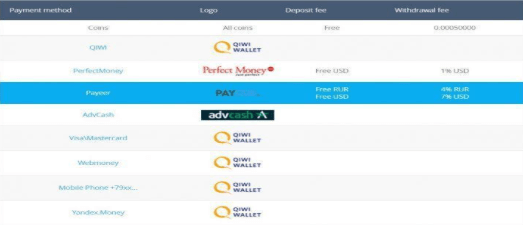 This is an incomplete list of payment systems that are available to YoBit users for making deposits and withdrawing funds.
The average time spent on making a deposit or withdrawing funds is 1 hour. These operations depend on the speed and power of the Internet connection, as well as the payment system used.
Custom Support Service
The cryptocurrency exchange provides users with high-quality support services. If you encounter problems related to the functionality of the digital platform or directly buying or selling coins, you should send a message to the support staff. You will receive a qualified answer with detailed explanations in a short time.
You can also contact the support service not on the platform but in a Telegram. The chat is active around the clock. You can write to one of the 10 admins who work online seven days a week. Messages can be sent in the following languages:
Arabic; 
English; 
German;
Chinese.
In addition, users can contact the support service via an email message or a built-in chat. Support via Twitter is not available to users of the cryptocurrency digital platform today.
Opinions about YoBit.net
Following famous and authoritative resources highly appreciate YoBit:
Trustpilot https://www.trustpilot.com/review/yobit.net.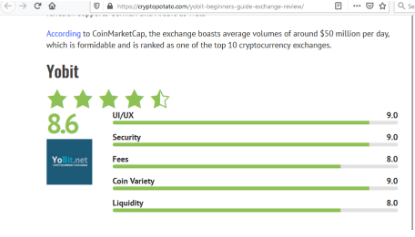 3.  Blockonomi https://blockonomi.com/yobit-review/.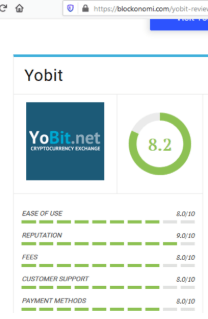 4. Cryptogeek https://cryptogeek.info/en/exchanges/yobit. 
However, not only reputable and reliable websites speak positively about this digital platform. There are also a huge number of ordinary users who are completely satisfied with the functionality, level of service provided by the cryptocurrency exchange, as well as the speed and profitability of transactions.
According to users' opinions, they managed to earn high levels of profit through trading transactions on the cryptocurrency exchange. The platform provides a fairly wide range of projects aimed at making money. So, you can try yourself in each of them to understand which way of earning money is right for you.
Can YoBit be Considered a Safe and Reliable Cryptocurrency Exchange?
The creators of the digital platform claim that there has not been a single case of hacking the cryptocurrency exchange to date. This suggests that it has a fairly high level of security and reliability. But how is this achieved?
Today, YoBit uses a number of security measures that ensure reliable protection of user information and funds:
Cold cryptocurrency wallets.
Tracking suspicious activity and immediately blocking.
Measures to prevent SSL encryption and DDOS attacks.
Secure transactions using Yobicodes.
System files encryption as well as real-time encrypted data backups.
However, this is an incomplete list of measures taken by the creators of the digital platform to protect the funds of each client. Additional protection is also provided by:
2FA protects your account from unauthorized access by hackers.
You will receive a message to your email every time you log in to your account. This allows you to track your account activity and prevent unauthorized users from accessing it.
A secure password that is difficult to find. The user must create a strong password that consists of a combination of letters, symbols, and numbers. Remember that you must not tell anyone about it.
There is an opportunity to freeze funds. If the user suspects that his account has been hacked he can use the unique function to freeze the withdrawal. Activating this option will help to avoid unauthorized withdrawals from the account.
It is obvious that the creators and developers of the digital platform have done a serious job to ensure a high level of security on it. If you decide to participate in trading transactions on YoBit you cannot worry about the safety of your funds.
Conclusion
The growing popularity of the cryptocurrency industry is an indicator that this is a fairly promising development. An increasing number of people are paying attention to cryptocurrency exchanges. YoBit also took a high position in the ranking of the most famous virtual platforms designed for making transactions not only with digital coins but also with Fiat funds.
This cryptocurrency exchange has been operating on the market for 6 years. It has achieved the recognition of many users during this period. The team of creators of the virtual trading platform guarantees a high level of protection of personal data and funds for each user. You can make transactions and remain completely anonymous today.
YoBit supports numerous payment systems, from which each user can choose the one that suits him most of all. Deposit and withdrawal operations do not take much time, as a rule.
The cryptocurrency exchange provides a qualified support service to users around the clock on any day of a week. You can make profitable transactions and earn real money here.
ICOholder score: 4.5/5