Top Rated Mobile Bitcoin Wallet: Trustee Wallet Review
The crypto industry is booming, and we have frankly grown tired of underdeveloped applications that flood the market. Where do you look for a reliable mobile wallet application to store your coins, enable buy and sell operations with fiat money, with NFT support, multiple integrated cryptocurrency exchanges, DeFi access & built-in staking, loyalty bonuses, and even more features on the way?
If you are a demanding user, this one is for you.
If you are just starting out the journey into the crypto-world, Trustee won't let you down either.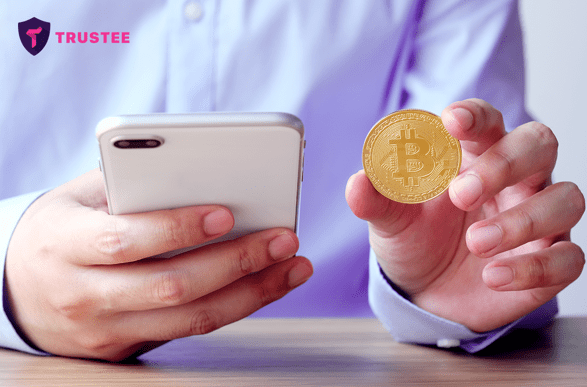 Anonymous Bitcoin Wallet Meant for Everyday Use
Hey, if you ever looked for a wallet that does not leave a bitter feeling of complete incomprehension, Trustee is the way to go. Designed and meant for mass adoption, Trustee is the top-rated anonymous bitcoin wallet, which you can immediately confirm on App Store or Google Play.
Quite a bunch of underdeveloped bitcoin wallets swarm the app stores nowadays. Naturally, their ratings fluctuate around the mark of 3 or even 2 stars out of five. The Trustee anonymous bitcoin wallet went far beyond a four-star threshold. Even if a user encountered a difficulty in their experience, the support response was swift and to the point: the negative feedback was edited.
What is the secret of success? Trustee Wallet pays due attention to customer experience, which makes it convenient and simple. It is not reserved for developers and crypto enthusiasts alone. It is meant for you, your friends and family, coworkers, and clients.
By the way, Trustee rewards you with partnership program payouts for every new user you refer.
What makes Trustee the best anonymous bitcoin wallet?
The answer, quite simply, boils down to the following points:
Trustee has no access to your private keys, i.e., it is a non-custodial mobile wallet.
Trustee is an open-source software application. Anyone can freely review its code.
It does not employ obligatory Know-Your-Customer (KYC) verification procedures.
It does not collect your device usage metrics or any other sensible data under the excuse of "improving customer experience".
It gives us confidence to assert that Trustee Wallet is a safe and anonymous bitcoin wallet app, pleasant to use all the same.
Buy Bitcoin by Bank Card with Trustee Wallet
Trustee emphasizes safety in their operation. One might remark that ensuring safety is a natural and obvious endeavor when it comes to fiat money and digital assets. True, but different service providers approach the matter differently. Trustee Wallet does not keep your seed phrase in custody, unlike online hot wallets (typically, centralized exchange accounts). Trustee displays its source code for everyone to test and question at will.
Which is why it is generally safer to buy bitcoin online with Trustee Wallet and keep it in your possession, protected from security exploits.
The ability to buy bitcoin with credit card (CC) had been a rare privilege in the early days of Bitcoin. It involved fairly complicated routines of authorization, linking a desktop Bitcoin client, manual address copying, trusting your money to complete strangers with no guarantees of protection when a deal went wrong…
Specify CC details in the Trustee Wallet app. It is the only thing required of you to buy BTC with credit card and start performing operations with fiat money in general. Every time you buy, sell, or swap BTC for another coin, the app will match your order on an exchange of your choice, save the related order data so that it can be revisited later, and provide the blockchain explorer transaction links as soon as a network approves the order.
Trustee is particularly valuable for entrepreneurs who need to accept cryptocurrency transactions from time to time: they can share an address of the wallet (bitcoin or otherwise) to exclude the possibility of typing mistake. Considering the range of coins Trustee supports, you will hardly ever encounter a customer who wants to make a payment in an unsupported coin. Just make sure to follow the local legislation concerning digital assets and track your taxable income diligently.
In a way, Trustee Wallet is a better replacement for PayPal. While the latter just makes first steps to integrate cryptocurrencies, Trustee Wallet delivers a portable, easy-to-use solution to buy bitcoin online and carry out all the other basic operations with coins of your choice.
Why You Need to Choose Trustee Wallet – Best Mobile Bitcoin Wallet
Those who have tested a couple of wallets so far will feel the difference right away: Trustee Wallet turns an iOS or Android device into a fully-functional DEX with access to cheapest assets (when it comes to buying) and the most profitable sales. All this without sacrificing user-friendliness and safety.
You've got to check it out!