The Future of iGaming: Stocks and Crypto Fantasy Trading Contests
You won't find many industries that are as open to innovation and new technologies as iGaming. Fantasy trading contests seem to be the next big hit in this industry. Here is what you should know about these competitions and why iGaming fans love them!
Introduction
The definition of iGaming is internet wagering on the outcome of a particular event. The term "event" can refer to many things – a sports match, online casino games, or fantasy contests.
Some would even describe investing as betting or even gambling. But that's not true if you ask investors. They prefer the term "speculation", and that's understandable. An average investor won't buy a stock before they check its growth trends and analyze them carefully. That means they decide based on information, which indicates investment is more than a game of chance.
Fantasy trading contests implement the "skill" factor to iGaming, which makes them tempting for beginners and experienced traders alike. Your goal is to pick the right stocks or cryptocurrencies. Platforms like StockBattle offer a variety of tools, such as graphs, to help you make the right selection. Although you might need a little luck, informed decisions can improve your odds of winning. 
It's a different concept than most iGaming genres, which is why this is the future of the industry. Participants can make informed decisions and choose their assets for the competition. Once the game starts, real-time scoring guarantees an adrenaline rush. 
Fantasy trading also has a learning component. It's no wonder that platforms like StockBattle or Invstr have daily, weekly, and monthly charts for each asset. Understanding those graphs, price movement, and asset volatility are crucial for future investors. Here is a brief guide and what you should know about fantasy contests!  
An Overview of Fantasy Trading Contests
These competitions apply a similar formula to fantasy sports. For example, in fantasy football, you pick the players who you believe will perform best on the pitch. It's the same in fantasy trading. The difference is your "players" are assets, and the "pitch" is their market. A fantasy finance platform measures the performance of your asset based on whether it gained or lost value during the competition. If your combined assets outperform the opponents, you win.
How to Choose Fantasy Contests That Suit Your Preference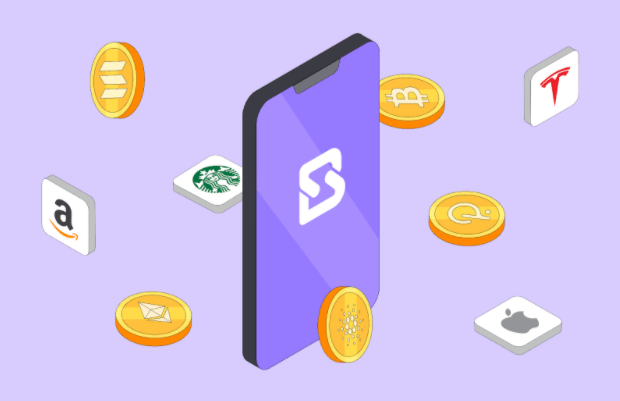 A great thing about these trading competitions is that you can pick from a variety of tournaments. It all starts by choosing a suitable platform.
Here are some tips to consider when picking a fantasy finance site:
Is the platform easy to use? The registration and money depositing process shouldn't be complex. Navigating the menus should be intuitive and pages should load fast.
Do you get a welcome bonus? Some platforms will double your deposit the first time you add funds to your account. Other incentives like doing surveys for prizes might also be available.
Is there useful information when choosing your portfolio? You should have charts and graphs that present the asset's market value. These help you see how the prices move, which can be important when selecting the assets.
How much do you need to invest, and how much can you win? Head-to-head competitions seem to provide the best experience for most users. It's simple math – if you win, you take the entire pot and double your stake. The initial investment can be anywhere from $1 to $50 and solely depends on your preference.
Can you participate in freerolls? Some platforms allow you to join freeroll tournaments first. That way, you can understand how the website works and see if the competitions meet your preferences.
What's a Better Option for Fantasy Trading – Crypto or Stocks?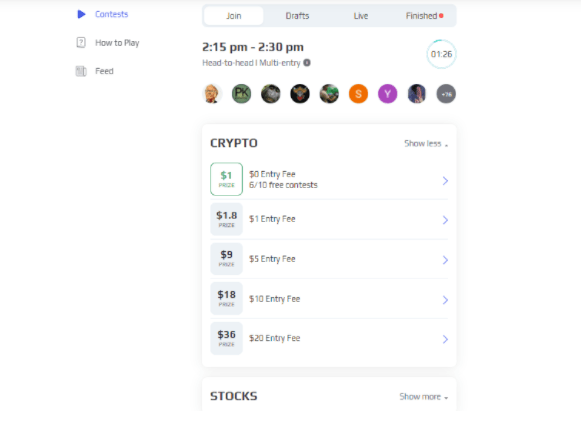 Source: Screenshot
Many fantasy finance platforms offer you different competition categories. If you open StockBattle, you'll notice the choice between stocks and cryptocurrencies. The selection comes down to your preference, especially if you don't have prior knowledge about a category. If you are a beginner getting ready to trade on the real market, fantasy contests are perfect for learning the basics.
Here are some specifics you might learn on fantasy trading platforms:
Reading graphs and charts
Understanding how asset prices move
Seeing high and low volatility first-hand
Learning techniques for picking assets for short or long-term performance
The general rule is that cryptocurrencies are more volatile than stocks. However, fluctuations depend on the actual asset you pick. Fantasy trading is there to help you learn about stocks and crypto and how their prices move. It's a simulator that doesn't require buying actual assets since that could be expensive. Instead, you monitor the market to understand it while still having the chance to earn in the process.
What's the Ideal Duration for a Fantasy Contest?
There's no optimal duration since it all depends on your preference. Some users are patient and they join leagues that last for days or weeks. From my experience, you should find a fantasy finance platform that offers fast-paced contests. A single session shouldn't last for more than 15 or 30 minutes. These are the benefits of those tournaments:
It's more exciting. You might even forget you joined a long-term competition after a while. But if the session lasts 15 minutes and starts soon, it's guaranteed to keep your attention long enough.
It won't disrupt your schedule. If a competition lasts 15 minutes, it won't take much of your time. That means you don't have to adjust your other activities to make way for the contest.
It's fun to watch live scoring. Some platforms will offer live tracking of each event. That ensures that you can see how your assets move in real-time. The prices fluctuate per second, which maximizes the adrenaline rush!
Tips to Use When Choosing Assets for Fantasy Trading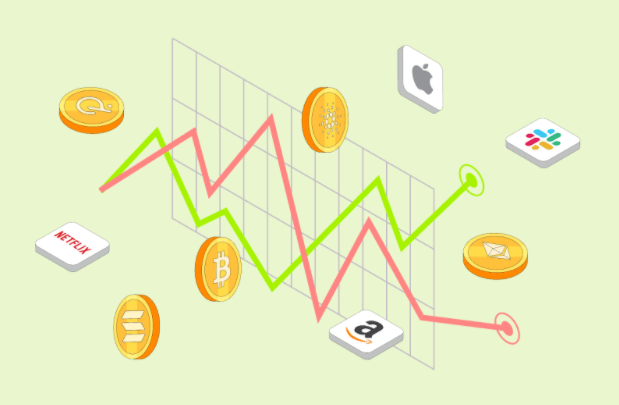 Are you ready to try fantasy contests? The crucial component is choosing your portfolio and ensuring it's the strongest possibility. These are some tips and strategies to apply:
The influence of the latest news. Cryptocurrencies are more volatile and subject to changes following the news. For example, Dogecoin increased by 20% in224 hours after Mark Cuban and Elon Musk talked about it online. Big news like the company changing its structure can also affect the stocks.
How did the assets perform lately? All traders check the latest movements of a particular asset. Based on its performance in the last hour, day, or week, they follow or go against the trend. Some believe the asset will continue growing, and others think it will start losing value. It's up to you to choose the strategy you believe is the smartest one.
Apply budget management strategies. Make sure that you use smart budget management and don't spend the money you set aside for other purposes. That leads to nervousness, which leads to bad decisions and stops you from having fun.
Final Thoughts – Why Should You Try Fantasy Trading If You Like iGaming?
Fantasy contests are attracting more users every day. Some people enjoy roulette at online casinos, but that comes down to choosing a number randomly. But with trading competitions, your asset selection is crucial for the session outcome. If you pick smartly, you'll only need a bit of luck to win. Even if you don't, fantasy contests can help to get you ready for actual trading. Don't hesitate to give them a shot and see if you can outsmart your opponents and profit!