Smartlink Launches decentralized escrow payments on Tezos Blockchain and announces its own marketplace for crypto users
Smartlink introduces Trust-as-a-Service for web 3.0 through escrow smart contracts to buy and sell products and services.
Cryptocurrency has become the hottest investment vehicle for banks and individuals alike. Megacorporations, institutional investors, and tech leaders are touting the benefits of crypto assets.
Still, that doesn't quite get at the heart of its true potential in our economy. The primary focus across various industries is on the monetary aspect of cryptocurrencies instead of their technical proficiency, underlying technology, and real-world utility.
Smartlink takes a different approach towards cryptocurrency adoption.
Promotional video here
Decentralized Escrow Platform for direct transactions
Smartlink introduces a decentralized escrow solution that allows anyone to seamlessly create enforceable escrow smart contracts to securely buy and sell products and services using cryptocurrencies. Customizable purchase agreements are included in the Smartlink template library, allowing parties to easily define the terms of the sale.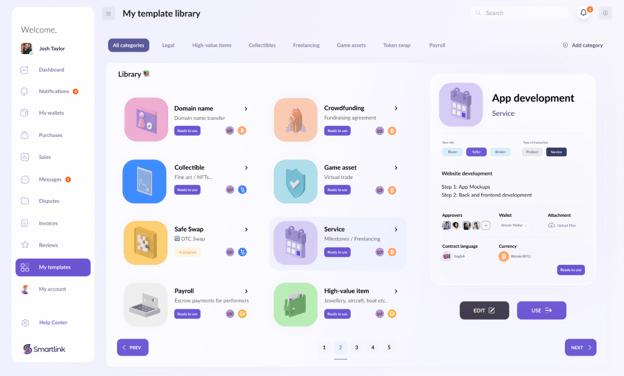 How the Smartlink escrow module works:
Smartlink platform provides enforceable sales agreements that offer a simple interface to buyers and sellers to fix the terms of the transactions.
Smartlink holds the funds in an escrow smart contract until the terms of the agreement are met.
The buyer receives an inspection period to review the product and service before approving the payments.
Once approved, the escrow smart contract automatically transfers funds to the seller.
The Smartlink Escrow Marketplace for Web 3.0
In addition to providing a cost-efficient escrow tool, Smartlink offers crypto users a platform for purchasing products and services with their cryptos.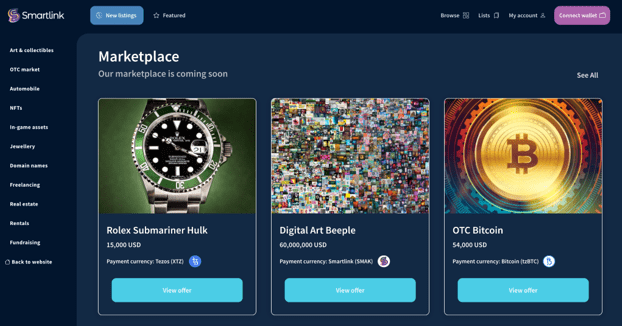 Smartlink marketplace takes inspiration from leading eCommerce platforms but with higher security measures and fraud protection. Smartlink slashes the commission rates to less than 1% from the existing 20% to 25%.
Smartlink is an ideal solution for multiple industries, including digital assets transfer, high-value items, OTC swap, domain name transfers, NFTs, freelancer gigs, and crowdfunding.
SMAK Token
SMAK is the native utility token that is used for:
Escrow fee exemption (0%)
Escrow rewards
Governance: Users will need SMAK tokens to participate in critical platform decisions, such as adjusting staking and escrow reward APR, development proposals, and revenue strategy.
"We are bringing something new to the payments industry landscape and the opportunity is clearly there. Today, the global online marketplace is tied to PayPal, Stripe, and other traditional payments platforms. What do those solutions have in common? The legacy banking system. Paypal and Visa accepting Bitcoin isn't innovation. What they do is create wallets. But they're still a far cry from migrating their customers to blockchain technology and integrating smart contracts. Tokens are reshaping our economic paradigm. We reward users as they use the platform, they can vote on strategic decisions, fees are drastically lower, there's no chargeback, everything is more secure, faster, and simple."
Ben Constanty, CEO and co-founder of Smartlink
Leveraging the security, speed, and cost-efficiency of the Tezos network.
Tezos is among the most secure blockchain networks in existence. Tezos smart contracts support formal verification, which makes them ideal for high-value transactions. In addition to its high-grade security, the Tezos network provides higher transaction throughput and lower gas fees than the Ethereum network.
Smartlink platform is live on the Tezos testnet, providing users a glimpse of how it'll operate on a structural level.
Social media links:
Telegram: https://t.me/smartlinkofficial
Twitter: https://twitter.com/smartlinkHQ
Discord: https://discord.gg/72PDSW6B9q
Linkedin: https://www.linkedin.com/company/smartlinkso
Reddit: https://www.reddit.com/user/Teamsmartlink/