Simple Review: The Most Reliable App to Trade Crypto
Not everyone invested in cryptocurrencies just yet. Investors should expect a roller coaster ride, regardless of whether they make money in the long run. Owning some digital currency as a long-term investment is fine, as long as you believe in the potential of cryptocurrencies and have a high risk tolerance. The greatest app to invest in crypto and get daily interest in real time is Simple. If you're looking for the safest and most secure method of making money, this is it.
What is Simple?
Buying, storing, and selling crypto can be done securely using Simple. It is one of the best ways to broaden your investment horizons while still earning interest. Simple lets you purchase, sell, save and make significantly more money than you would with a bank, making it a great option for investors.
Is Simple safe? 
It does not save your private keys, so we believe that Simple is one of the most secure programs at the moment. This is one of the safest places to buy cryptocurrencies that we have found. This crypto platform has implemented many security measures to protect its customers 'money and ensure that their assets are safe:
For currency deposits and withdrawals, the verification procedure follows the KYC process mandated by legislation.
The platform is registered in the Republic of Lithuania and complies with KYC and AML regulations.
Is Simple legit? 
Simple, a legal business officially established by the State Enterprise Centre of Registers of the Republic of Lithuania under company number 305959834 as a virtual currency exchange operator and a virtual currency wallet operator, operates a regulated and licensed reporting exchange that enforces financial laws and decreases the possibility of criminals and fraudsters using cryptocurrency platforms for cybercrime, terrorism funding, and money laundering. To stay in business, Simple must adhere to KYC/AML requirements and ensure that users' rights and digital assets are safe and secure. 
How does Simple work?
Are you new to Simple and want to know more about how it works? To do this, you will need to create a login account and verify your identity. This standard method is followed by all financial service providers. The method is clear and understandable. You can complete this in 5-10 minutes. Simple is an easy way if you have never invested in cryptocurrencies before. The user interface is modern and powerful. The platform is perfect, and all the features and capabilities of your account are basic and easy to find.
Buy and Sell Crypto
Simple offers an Instant Buy & Sell feature, which allows traders to buy/sell a certain cryptocurrency based on a fiat amount or in cryptocurrency units. For purchasing orders, users must provide their wallet address, and for selling orders, they must transmit their crypto to a specific address, and the fiat will be delivered to their bank account. For both purchasing and selling orders, the minimum order size is $10 USD.
Simple Features
In the Simple app, users enjoy some of the best features for fast cryptocurrency trading without uncertainty or hassle. Here are some important features:
Easy investment for everyone
Easy and straightforward user experience. Credit/debit cards are accepted for cryptocurrency purchases. There are over 40 best crypto assets to choose from and the only window to start your cryptocurrency investment, management and income.
Investment management is of the highest quality. Simple wallet systems and multi-signature technologies are available. Trading and managing digital assets is completely secure.
Transparent and competitive fees and charges. Due to its high efficiency, Simple stands out among its competitors in this business. Due to the low level of errors, it is a reliable and efficient trading platform.
Simple provides individual customer service. Every day you can get help from our support service 24 hours a day, seven days a week! We are aware of your needs and are always ready to help. People care and answer your real questions.
The Simple Tracker is useful because it captures a user's trade history on the site. It displays general information such as the market worth of their purchases, total returns, and net fiat cash invested.
Interest rate
Simple offers up to 5% APY on all assets in your Crypto Wallet. You may earn income on all assets in your portfolio with the Simple app without having to lock your funds in staking. Any quantity of any cryptocurrency in your portfolio qualifies you for a interest. With the Simple Earn Program, you may actively trade while still earning rewards. When you maintain assets in your Simple account, you will receive a far greater interest rate than your bank can provide.
Referral program
Simple has a competitive and profitable referral program for the widespread sharing of product by users. Refer a friend and receive an immediate reward. Inviter gets 30% of the invitee's trading commissions. Invitee gets $5 after depositing $200 equivalent in any crypto and $5 after trading $200 equivalent in any crypto. The money credits directly to the Simple account in USDC the next day after completing all terms.
Simple wallet
To begin trading and buying cryptocurrencies on Simple, traders must first establish a wallet for the coin they wish to purchase. Simple is a hardware wallet that keeps the user's private keys safe. It is a reliable wallet that is accessible in desktop form. Every wallet owner wants to safeguard their private keys first, followed by their coins. The private key is used for transaction signing and allows users to bank transfer cryptocurrency from their associated wallet address.
Simple app review
Summing up the review of the Simple application, it is appropriate to call it a respectable application that provides outstanding trading opportunities in the cryptocurrency market. In general, Simple is an extremely simple and straightforward crypto trading app that supports many digital and fiat currencies to allow users to start trading digital assets.
Simple App Download
The Simple App is available to download for both Apple IOS and Android smartphones.
To establish an account, simply follow these simple steps:
If you want to use the Simple platform on your mobile device, you must first download our mobile app.
Launch the Simple app and select "Get started." 
Enter your legitimate email address and establish a strong password to safeguard your account from illegal access.
Confirm your email address (you will receive a six digits password to your Email).
Create a PIN
Simple support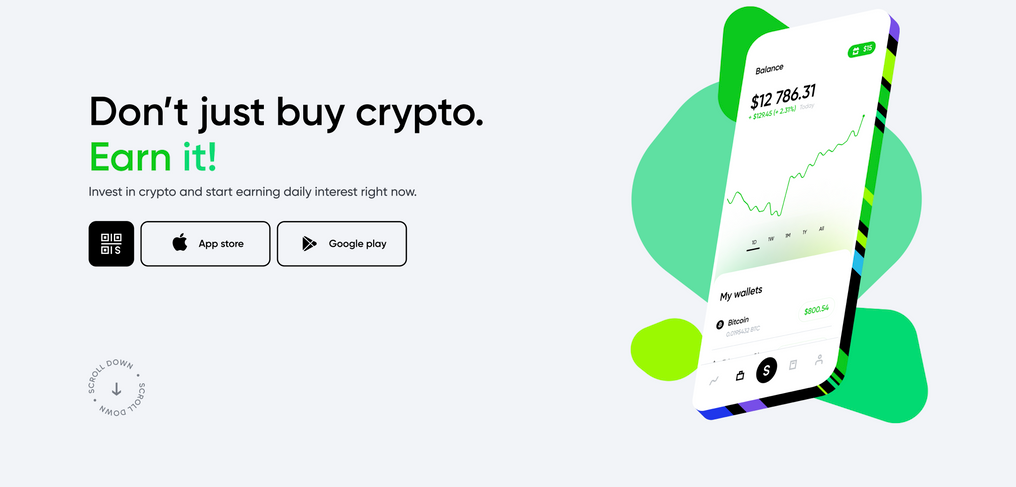 Simple offers full-service human customer assistance. Simple's website and the app also include a comprehensive list of commonly asked questions. Users can also file an online help request or send an email with general questions. Today's financial system is complicated, restricted, and costly, making it difficult to get access, cheaper costs, and preferential treatment. Simple thinks that the financial system should be designed to benefit everyone!
As a result, simple is developing a product that reimagines what it means to invest, streamlines access, and eliminates these complicated hurdles and expenses. It is a simple financial solution that allows you to explore new possibilities for your money and puts it to work! All in one easy-to-use application.