Ripple is Receiving Support from Prominent Market Players
Ripple continues its stunning performance over the last couple of months. The XRP coin stands taller against the latest bearish trend in the crypto markets that has wiped off more than $30 billion from the total market cap in the last week alone. With the market cap of $19 billion, XRP has successfully replaced Ethereum from the second spot in the crypto ranking.
Ether's market cap slipped to $17 billion due to the huge selloff, making it a third largest crypto coin based on market capitalization.
Trader's sentiments are increasing over the future fundamentals of XRP, supported by its wider acceptance in the financial sector.
The result of the latest poll from Ran NeuNar was also amazing. He asked participants to select the asset where they would like to hold their money for 10 years. The four options for participants were: Bitcoin, Ripple, American Airline Miles, and BCH SV.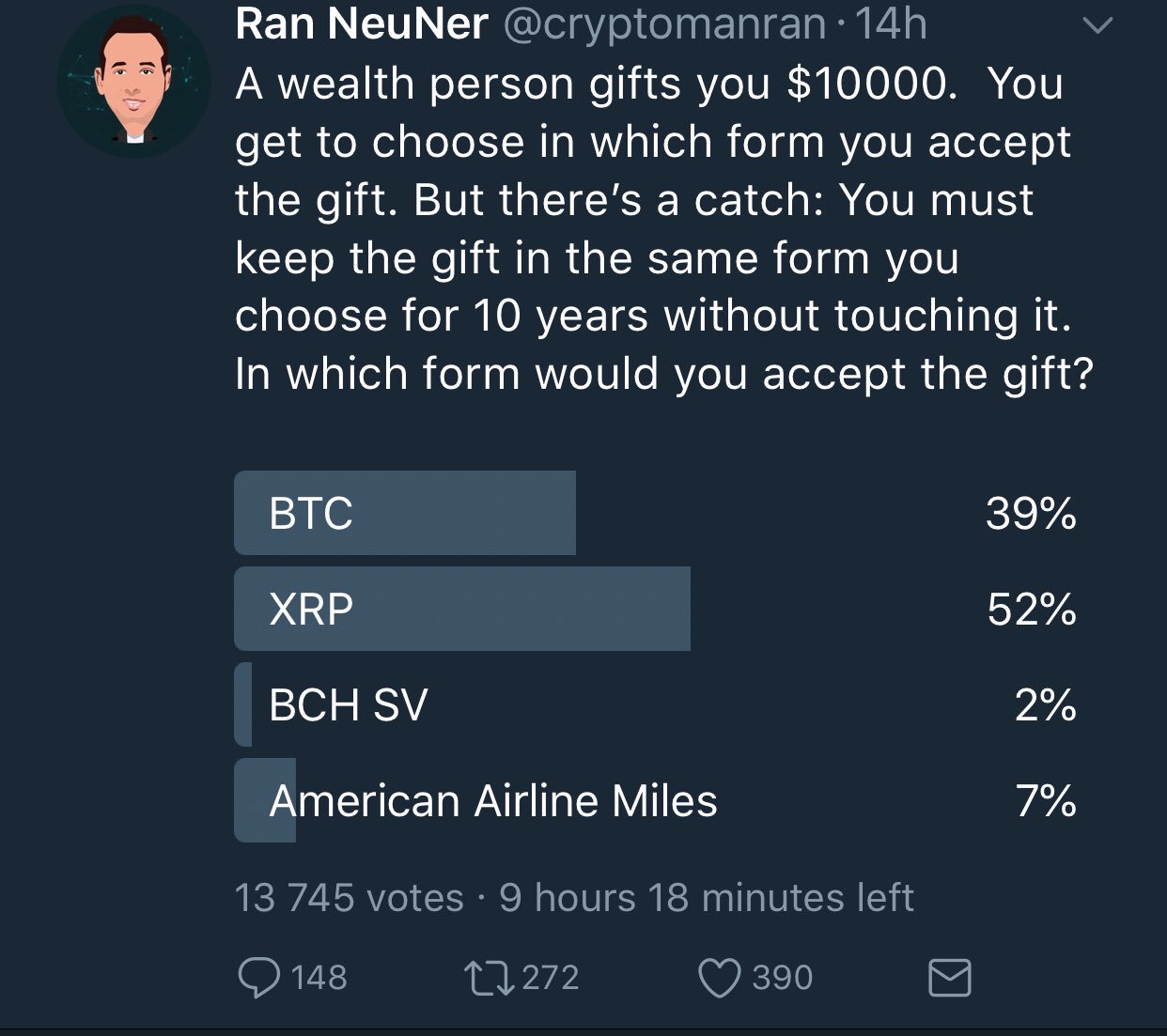 Source: Twitter.com
Almost 52% of the participants have announced to put their money in Ripple while only 39 have selected Bitcoin and only 2% supported BCH SV.
In a separate tweet, Ran NeuNar has suggested investors sell their investments in Bitcoin and Bitcoin Cash and invest those funds in XRP. He twitted: "These hash wars highlight why everyone should dump BTC and BCH and just put all their money into XRP!"
Support is Coming from Every Side
Several other reports and market news are supporting Ripple. Binance CEO Changpeng Zhao, for instance, commented that he is possibly planning to use XRP as a base currency at Binance.
He twitted, "The xrp base shill is strong. Let's get it out of your system, and put all your shills under this one tweet, and let's see how much we get."
Previously XRP fans on Twitter have several times requested Binance to make XRP a base currency, together with Bitcoin, Ether, Tether, and Binance Coin (BNB).
The rating agency, Weiss Ratings, has supported Binance CEO comments. They tweeted, "We think that the XRP is the fastest digital asset to transfer funds between exchanges. It only makes sense for Binance to use it as the base currency – why should one have to go through an intermediary currency to trade?"
Conclusion
Ripple is the only one among the crypto coins that have the strong potential to generate sufficient revenue from its blockchain technology to support the price movement on crypto exchanges. Its blockchain products are gaining substantial popularity in the financial sectors amid fast, secure, and cheap transactions. XRP coin's stable price performance during the latest selloff has added to traders' sentiments.
What's your opinion about the future of XRP? Let us know about your thoughts in the comment section below.