How to Find the perfect Linux Mail Hosting Provider
10 of the Best Mail Hosting Providers for Linux OS
The world has long forgotten the paper and pen, the days where a letter was handwritten and carefully carried by the postman to be delivered to the recipient. For decades now, we've relied on emails to convey important information and send documents to other users. While we expect these emails to reach people securely, sometimes it isn't always a safe landing. Although widely used, Email servers such as Gmail and Yahoo have their hitches and drawbacks. Sometimes these drawbacks can lead to businesses losing customers and subscribers which is where Email Hosting comes in handy.
What is Email Hosting?
Email Hosting is a service that allows users to send and receive emails on the Internet through their server. Email hosting is advantageous for businesses because it provides increased email security, stability, and efficiency.
Email hosting also helps businesses measure their email marketing campaigns by analysing the data of how many emails were sent and where they went. Unlike traditional web hosting, email hosting doesn't require you to have your own server. This saves you the time and money that would be spent on buying server hardware, paying for electricity, obtaining software licenses, data backup services etc.
Benefits of Email hosting: why do Businesses use it?
There are many benefits of email hosting services for businesses, some of these are:
– Higher delivery rates- Email hosts provide a more robust solution than some other ways of accessing email like webmail or mobile apps. Webmail services offer very limited features and are often unreliable when it comes to delivering emails on time.
– Data security-Email hosts provide ample security features and tools for businesses to do their work effortlessly while also protecting customer data.
– Low price plans – Owing to the fact that Linux is an Open source Operating System, Email Hosting Providers can offer pricing plans at lower costs in comparison to Windows or Mac which are proprietary solutions.
Linux is the only solution for anyone that wants to unlock the true potential of VPS hosting. Whether it's just for web hosting, deploying a web app, or setting up an environment for developing, testing, and automating code, Linux gets the job done faster and better. So if you know your way around a server or know how to code, our SuperSonic and HyperSonic Linux VPS Servers are the best you can get
– Easy to integrate with other apps – Email Hosting providers constantly update and improve their systems allowing their users to easily manage their emails by make easy integrations with other apps like outlook, Zoho etc
Linux (OS) Email Hosting
Linux email hosting is a type of email hosting service which runs on Linux Operating System. It includes a wide range of features and benefits that are not available with other types of hosting services. Some advantages include: Backup, security, scalability, and ease-of-use.
Linux Email Hosting provides many additional features than traditional webmail services such as Microsoft Outlook or Gmail. These include security, backup, scalability, and ease-of-use for system administrators who manage their own servers rather than relying on an ISP or third party host provider.
Linux email hosting is a service that can be used to send and receive emails over the internet. Linux email hosting offers a number of benefits such as:
– Advanced spam and virus protection
– The ability to send and receive emails through any device
– Secure webmail access
– Affordable plans with affordable pricing plans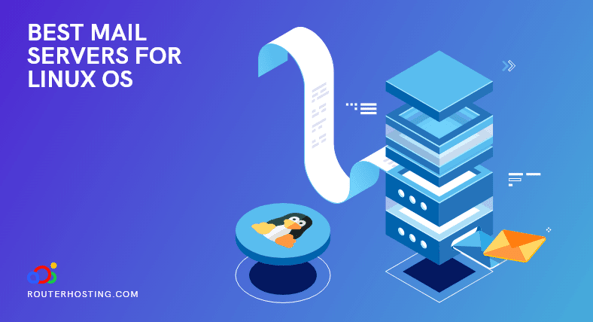 Linux Mail servers
Choosing the best Linux Mail Hosting provider can be a daunting task. There are many different factors to consider when picking a provider. Such as:
Is the service compatible with your distro?
How much disk space does it offer?
And what about bandwidth?
These are all important questions to ask when trying to find the best Mail Hosting Providers for Linux.
Top Mail servers for Linux OS
Here are some of the best servers for Linux that Businesses use:
Sendmail
Exim
Postfix
Citadel
Qmail
Cyrus IMAP server
Mail-in-a-box
Mail Hosting Providers for Linux
Cloudzy is a premier email hosting provider for small businesses. Whether you need dedicated hosting, shared hosting, or cloud hosting, we have the perfect plan for your needs. Cloudzy is the only provider to offer true zero-outage service – meaning your service won't go down even if other providers are experiencing connectivity issues.
Conclusion
Despite the fact that Linux email hosting is not as popular as Windows and Unix, it still has its own niche.
Linux email hosting is a great solution for those who want to have maximum control over their emailing system. It is especially suitable for individuals who need high security and reliability.
Linux server administrators may choose from various Linux distributions and create a mail server with their desired features.
FAQs
What are the advantages of Linux email hosting?
Linux email hosting is the perfect solution for companies that are looking for an affordable, secure reliable, and easy to use solution.
– Affordable: Linux email hosting is much more affordable than Windows or Mac based solutions.
– Reliable: Your emails will be delivered without any problems.   – Easy to use: There are many services that can be used with Linux email hosting, including webmail which can be accessed from any device
Security: Linux servers are more secure than Windows servers because there are less vulnerabilities in the Linux operating system for hackers to exploit.
Protection: Linux servers also provide better protection against viruses and malware, because there is no central server where all emails and data streams go through and can be hacked into. This decentralization protects the users and their data from outside forces, such as hackers and marketers trying to get into their inboxes or computers.
What are the disadvantages of Linux email hosting?
Like most softwares Linux has its drawbacks, such as:
Lack of spam protection: Linux doesn't have many tools for monitoring the performance of your server, so you will need to hire a third party company to do this.
It also lacks tools for monitoring performance and requires third-party monitoring services.
How much does Linux email hosting cost?
It is not easy to give an accurate estimation on the cost of Linux email hosting. That's because the factors affecting the price are different – it could be the number of email accounts, storage space or monthly traffic.
On average, the price for Linux email hosting usually starts from $5 per month. If you need more than 10GB storage space, then you might need to pay between $10-15/month