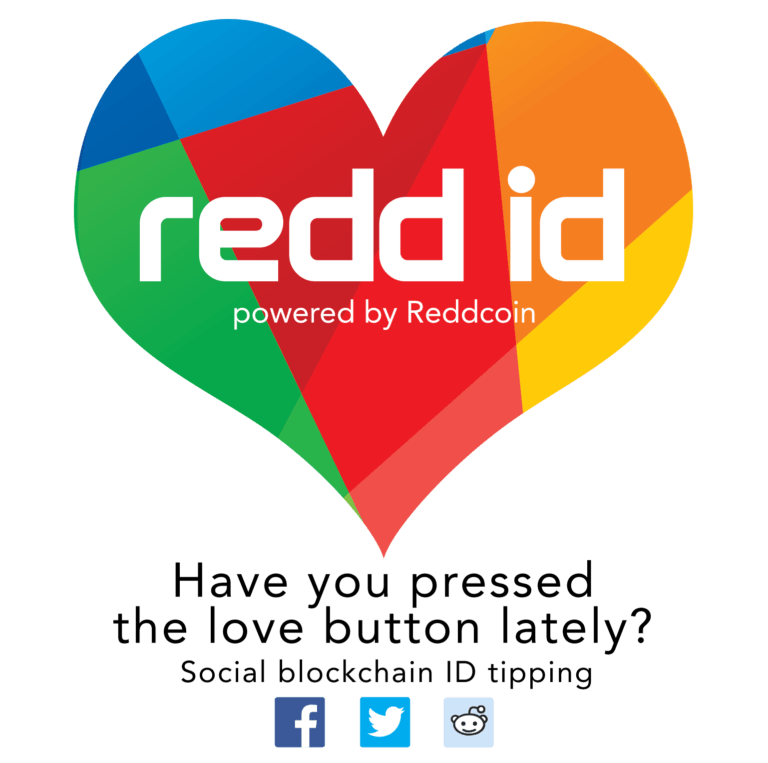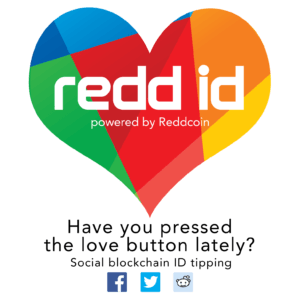 Have you been wondering whether investing in Reddcoin is worth your money? Or maybe you have it all thought out but can't seem to wrap your head around the whole process of getting started.
Whatever stage of investing in Reddcoin you are in, this is the right guide for you. In the end, you'll learn what Reddcoin is, where and how to buy it, and whether or not you should invest in it.
Let's start from the beginning, shall we?
What is Reddcoin
Reddcoin is a popular cryptocurrency that offers options to instantly send or receive RDD (which is the platform's native currency) across social media platforms. In short, it is a peer-to-peer payment system popularly known for enhancing social media payments. This platform can be thought of as the social media coin.
One of the advantages of using Reddcoin in making social media payments is that it applies no transaction fees, allowing users to cheaply and conveniently make and receive payments.
If I was to equate Reddcoin to the closest thing anyone may know, I'd say it is the blockchain version of applications such as Facebook Cash, Venmo, or Snapchats Snapcash; all these tools allow users to seamlessly make money transfers to friends and family across social media platforms.
But despite their similar functionalities, Reddcoin still differs in the sense that it allows its users to connect their tool to other platforms such as Twitter and Reddit; however, its non-blockchain counterparts require one to primarily use their platform to be able to transact.
With Reddcoin, you not only get to send and receive money, but you can also issue tips to certain content creators, pretty much the way you give a post a thumbs up.
Before showing you how to purchase Reddcoin, let's look at the exchanges that you can buy the coin from.
Where to Buy Reddcoin
Reddcoin can be bought from a couple of exchanges, including CoinSwitch, Cryptopia, Bleutrade, ShapeShift, among others. However, in this guide, we'll only focus on the first two since they are most commonly used ones.
How to Buy Reddcoin on CoinSwitch
CoinSwitch is a cryptocurrency and altcoin exchange aggregator that works with several other exchanges around the world to provide the most updated exchange rates to their user base.
Other than Reddcoin, the platform supports over 250 digital assets on its platform.
Here are the steps for buying Reddcoin on the platform:
Step 1: Head over to the CoinSwitch website and sign up. For demonstration purposes, we'll assume you have Bitcoin and wish to buy Reddcoin. Head over to the official website of CoinSwitch and enter the amount of Bitcoin (BTC) you wish to exchange with Reddcoin (RDD).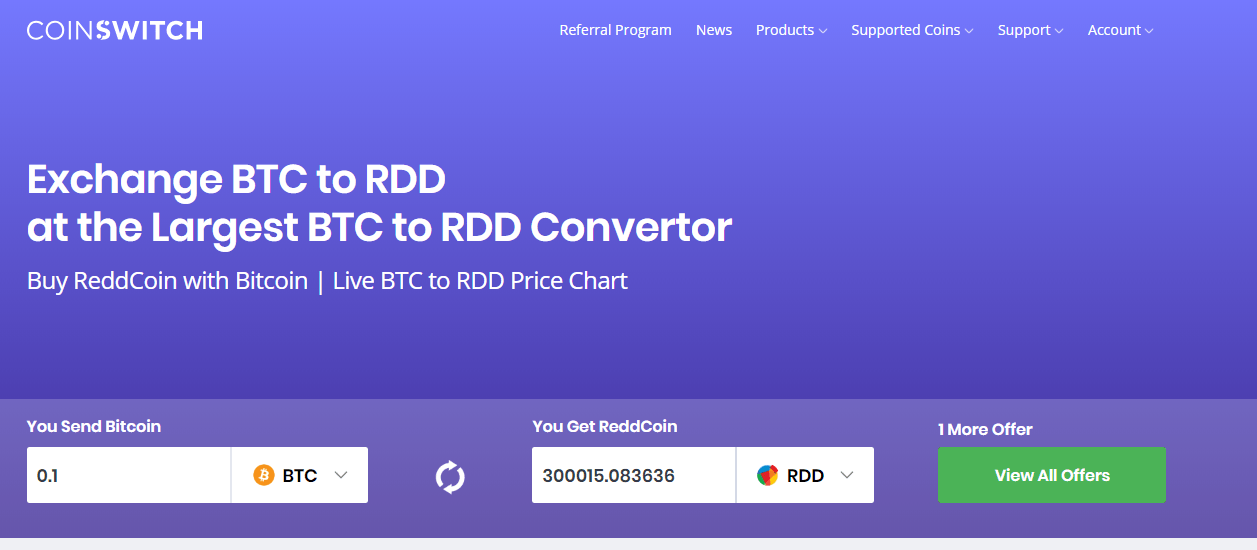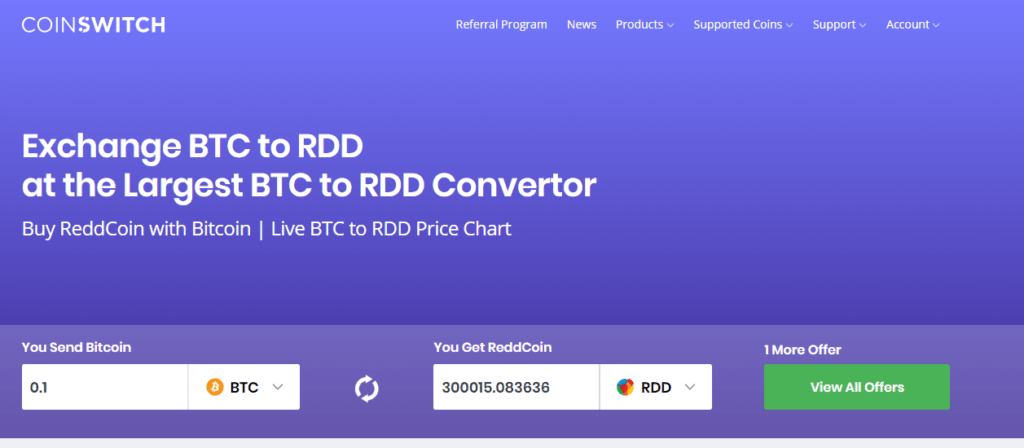 Please note that you can use a different currency to buy RDD; you just need to click on the drop-down menu on the area indicated as BTC.
When you key in the amount of BTC you wish to exchange, the equal amount in RDD will be shown in the corresponding field as seen above.
Proceed by clicking on 'view all offers'.
You will be able to view all the exchanges trading the coin (RDD) as seen below: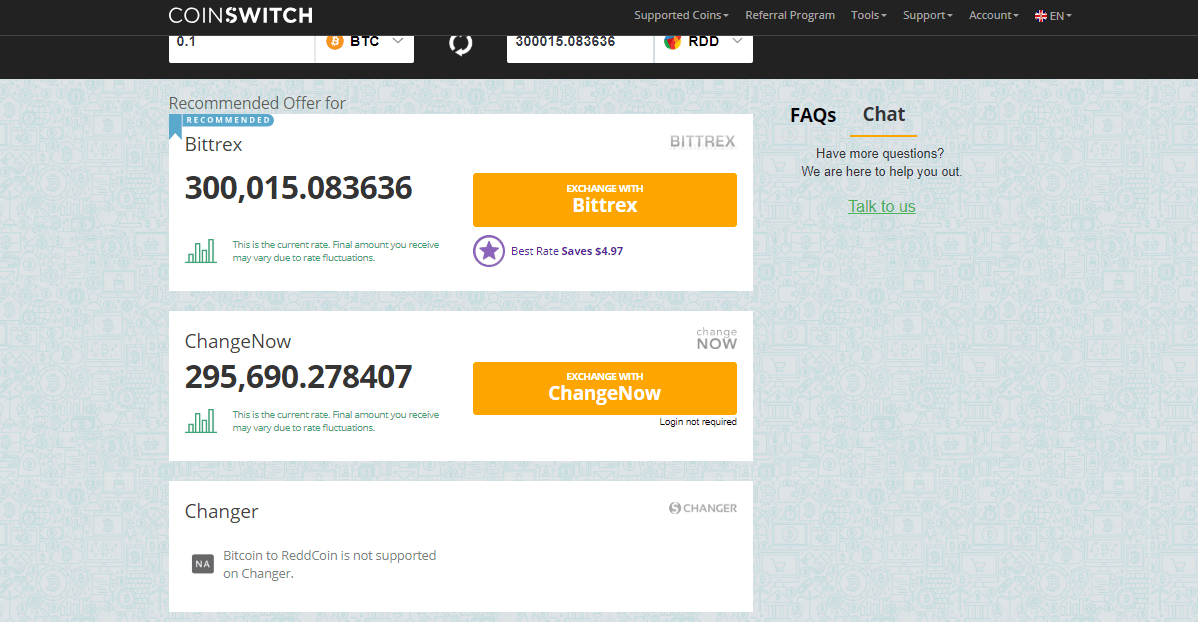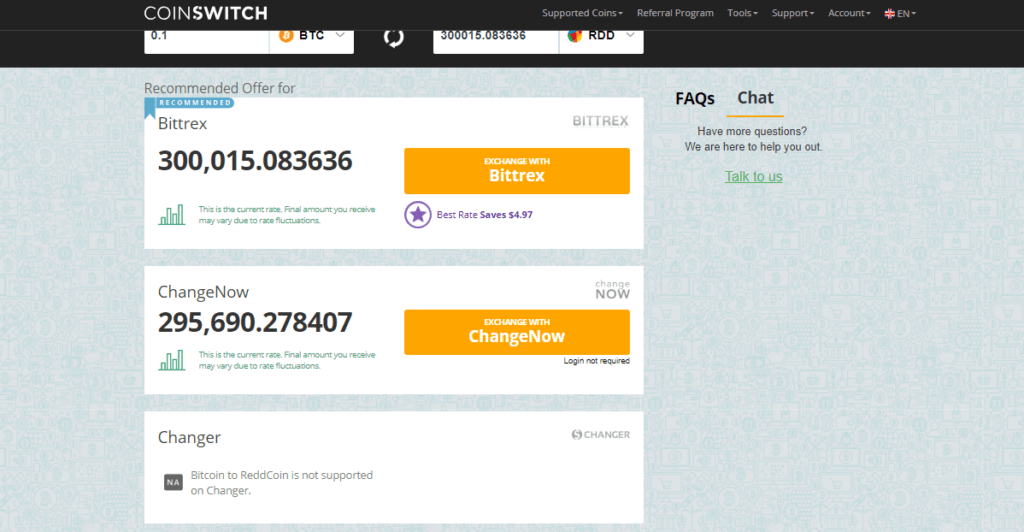 You should be able to select your preferred platform for exchanging BTC with RDD.
Step 2: Provide the address to your Reddcoin wallet. It is recommended that you identify a suitable wallet such as the Reddcoin Core Wallet, the Reddcoin Social Wallet, or the Reddcoin Mobile Wallet for your RDD coins prior to initiating this process to avoid incompatibility issues. Once you have your wallet ready, copy its address in the required field as seen below: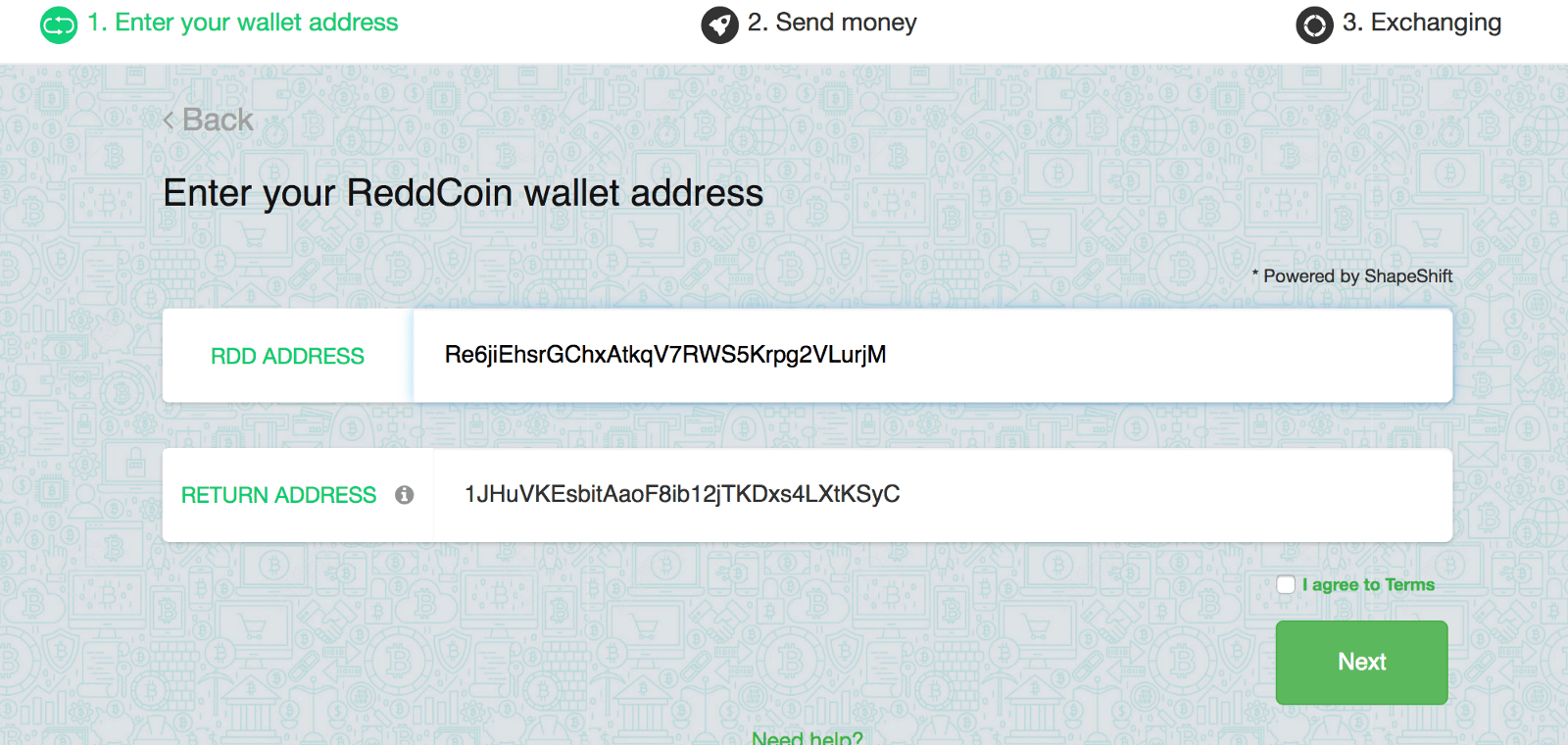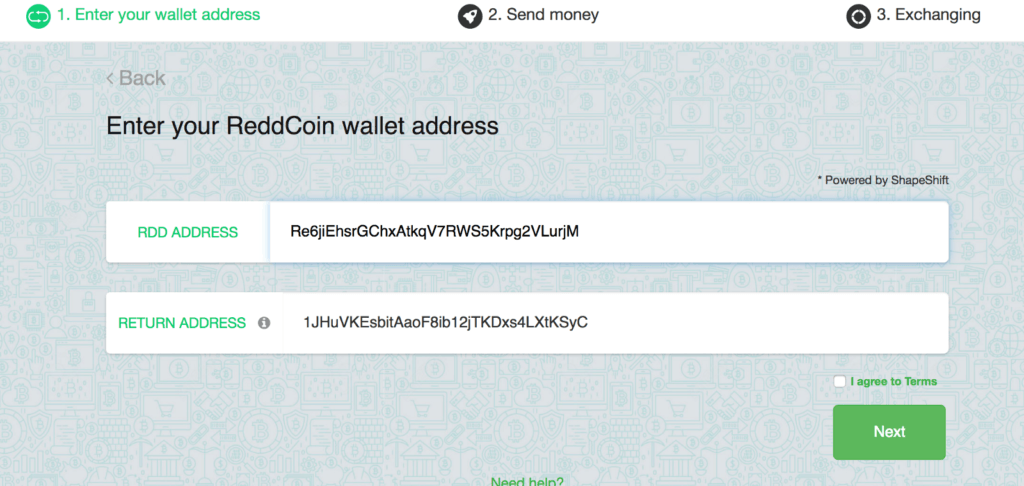 Double check the address, agree to the terms, and click 'Next'.
You will be directed to an area with your BTC address; you'll need to send the Bitcoin to that address. Once the BTC coins have been received, the conversion process from Bitcoin to Reddcoin will be initiated.
And that's it; you can buy Reddcoin on CoinSwitch in two simple steps.
If you need to keep track of your transactions, you can easily do so under the 'Quick Links' section.
Please note that some wallets may require additional commands for the funds to be reflected; if that happens, simply follow the prompted steps on your wallet to complete the transaction.
How to Buy Reddcoin On Cryptopia
Reddcoin is among the hundreds of listed coins on Cryptopia, and we will show you how exactly to buy it.
Create an account on the Cryptopia platform.
Navigate to the wallet section and click on 'Deposit'.


You will then be required to select the currency you wish to deposit. Let's assume we wish to use Bitcoin to buy Reddcoin; so select Bitcoin.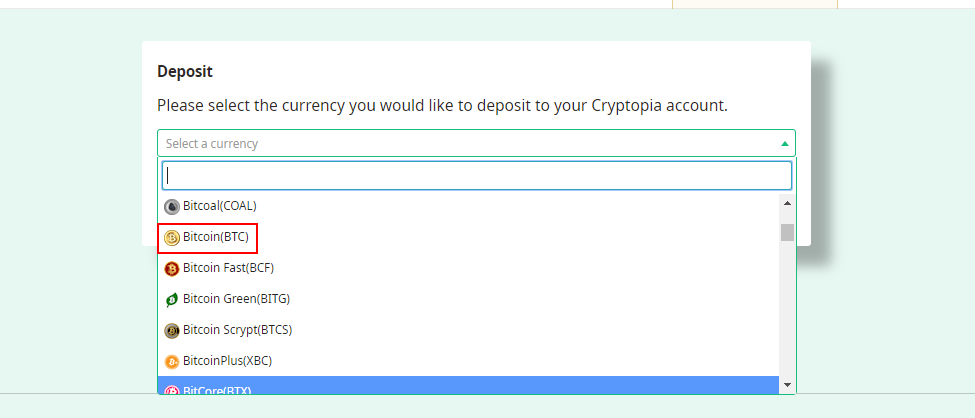 Once you've selected the currency to deposit, click 'Next' to proceed.
You will then be provided with a QR code and an address for depositing your Bitcoin. You will need to send BTC to the provided address using either the QR code or the address.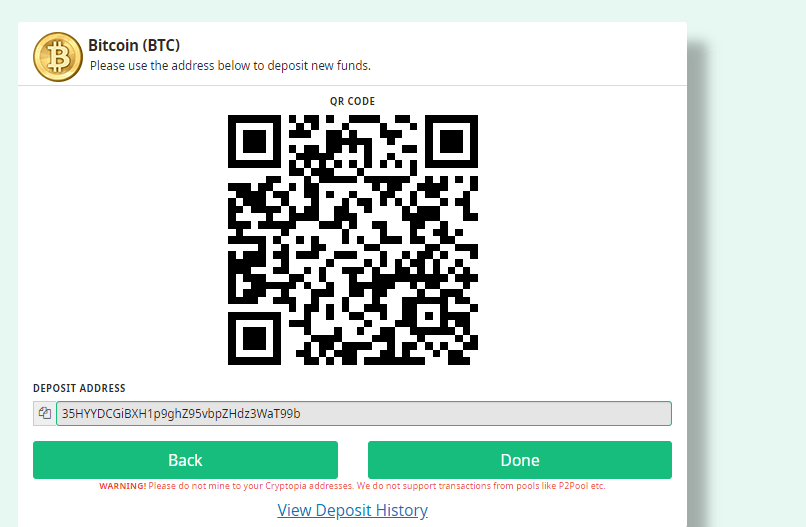 In case you don't have BTC, you can purchase it from an exchange that supports fiat currencies or by using other cryptocurrencies, and then send the coins to the provided address.
Click 'Done' once you've sent the coins.
It typically takes 10 minutes for the funds to be reflected in your account. If you're not sure whether the transaction is successful or not, proceed to view it under the 'View Deposit Details' icon.
Once the funds are received and confirmed by the platform, you are set to start using the coins on the exchange.
Next, proceed to the exchange by clicking on the menu indicated as 'Exchange' and click on 'Markets'.
You should be able to see a window such as the one below: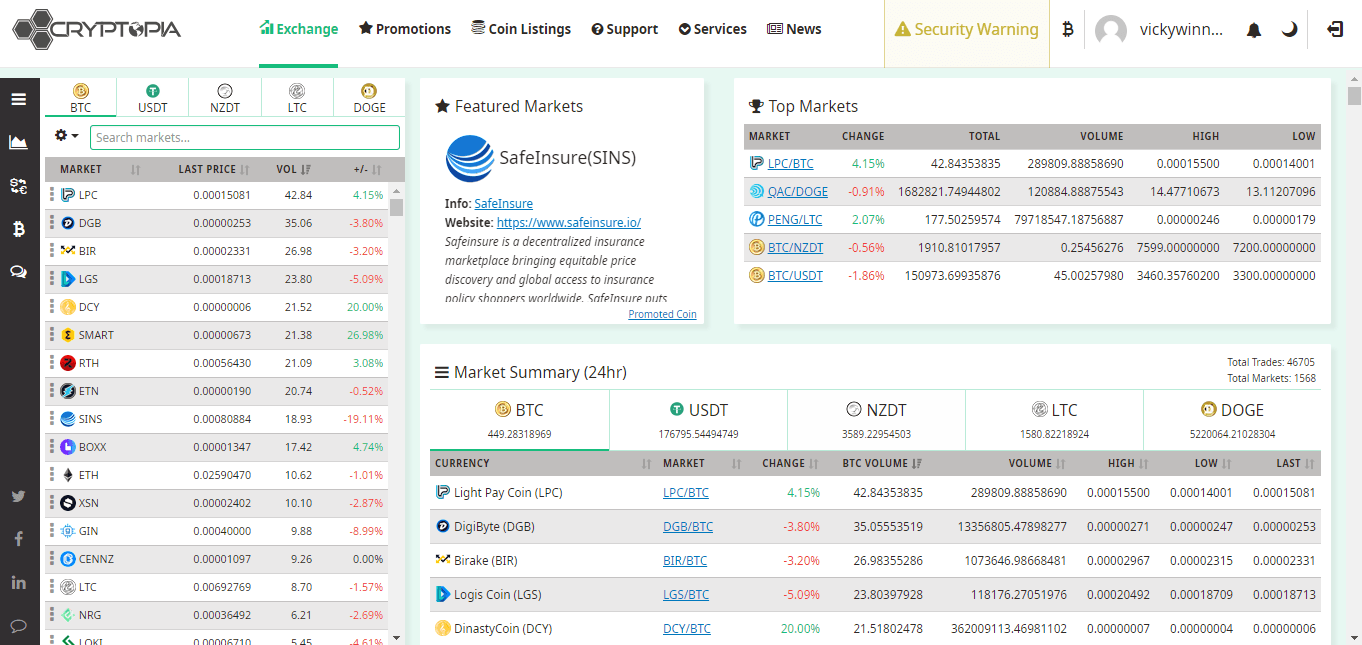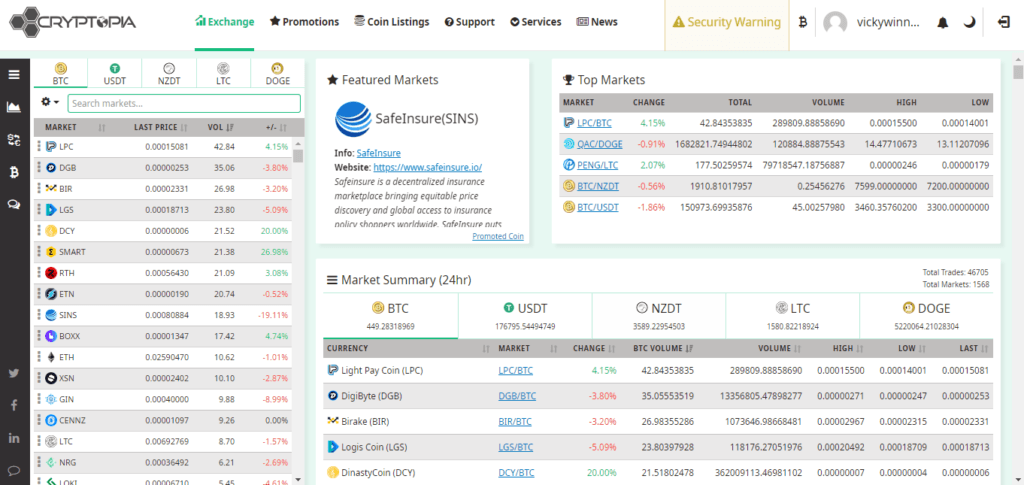 On the top left corner of your page, select BTC then search for RDD or scroll down until you find it.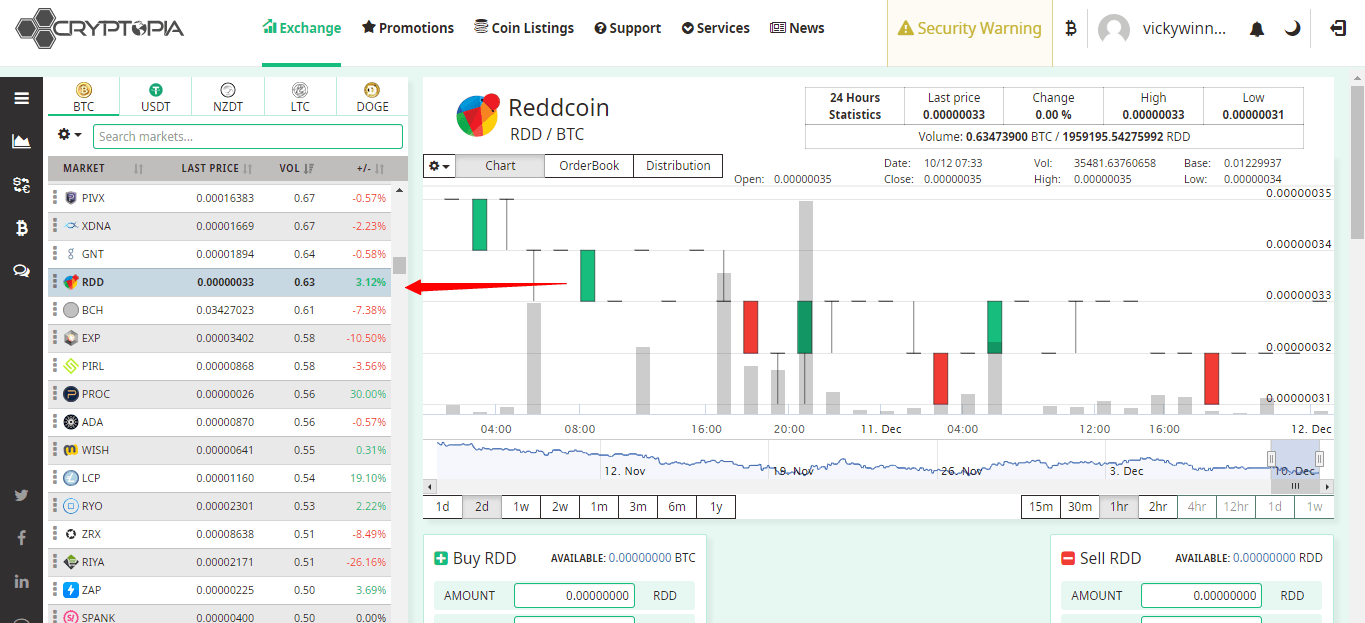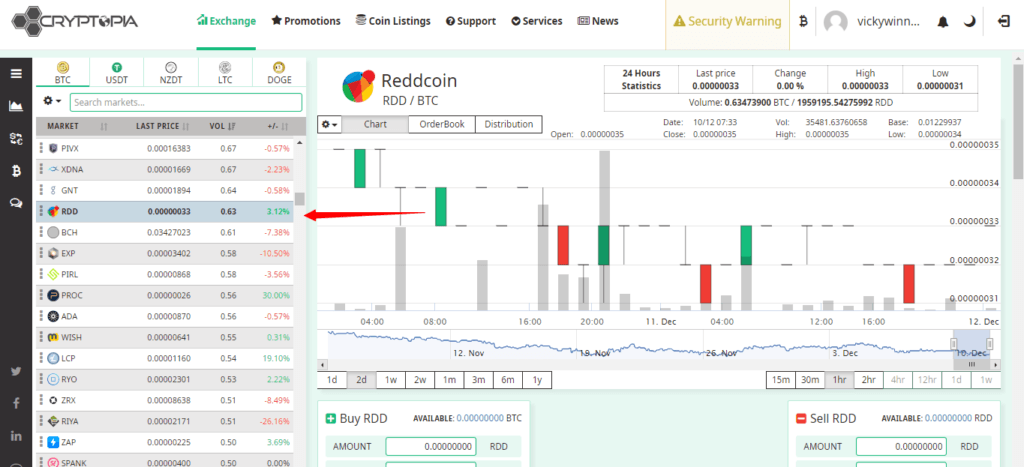 As you can see from the image above, data relating to BTC and RDD popped up, including the prices, exchanges volumes, candles, and more.
At the bottom of the page, you can see two separate panels indicated as 'Buy RDD' and 'Sell RDD'.

Key in the price that you'd like to buy the RDD coins at in Bitcoin and not in USD.
Enter the amount of RDD you'd like to buy using the BTC.
All the related costs will then be calculated and relayed in the total below.
Finish by clicking on 'Buy RDD'; this will submit the order.
The order will be recorded in the order book and will be fulfilled once all your requirements are met by a seller. A notification will appear on your screen once the order is fulfilled.
You can also alter your order price by visiting the 'My Open Orders' section under the exchange icon on the main screen.
Therein, you should be able to find the order cancellation button, then repeat the same process to create a fresh order.
Should I Buy Reddcoin?
Social media currencies are not new; they've been around for a while now. The kind of currencies might have been in a different form such as retweets, likes, shares, and so on but in the end, these metrics contain some form of value on these platforms.
Reddcoin is not any different; it also adds its fair share of value to these platforms.
Reddcoin has the huge potential of staking returns, which may lead to an overall growth in the value of the coin in the long run.
But despite its potential, a majority of social media users are simply never much concerned about payment tools. Many are only after spectating, leaving  a few active users that have the potential to drive the growth of such tools. In fact, only a small percentage create content that is useful and worth rewarding.
The truth is, as much as thousands of users can install the Reddcoin app, the user base is still a bit shrunk. Besides, it's not easy to account for people's behavior.
All these challenges may lead to an abuse of the Reddcoin ecosystem, which in turn, can lead to a slowing down in the growth of this innovation.
All in all, the idea behind Reddcoin is revolutionary; if put to proper use, it could transform the way people use social media platforms. Many users will stop seeing social platforms as a hub for passing time and chit chatting with friends and family; instead, they can begin to bring in more value on such platforms, something that is actually rewardable.
Conclusion
There's no doubt that Reddcoin is already popular in the cryptocurrency community due to the unique nature of its functionality. Never before have we seen a blockchain-backed product that offers a way of rewarding social media users. In fact, this is the very purpose of the blockchain: to create solutions to unique problems.
Lastly, now that you know a thing or two about Reddcoin, let us know in the comments section whether or not you would invest in its coin . And if you already have, what is your experience with it? Was it worth it?