GDAX Review: Is it Safe?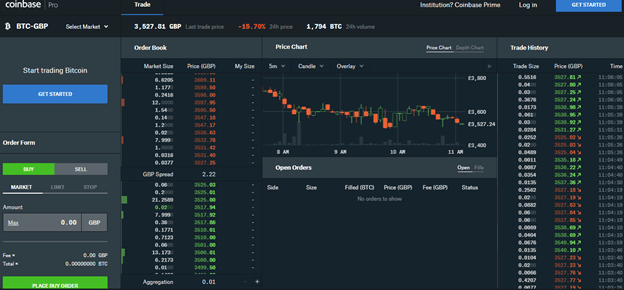 GDAX, an abbreviation of Global Digital Asset Exchange, is a cryptocurrency exchange that was established in 2017 and operates globally.
The platform has highly advanced panels; and if you are a beginner, you may require some getting used to in order to be able to comfortably interact with the platform.
GDAX is quite popular and is associated with a well-known name in the cryptocurrency space as we will see a later stage of this GDAX review.
To show you how comprehensive this guide will be, here's a sneak peek of what's ahead:
What is GDAX
Key features of the platform
The supported countries and currencies
GDAX fees and customer support
The safety of the exchange
Public opinion of the platform
What is GDAX?
If you typed "GDAX" on Google, you'll end up with tons of results relating to Coinbase. This is because GDAX was rebranded on 29 June 2018 to pave way for a better and more user-friendly platform known as Coinbase Pro. In a Tweet earlier on in the same month, the Coinbase team announced the transition to Coinbase Pro and that the new platform had been built on the existing GDAX engine with the needs of the users in mind.
So, what exactly is GDAX? The short version is that GDAX is a cryptocurrency exchange that currently trades a variety of assets, including Bitcoin, Ethereum, Litecoin, and several fiat currencies. The platform offers a range of trading pairs to choose from. Below are some of the available pairs on the platform:

As the cryptocurrency sector continues to spread to many parts of the world, GDAX has been keen on building a stellar reputation before and after its rebranding. The markets continue to soar with more investors by the day; and with this comes the need to know which platforms are best suited for a certain class of traders.
In the case of GDAX, the most advanced and professional traders may find it more useful. This is because it was designed with more sophisticated panels that most new traders find daunting to navigate. That notwithstanding, the platform serves both beginners and advanced users.
GDAX (Coinbase Pro) and Coinbase are sister companies owned by the same people; if you've been trading on Coinbase and wish to expand your trading boundaries, GDAX might be a great option for you. And even those looking to trade more cheaply compared to Coinbase may find GDAX a formidable alternative as its transaction fee is more affordable.
Why Should You Sign Up On GDAX?
GDAX has a lot to offer its users, but below are a few exciting features that I thought you might want to get heads up about:
Get real-time prices of listed currencies: GDAX offers a live price page for various digital assets and trading pairs on its platform. This enables users of the exchange to stay updated on market changes, including new coin listings, trading pairs, as well as asset prices.
Regular security checks: This is one of the most guarded platforms in the cryptocurrency space. Being a member of the Coinbase family, we'd honestly expect nothing less.
Offline storage facility: GDAX stores its user's funds in cold storages to cushion themselves from online attacks and system failure.
Insured assets: The platform has an insurance policy that caters for user balances equivalent to a maximum of $250,000.
Offers a wide range of trading assets: GDAX has a variety of both fiat and cryptocurrencies. Some of the pairs include ETH/USD, BTC/USD, BTC/EUR, LTC/USD, ETH/BTC, LTC/EUR, and more.
Supported Countries
GDAX is a global trading platform with operations in a larger number of countries. The platform's highest number of users is drawn from the US, the UK, and the rest of Europe. However, users from countries such as Singapore and Australia also trade on the platform; the only difference is that they have to use different currencies as their native currencies are currently not supported by the platform.
Supported Currencies
Being a global exchange, it is only fair for it to accommodate as many currencies as possible. As stated earlier, GDAX supports both fiat and cryptocurrencies.
Cryptocurrencies include Ethereum, Bitcoin, Litecoin, among others; fiat currencies, on the other hand, only include the USD, EUR, and GBP.
All the mentioned currencies can be directly deposited and traded on the platform. Bitcoin can be traded with all the fiat currencies; however, Ethereum and Litecoin can only be traded with the euros and dollar.
Fees
Users who consider the fee to be a core determinant of their trading platform will like what they'll find about this exchange.
You guessed it right; GDAX reportedly offers some of the lowest trading fees in the industry.
Coinbase has been known to apply relatively high fees on its user transactions, and GDAX can be quite handy if you're trading on the Coinbase platform. GDAX runs on Coinbase's engine, making it easy to maneuver your way between the two exchanges.
The applicable fees will depend on the nature of the transaction as well as the medium; generally, trading fees vary between 0.1% and 0.25%.
Compared to the 3.99% charged by its sister company, Coinbase, GDAX offers quite a deal for any trader looking to save money when trading.
Customer Support
Proper customer service is important to any user of any platform, and we certainly had to analyze it in this GDAX exchange review.
Customer support does vary depending on the mode of communication. Just like most platforms, GDAX allows its users to channel their queries using email addresses or via their social media platforms.
From the various sources I came across, I gathered that it typically takes between 24 – 72 hours for the GDAX team to respond to a client query. The period only factors in working days, so if you submit a query over the weekend or on a holiday, it may take slightly longer for you receive your response.
On top of the email and social platforms support, GDAX offers a resourceful Help section that allows users to pick out answers to some of the issues they may be facing. It is advisable for you to sift through some of the tackled issues in this section before officially submitting an inquiry.
Personally, I found the platform to have a reasonably good customer support team that tries as much as possible to tackle each and every issue raised by their users.
Is GDAX Safe?
Safety is a matter of great importance to any exchange – and according to what we gathered, GDAX seems to be taking this seriously. The platform has put in place a number of measures to secure its exchange from any forms of a security breach. Below are some of the key controls they have in place:
GDAX stores its user wallet information and keys privately using the AES – 256 encryption.
The platform contains a two-factor authentication feature to prevents unauthorized access to user accounts.
All the transactions taking place on the platform pass through encrypted SSL.
The platform stores 98% of its user funds on a cold storage device to minimize the danger of being hacked.
Away from all the security measures that have been put in place, there's always a looming risk of losing money in one way or another. That is why the platform has partnered with FDIC Insurance firm to ensure that users' funds are always available to them even in the unlikely event of a hacking attack.
Public Opinion
The public opinion of a platform can help unveil any deep-rooted issues than what mere GDAX Bitcoin reviews can ever reveal. The public is mostly made up of past and current users of a platform; this, therefore, means that you can get an idea of how the platform operated in the past and performs presently.
In the recent past, the platform encountered an issue with its Ethereum trade. Apparently, the platform was faced with a glitch that affected the Ethereum assets; at the time, some active users of the platform discovered that their Ethereum account balances were temporarily reduced by certain regular margins. For instance, a user who had 300 ETH coin would find his/her account reduced to 0.10 ETH. It was later discovered that the temporary system malfunction had been caused by a multi-million dollar sell-off. The GDAX team rushed in and corrected the error, but some people still ended up having doubts about the platform.
Generally, most GDAX's items under review checked as far as our legitimacy and safety tests are concerned.
The Bottom Line
GDAX is a well-regulated exchange that trades both crypto and fiat currencies. It is insured by FIDC and keeps more than 90% of its user funds offline.
In addition, the platform charges relatively low transaction fees as compared to other exchanges. And for those who consider themselves more advanced in their trading, this might be a great place to flex your knowledge and skills in the art.
As I conclude this GDAX review, I feel obliged to mention that the rebranded version of this exchange (Coinbase Pro) was developed with the end user in mind, earning it trust and greater user interaction in the cryptocurrency space.