Everything You Need to Set Up a Cryptocurrency Check Out Point In Your Shop
To stay one step ahead of competitors, every business needs to make sure it's keeping up with new developments. And in recent years, one of the biggest innovations has been cryptocurrency.
Starting out as a very niche market, cryptocurrency has gradually edged its way into the mainstream. It's no longer considered as just an investment vehicle but an alternative and valid means of payment.
If you have a shop and haven't considered cryptocurrency, this guide will help you to understand how to get started and set up.
Why Accept Cryptocurrency?
You may already be successful and questioning whether there's really any need to make changes to incorporate cryptocurrency. The truth is that even if you're doing OK now, if you don't adapt and keep up, customers will turn to your competitors instead.
It's already becoming commonplace for shops to accept cryptocurrency. Everything from holiday listings to the Home Depot weekly ads now accept crypto. It's interesting to note that Home Depot was amongst the first retailers to take crypto for payment. Their unique selling point now is that customers can essentially build their houses using crypto, and they've made great strides.
Although it takes a bit of planning and research to get up running, there are many benefits to accepting cryptocurrency – and it's not just about keeping up with other shop owners.
As cryptocurrency isn't centralised, there are no high costs for processing payments, unlike mainstream options such as credit cards. This will allow you to accept crypto for even the smallest transactions without worrying about the cost.
The Blockchain technology used for cryptocurrencies is irreversible; it's almost like a cash transaction. This means your shop won't be subject to scams where the customers make outrageous claims to get a refund from their payment processor.
And of course, cryptocurrency offers anonymity for customers who are sensitive about protecting their personal data, allowing you to reach a far larger potential audience.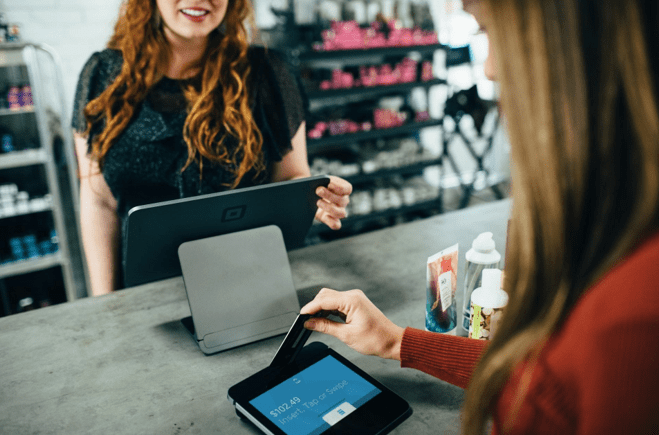 How to Set Up Crypto Payments
Once you've identified the benefits of accepting crypto, the next step is checking how you'd go about setting up the payment system in your shop.
If you're not expecting to have a large number of crypto customers, the easiest way to enable payments is simply to set up your own crypto wallet. This will allow customers to transfer the money directly to you. To make it convenient, you can offer your wallet details in the form of a QR code so that all the customers need to do is scan the code, log in and enter the amount.
If crypto is more likely to become a popular option for your customers, you may want to consider a hardware terminal (POS). You have the option of either investing in a crypto-specific terminal or else integrating crypto compatibility in existing terminals.
There are several companies that offer a variety of POS solutions. Some of the processes include producing QR codes for customers, crypto-card scanning facilities that operate similarly to chip and pin, and Bluetooth/NFC transfer technology.
The great thing about these companies is that they've done all the hard work with the programming, so they'll walk you through the process once you sign up.
Finally, don't forget that crypto prices are extremely volatile, so it's recommended to always price things in fiat currency and just link your regular bank account to your crypto wallet to convert payments.