ESAX Review – How can it benefit your business?
While you are managing a business, you will come across a variety of challenges. Handling payments hold a prominent place out of them. All business owners are looking for the most convenient solution available to deal with payments. It can provide them with the opportunity to streamline many business activities and keep on moving forward with minimum hassle. That's where ESAX comes into play. It introduces a decentralized payment system, along with a loan application, which any business can think about using to ensure future development.
What is ESAX?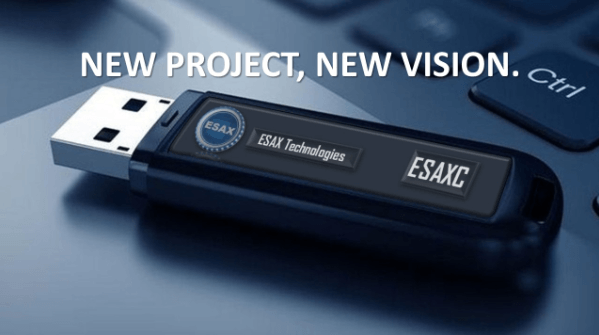 ESAX is a new platform built upon Blockchain technology, which provides loan applications and payment systems for sectoral companies. Along with ESAX, a business will be able to empower its operations with global commerce tools. These tools can be used to accept payments in an innovative approach and build the business in an effective way.
Enterprises will be able to use ESAX to build up their own experiences and then enhance the business opportunities to many different parts of the world. In fact, it allows businesses to make payments and transfer money in an efficient manner. This can provide a variety of bottlenecks associated with day to day transactions. In addition to that, ESAX can provide support and assistance with long term cash management related requirements as well.
If you are working for a business where managing cash has become a pain, you are encouraged to take a look at ESAX and make the decision to move forward with it. Then you can enhance the overall business operations that you do by making quick transactions. This can open up a variety of global business opportunities to you as well, which can support with taking your business to the next level.
Features of the ESAX payment system and loan application
Payment system and loan application hold a prominent place within the ESAX ecosystem. Hence, it is worthy to take a look at it and figure out what you can gain at the end of the day.
The payment and loan system of ESAX is a Blockchain based application. It provides complete independence and security to crypto money. In addition to that, it is possible for you to make financial transactions while maintaining utmost security. You will also be able to make your life easy while making such financial transactions.
At the time of using this system, users have the freedom to convert ESAX coins into the ESAX tokens as well. In addition to that, you will be able to get a loan via ESAX at a very low interest rate. This is definitely a better option when compared to the traditional payment methods.
On top of everything, ESAX is offering 24-hour live support. When you are stuck with anything, you can simply go ahead and get in touch with the team. They will provide support and assistance to the issues that you have been dealing with. Therefore, you can overcome the difficult situation that you have been facing with ESAX.
Why should you go ahead with ESAX?
Now you have a basic understanding on what ESAX is all about. In addition to that, you also know what you can gain out of ESAX for your business.
ESAX will provide you with excellent peer to peer networking capabilities. This can reduce the bottlenecks that are associated with making your transactions. On the other hand, ESAX can facilitate high speed transactions at all times. You will never have to deal with the frustration of waiting for a longer duration of time to get the transactions approved.
It has also been identified that ESAX is in a position to provide a high level of security. That's mainly because ESAX is based within Blockchain technology. You will be able to experience all the prominent benefits that Blockchain technology would offer to you. It includes ensuring a high level of anonymity as well.
The ESAX Tokens
ESAX tokens is another impressive aspect that you can find in this network. It has been designed to facilitate convenient trading on the exchange lists. In addition to that, you will be able to receive low interest loans in the form of ESAX. These tokens are processed within their own platform. However, they will be listed on a secondary stock exchange process.
The ESAX Token Sale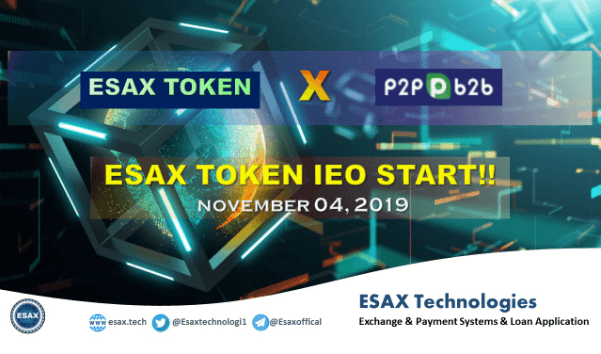 It is no longer news that the Initial Exchange Offering (IEO) is the latest trend in carrying out token sale, it has recorded tremendous amount of success since its inception and has also witnessed the sale of tokens in record time. IEOs can sell out in as fast as few seconds which is why so many project tend to tilt towards it. It is a process whereby projects employ the use of established exchanges to carry out their token sale as oppose to carrying out an Initial Coin Offering (ICO) that can last for months and some cases years, leaving the investors impatient and unimpressed in some cases.
ESAX will be using the Initial Exchange Offering (IEO) for its token sale and it will be held on the P2PB2B exchange. The token sale  will start on the 4th of November, 2019 at 08:00 (UTC+0) till the 11th of November, 2019 (UTC+0). The total amount of token available for supply during the IEO is 30,000,000 (30M) set at a price of  $0.02 USD with the minimum purchase amount being 500. To seize the wonderful opportunity of owning ESAX token for just 2 cents, follow this link.
Final Words
Now you have a clear understanding on what ESAX is all about. If you feel that it can contribute positively to your business, you can go ahead and get your hands on it.