November 2018 – Beginner's Cryptopia Review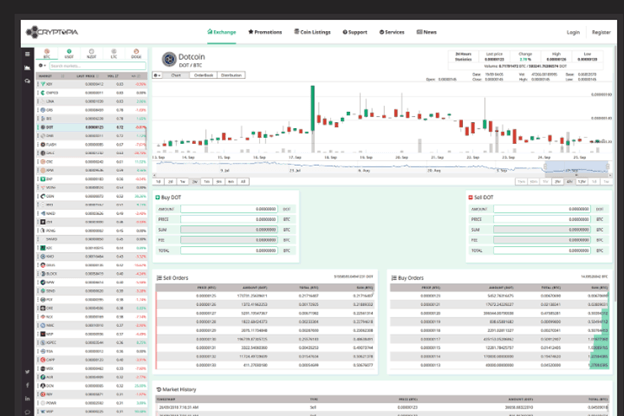 Cryptopia originates from New Zealand and is made up of an exchange and a trading platform. It enables its users to buy, sell, and trade digital assets with its simple-to-use, fast, and secure interface.
Launched in 2014, the platform was established in accordance with the New Zealand rules and regulations. It entirely trades cryptocurrencies and by the time of crafting this Cryptopia review, this exchange had listed five coins, namely:
BTC, LTC, USDT, NZDT, and DOGE

Just as the USDT is anchored to the USD, NZDT is tethered to the NZ$.
As an exchange, Cryptopia is unique in a number of ways.
For starters, the platform operates as a peer-to-peer exchange. To this effect, users can transfer funds to one another without necessarily having to go through the platform. It pretty much operates like any typical market where users place their orders and the sellers fulfill them.
Cryptopia is also a trading platform with one of the largest numbers of trading coins. The platform boasts over 500 listed assets, surpassing the average of most crypto exchanges that list about 200 assets. This large coin listing has made Cryptopia one of the best platforms for buying low-cap coins that are rarely traded on any exchange.
The last unique feature of this platform is that it offers a marketplace that allows users to buy or trade almost anything using cryptos.
An Overview of Cryptopia
This platform is great for anyone looking to buy or sell digital currencies; in addition, users will also find useful its ability to provide trading grounds for digital assets and other valuable things.
Brand: Cryptopia Exchange
Currencies: BTC, BCH, ETH, LTC, DOGE, NEO, XMR, POWR, DASH, PIVX, XEM, OMG, GNT, ZEN, NRG, SMART & 500, and more.
Payment Methods: Cryptocurrency
Fees: No deposit fees, withdrawal fees vary depending on the nature of the transaction, 0.2% trading fee
How Cryptopia Works
To help you better understand this section, here is a short video of how to trade on Cryptopia:
You can go through the video as you familiarize yourself with some of the features we'll be discussing shortly.
But even as we get deeper into how Cryptopia works, understand that this is a peer-to-peer platform that allows users to purchase coins directly from other users at a price that is not necessarily set by the exchange but one that's agreed upon by the engaging parties.
Something else that I found to be quite impressive about this exchange is its ability to make currency transfers between users at zero fees. This is possible since the transactions don't go through a blockchain but straight through Cryptopia, thereby, eliminating any network fees.
Key Features
Dynamic marketplace: The platform offers one of the most diverse marketplaces stocked with more than 500 coins to choose from. Users of the platform can trade assets that are not easily found in most exchanges.
Regular updates: The Cryptopia team keeps its user base informed on the latest developments regarding the various assets listed on its exchange.
Numerous analysis panels: The Cryptopia platform contains several navigation windows to enable users to obtain useful information for better trading. There are separate panels for prices of products as well as for the trading pairs to enable both beginner and advanced users to make well-analyzed trading moves.
The potential of obtaining value from this platform is numerous, including negotiating for better prices with a seller for the listed assets; however, care must be taken to avoid falling for exaggerated price offers for the listed assets.
Now that you know how to trade on the platform and how Cryptopia works, let's now have a look at the various trading limits depending on the verification of your account.
Trading Limits
Cryptopia has three account verification stages; the stages will determine the daily trading activities that will be allowed in your account within a day.
Level 1: This is the basic level that an account on Cryptopia operates on; users of the first level are those that have their email addresses verified. They're allowed a daily transaction limit of $3,400.
Level 2: Users at this level are those with verified emails and have provided names and addresses, a form of identification, and a passport photo of the user while holding his/her identification. This level allows users to transact up to $34,000 within a day.
Level 3: This level requires one to have completed the verification processes for level 1 and 2. In addition to that, one is required to provide a proof of address. This can be in the form of a utility bill or any related document with your physical address on it. Also, this level requires users to provide a photo of them holding a white paper with their username written on it. On top of that, one will also be required to provide a written statement of why they need their daily limit raised to level three, which is about $340,000 in a span of 24 hours.
It is essential to note that prior to starting your trading journey, ensure that you've set up a two-factor authentication to cushion you against unauthorized logins.
Supported Currencies

Cryptopia is largely a crypto-to-crypto exchange with the New Zealand dollar being the only fiat currency being supported on the platform. However, the money must have been transferred from a local New Zealand bank.
Even as many fiat currencies remain locked out of the platform, Cryptopia hosts more than 548 altcoins for users to choose from when trading. Some of the popular coins, such as Bitcoin, Litecoin, and Ethereum, are also traded on the platform.
Cryptopia Fees
While using Cryptopia, you'll encounter two main types of fees; they include:
Trading fees: This type of fee is incurred as a result of the trading activities of a user when they exchange one currency with another. This fee is similar to that incurred when transferring crypto from one location to another.
Withdrawal: Any time you withdraw a fiat currency (New Zealand dollar) and cryptocurrencies, you'll incur this fee. It only applies to amounts withdrawn in the form of fiat as well as crypto withdrawals.
Transactions made within the Cryptopia platform are not chargeable; that is to say, when user X transfers BTC, for instance, to user Y, then the money remains within the same network; thus, there are zero transaction fees.
Payment Methods

Cryptopia only allows the transfer of fiat in its native currency, NZ$. Other than this, users will be required to convert their fiat currencies to cryptocurrencies in order for them to use the funds to trade on the platform.
How Long Do Transfers Typically Take?

Just like most exchanges, it could take some time for bank transfers to be received. The time may depend on the traffic in the Helpline or the submission time of the funds.
In addition, the transfer time may also depend on the coin selected; some coins have lower transaction speeds while others are much faster and could typically take a few seconds or less.
Your transaction verification may also depend on your account verification level; from experience, you want as much as possible to aim for the highest verified account (level 3) – more reasons highlighted below.
Is Cryptopia Safe?
Cryptopia prevents unauthorized individuals from accessing user data by not collecting personal information unless expressly permitted.
The platform contains a two-factor authentication system to prevent any unauthorized access to your asset account. The Cryptopia team also advocates for the level 3 verification status to further improve the security of the platform.
The platform relies on HTTPS security certificate and other methods of improving the security of the platform. Despite the controls, the platform normally cautions its users against irresponsible trading that may lead to a security breach of your account or wallet.
Customer Support

Cryptopia offers several channels for communicating with its users; for instance, one can decide to raise a ticket and wait for their turn. Alternatively, users can also contact the Cryptopia team through their social media pages, chat programs, and cryptocurrency forums.
Pros and Cons of Cryptopia Exchange
There's no doubt that Cryptopia is a great platform, but there are a few things that couldn't slip through the cracks in this review.
Pros
Cryptopia offers a wide range of coins and services.
The platform offers free transfers (back and forth) of cryptocurrencies from one user to another.
The fees applied by this platform are quite affordable, with some transactions being completely free.
Cryptopia allows users to make use of advanced features such as arbitrage in the marketplace.
Very easy verification process, especially for the first level.
Cons
The platform only transacts one fiat currency, NZD. This limits other users around the world from trading using their home currency.
Buyers and sellers might end up exploiting each other due to their personal negotiations.
Despite there being few advanced trading features, generally, the platform is suitable for beginners.
Cryptopia Review: Conclusion
Finally, trading cryptocurrencies is a risky affair – whichever way you choose to look at it, you'll need to do your own background checks about a platform prior to signing up and trading on it.
This review may not be conclusive, but it tries as much as possible to point you in the right direction as far as identifying a good trading platform is concerned. Cryptopia is an arbitrage tool with hundreds of listed coins, low trading fees, and great customer support.
Have you used this platform before? What is your experience with it?