Buy Bitcoin with Credit Card No Verification
A modern person can no longer imagine their life without bank cards, which mainly hold savings in fiat currencies. Therefore, when there is a need to purchase some cryptocurrency, many people usually wonder how to buy bitcoin online using a credit card. Until a few years ago, this would have been a problem. However, times are changing, and today, debit and credit cards allow you to buy crypto.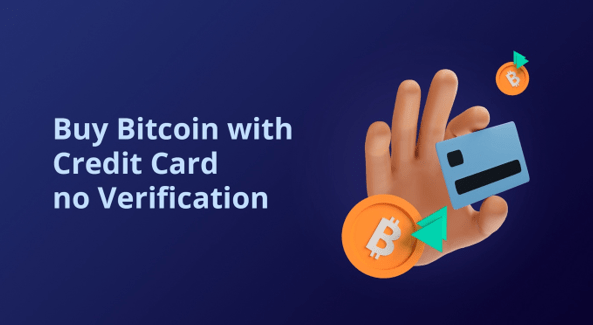 Still, identity verification is required when buying some BTC in most places using bank cards. For some reason, this method may not work. For example, if anonymity is fundamentally important or you do not want to provide passport data to conduct one single transaction.
How Anonymous Is Bitcoin (BTC)?
Cryptocurrency is a digital currency based on a ledger that is decentralized and protected by cryptography. Each transaction is recorded on a public ledger called a blockchain. This allows you to track the history of bitcoins so that no one can spend coins that they do not own, copy or cancel transactions.
Like any other cryptocurrency, bitcoin does not belong to a country, group, or person — it belongs to users. People are drawn to the anonymous nature of transactions and often think that bitcoin transactions are untraceable and completely anonymous. They were right to some extent. Although every bitcoin transaction is recorded on the blockchain, the names of the buyers and sellers are never revealed, and only their wallet IDs are publicly available.
Still, Ben Weiss, CEO of crypto ATM operator CoinFlip, believes that most people just misunderstand how the process works.
'It's not anonymous. It's pseudo-anonymous. You can't buy any large amount of bitcoin without KYC or ID or driver's license. Bitcoin is actually more transparent in many ways than typical things in the financial system'.
Digital currency is often associated with illegal activities, and therefore it seems reasonable that it should shield the identity of users as much as possible. This is not true because bitcoin was not created for criminal purposes at all but as a transparent and improved financial system.
Although there are no specific names and surnames of users on the Bitcoin network, it is quite easy to determine which encrypted addresses correspond to one or another person. It is especially easy to determine the ownership of funds if a user enters personal information before buying bitcoin. With little effort, law enforcement can track the buying and selling of cryptocurrencies.
Why Is It Difficult to Buy Bitcoin Without KYC?
The relationship of the world's first cryptocurrency with regulators and governments remains complex. So, for example, El Salvador, a small country in Central America, is the first state where bitcoin became the official currency along with the US dollar.
Still, the ban of cryptocurrencies in China is gaining momentum. The newly adopted laws prohibiting financial institutions and payment companies from providing services related to cryptocurrencies caused BTC's price to fall to about half of its mid-April all-time high of about $65,000.
Thus, the legal status of bitcoin can vary significantly from country to country, but there is always one common nuance: all governments seek to control transactions with cryptocurrencies. This is necessary to create a tax base and counter illegal financial transactions. That's why many crypto enthusiasts are looking for an opportunity to buy BTC with credit card no verification.
How to Buy Bitcoins with Credit Card no Verification?
Unfortunately, it is almost impossible to buy large amounts of bitcoin without verifying your identity since the legislation of most countries takes this issue very seriously and controls it as much as possible. However, there is a solution.
This is where Switchere comes into play — a licensed online crypto exchange that allows its users to buy bitcoin with credit card no verification! At Switchere, you can buy and sell all leading coins for USD or EUR in the fastest and most convenient way, using your credit, debit, or prepaid card from VISA/Mastercard/Maestro or any other available payment method.
As mentioned before, most exchanges require KYC verification, which includes providing passport data, information about the place of residence, etc.
However, at Switchere there is a good opportunity to buy bitcoin no verification and no KYC for those who want to buy some crypto anonymously. All you need to do is register an account and fill in the basic information (email and phone number) — it's easy as A, B, C and does not take much time!
Why Make Anonymous Bitcoin Transactions?
Nowadays, it's really convenient and easy to buy bitcoin with a bank card. Still, the main disadvantage is the low degree of anonymity since most services require identity or card verification for this. This, in turn, goes against the basic principle of cryptocurrencies — anonymity.
The rapid growth of the Internet and the exponential growth in the number of hackers encourage users to maintain privacy, anonymity, and security. The problems of data and passwords leakage, phishing, and extortion have unfortunately become commonplace.
Thus, the security issue on the Web is now more relevant than ever. In the first six months of 2020, hackers earned $24 million in bitcoins from naive users, while over the past 4 years, this figure had reached only $38 million.
Undoubtedly, to maintain anonymity on the Internet, you need to provide a minimum of information about yourself, especially financial. After all, at any time, an unscrupulous team member of a payment institution can sell your data and simply disappear. The saddest thing is that you can no longer take the information back, even if the criminals are found.
As mentioned before, it's not that easy to buy bitcoin with credit card instantly no verification since you need to go through various registrations, verifications, KYC, AML procedures. Trusting information about yourself to a third party is also not an option. Despite the existence of many well-known and time-tested centralized services, even they suffer from data leaks from time to time.
When it comes to selecting a crypto exchange to buy some bitcoins, security should always be the top factor to consider. Choose only safe and time-tested platforms that have a good reputation and are attentive to the storage of confidential customer data.