The Most Comprehensive Bithumb Review
Do you want to trade cryptocurrencies? If so, then you will need a crypto exchange. According to CoinGecko and as can be seen in the image below, one of the exchanges that have featured prominently on the top ten best markets list based on traded volume is Bithumb.


By early December 2018, Bithumb supported the trading of 68 coins. This has made it a preference for both experienced and new traders located in the Far East and across the globe.
The recent announcement on Coin Journal that Bithumb would install crypto kiosks in selected South Korea restaurants to facilitate payment with cryptos has made the exchange attract a lot of interest from businesses. It is seen as a new opening that can add another stream of revenue in a business.
Despite the impressive progress, the recent attack and loss of 30 million worth of digital coins at Bithumb has left traders wondering whether it is indeed the best crypto market platform. As such, this post is a comprehensive Bithumb review that digs deeper into its operational mechanics to answer the main question: "Is Bithumb safe?"
What is Bithumb?
Bithumb is a South Korean company that was started in 2014 by a firm referred to as BTC Korea.com Co. Ltd. However, they do not provide info about the founders, listing, and directors. They have only provided the name of the CEO, Heo Baekyeong.
The design of Bithumb was aimed at providing a user-friendly platform for both new and experienced traders. Although a large percentage of Bithumb traders are South Koreans, the exchange platform supports other languages, including English, Japanese, Spanish, Hindi, and Japanese.
Since 2013, Bithumb has grown steadily to become one of the leading crypto platforms around the globe. By June 2018, the trading volume was about $100 million every day. By 10 December 2018, the 24 hrs trading volume had reached $1.4 billion.
Despite the recent attack that saw $30 million getting siphoned away, the high trading volume demonstrates that people still have a lot of trust in the exchange.
Trading at Bithumb
Before you can start trading at Bithumb, you need to create a user account and fund it. Visit their homepage for access and fill out the member sign-up form. The form requires new traders to add personal info such as a name, email, and phone number. Here is a image showing the Bithumb registration form.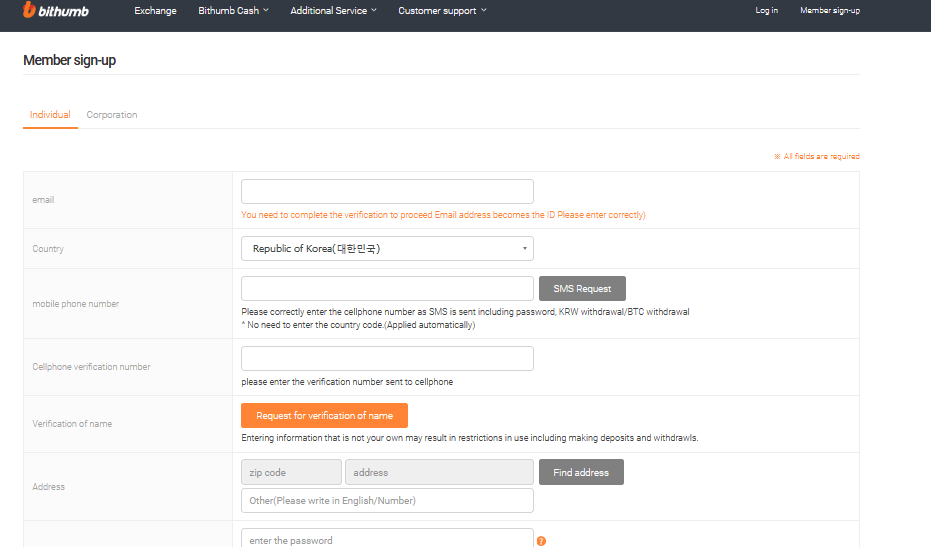 You can provide additional info such as an i-PIN confirmation, passport, and proof of residence depending on the preferred level of operation. Here are the four account levels you can select when trading at Bithumb:
Level One: This level requires only email and SMS verification. This account level only allows the depositing of virtual currencies.
Level Two: You are required to provide additional identification such as an i-PIN confirmation and user passport to start trading at Bithumb.
Level Three: This level requires all the confirmation details of a level two account and a written pledge.
Level Four: This level requires all the documents needed for levels one to three and further proof of residence.
After creating a trading account, you will need to fund it before starting to trade. You can fund the account by using other crypto coins or fiat currencies. However, Bithumb only supports fiat deposits with the local South Korean won.
After funding your Bithumb account, it is time to start trading. The Bithumb trading platform is somehow different from others such as Binance and Bittrex in that there is no lag in switching between tabs. By early December 2018, Bithumb listed more than 60 coins, including the top ones such as Bitcoin, Dash, and Ethereum.
The caption below shows the Bithumb trading interface: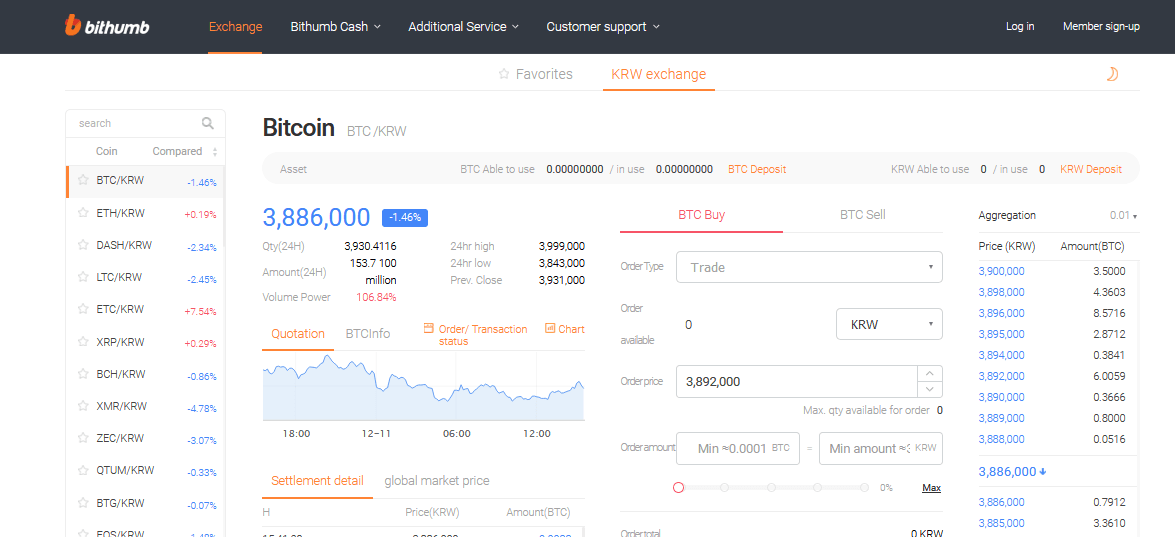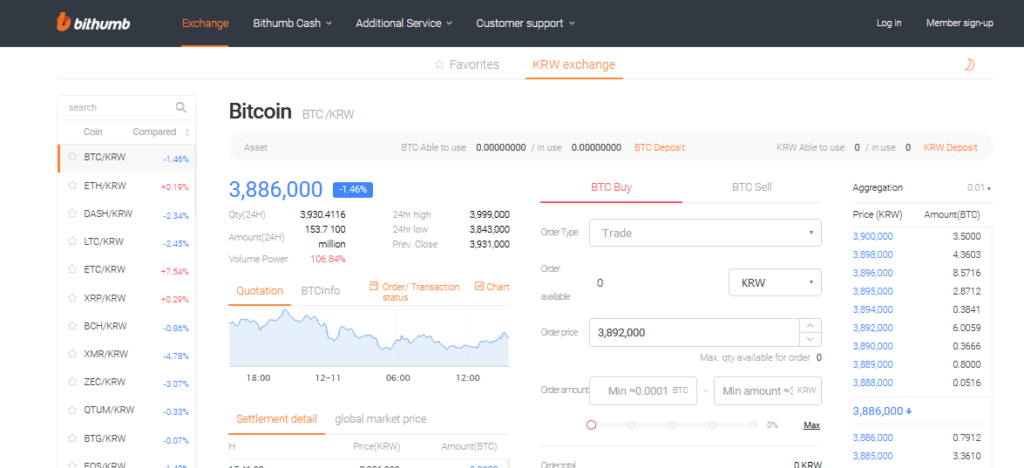 Cryptocurrencies that can be traded on the platform are located on the left part of the chart. Note that the interface does not have a trading chart that is characteristic on other exchanges such as Bittrex. You will need to click on the preferred trading pair to access the trading chart.
In order to make a trade, you need to select the cryptocurrency of interest and enter how much you want to purchase or sell. On the right part of the Bithumb screen, you can see the order book that allows you to follow the present buy and sell levels.
You can also use the Bithumb's trade tab, easy trade, or reserved trade tab. The 'trade' tab will take you to the standard trading screen while the 'easy trade' tab offers a simplified interface with fewer options.
The 'reserved trade' tab provides the trader with advanced features, including stop orders and limit orders. To trade profitably at Bithumb, it is important to ensure you understand how to interpret trends and when to make moves.
Bithumb Transaction Fees
Bithumb has a transaction fee of 0.15% that is levied on both the seller and trader. This implies that it is relatively expensive compared to other platforms such as KuCoin and Binance that charge 0.1%.
An additional withdrawal fee is charged depending on the coin under consideration. For example, a Bitcoin withdrawal attracts a fee of 0.0005% while other coins are charged 0.01%. Here is the full Bithumb fees schedule.
Between 2014 and January 2018, Bithumb had a discount coupon promotion that allowed its members to pre-pay the fee and push it to as low as 0.01%. However, the coupon discount was closed in January 2018 until further notice from Bithumb.
To benefit from the coupons, a member was required to select a fixed volume he/she wished to trade and purchase the fee coupon before starting to trade. Because the member had already pre-paid for the coupons, no additional fee was charged when trading on the Bithumb platform. The coupons had an expiry period of 14 days.
A Closer Look at Bithumb's Customer Support
One outstanding aspect of Bithumb is its customer support. Bithumb has a reliable and professional support that is available 24 hours a day, 7 days a week. Besides, the support is available in multiple languages, including English, to ensure that even traders outside South Korea can easily get help.
Traders can visit the Bithumb user guide that provides detailed info on using different features on the platform. For example, you can opt to use the 1:1 inquiry or the verification help center for additional details about trading accounts.
Other helplines include sending an email inquiry to contact2@bithumb.com or following their social media lines. If you have an urgent issue, consider making a direct call using the phone number (+82-1661-5551) on their homepage.
Is Bithumb Safe?
One concern that people have when trading cryptocurrencies in the markets is security. If you take a look at major losses in the crypto niche, the chances are that they happened in the exchanges. Bithumb has also been a victim of a cyber attack.
In mid-2017, a Bithumb attack resulted in a data leak of info of over 30,000 traders and the loss of more than $7 million in crypto coins and fiat currencies. The South Korea's Communication Commission fined the Bithumb exchange KRW60 million (52,900 USD) because of the attack.
In June 2018, the exchange was hacked again, this time resulting in a loss of $30 million worth of crypto coins. To minimize the losses incurred by traders, Bithumb refunded the lost coins directly and it needed the help of other exchanges such as Changelly.
To keep the platform secure, Bithumb's development team progressively reviews the system to identify vulnerabilities and addresses them. Besides, anonymous trading is prohibited. Even with the commitment of the development team and all the security features, the two attacks demonstrate that no platform can be 100% secure.
To operate safely on a crypto exchange such as Bithumb, this review recommends the following best practices:
Always withdraw the crypto coins immediately after trading them in the exchanges.
Ensure to use a secure crypto wallet that is highly secure such as Ledger Nano S.
Make sure to keep your exchange account's login and wallet's private keys away from third parties.
Keep your computer, the Bithumb trading client, and wallet up to date.
Ensure to only commit the funds that you are ready to lose.
The Summary of Bithumb's Pros and Cons
This Bithumb review established that the exchange is a carefully designed platform that puts a lot of focus on enhancing customer value. Here is a summary of the exchange's pros and cons:
Pros
Cons

It has an impressive customer support provided in multiple languages
It has a simple and straightforward trading platform
High liquidity due to its popularity
Provides access to a wide range of cryptocurrencies, including the most popular coins
It is led by a committed development team

The exchange is mainly targeted at South Koreans
The fiat deposit option on the exchange is available only to South Korea residents
Though the list of traded coins is impressive, other exchanges such as  Binance have listed more coins
The exchange has been attacked twice and millions worth of digital coins lost
If you are looking forward to trading cryptocurrencies, the focus should be identifying an exchange that is secure, lists many coins, and is committed to customer value.  Bithumb ticks all of these boxes.
This review considers Bithumb safe because of the commitment of its development team and reliable operational model that does not allow anonymous trading. Even though the exchange was attacked in 2017 and 2018, the development team introduced impressive security strategies such as moving the user's assets to cold storage.
Even though this review considers Bithumb safe, it does not recommend the platform to traders located outside South Korea. The design of the exchange was created with the primary focus being the South Korean market.
Before you can join and start trading at Bithumb, make sure to compare it with others such as Kraken and Coinbase.