11 Best Crypto Exchanges in Canada
Searching for the best cryptocurrency exchange in Canada will yield you dozens of results. Choosing a platform can seem overwhelming when there's no clear winner on the best cryptocurrency exchange. Each crypto exchange offers different features and selling points. Some crypto investors may put stock in several platforms simultaneously. The most suitable crypto exchange will come down to your favourite features.
Finding the right cryptocurrency exchange will impact the profitability of your trades. It also affects how you buy and sell crypto coin, among other factors. This guide helps to narrow down the choices, offering you a glimpse into safe, secure cryptocurrency exchanges in Canada that have been vetted for their security and ease of use. Trading commissions vary.
As you'll find, every exchange has its prioritized selling points. Some cryptocurrency exchanges are geared toward strong security, while others boast low trading fees. Each crypto exchange has a different aesthetic to it as well. There are preferences around how easy one is to use over another.
Here is a rundown of the best cryptocurrency exchanges in Canada: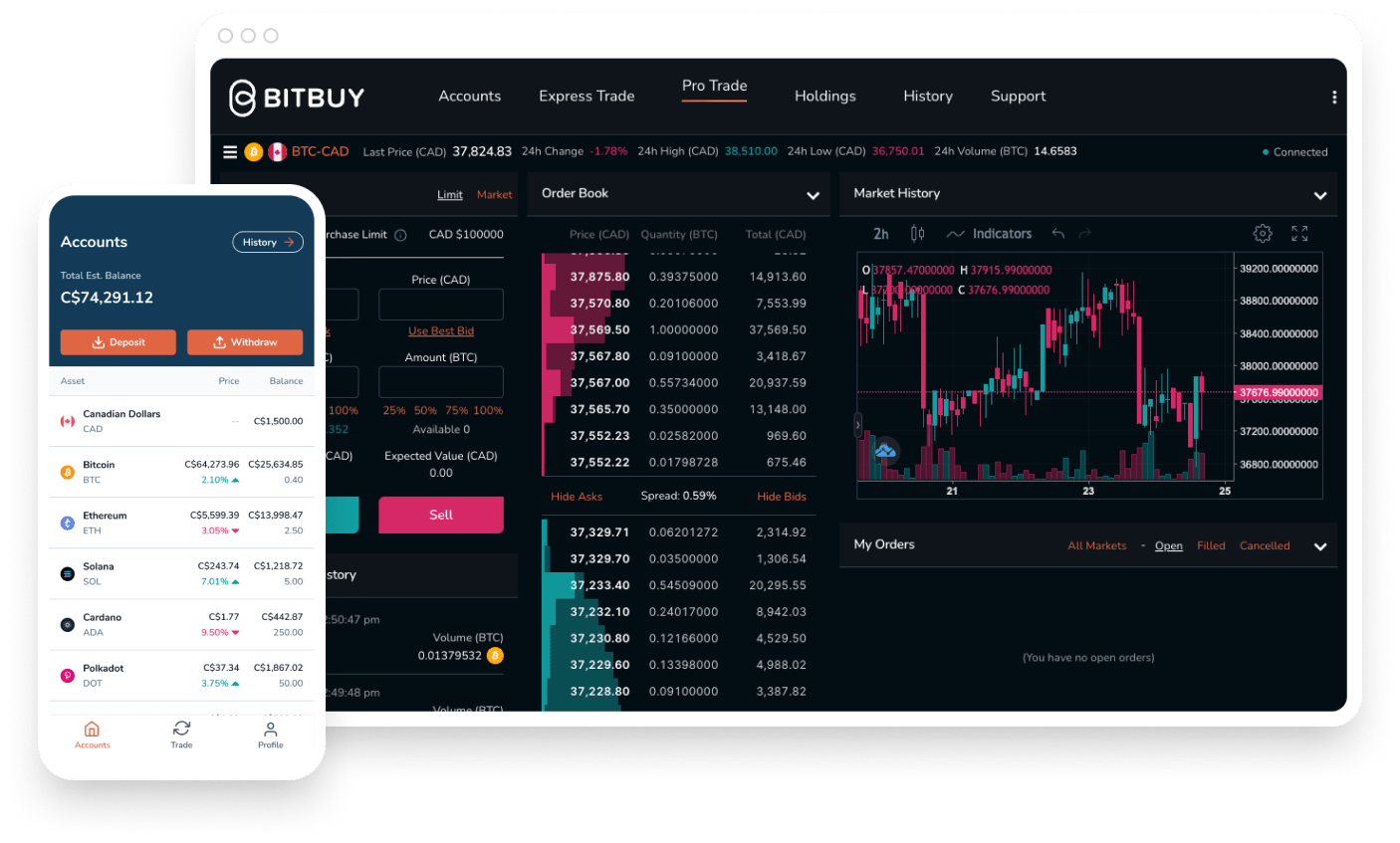 Bitbuy
Trading fees: 0% – 1.5%
Bitbuy is the best cryptocurrency exchange. It has one of the best trading fees in Canada, ranging from 0% to 1.5%. The fees may vary depending on how much is being traded. Regardless, Bitbuy is consistently one of the more inexpensive exchanges.
It's not just the fees that make Bitbuy a hit among cryptocurrency investors. The exchange supports more than 25 cryptocurrencies. The Bitbuy app is highly rated and works exceptionally well. They also offer free INTERAC deposits and withdrawals, free bank wire deposits, and 1% on bank wire withdrawals. For the best overall crypto trading experience, Bitbuy ranks exceptionally high.
Bitbuy continues to be extremely popular, with more than 400,000 Canadian users. This platform has processed over $4 billion in trades. Bitbuy is highly safe and secure with its 99% cold storage policy. On top of that, you have 24/7 customer support available through live chat and email if there's a question.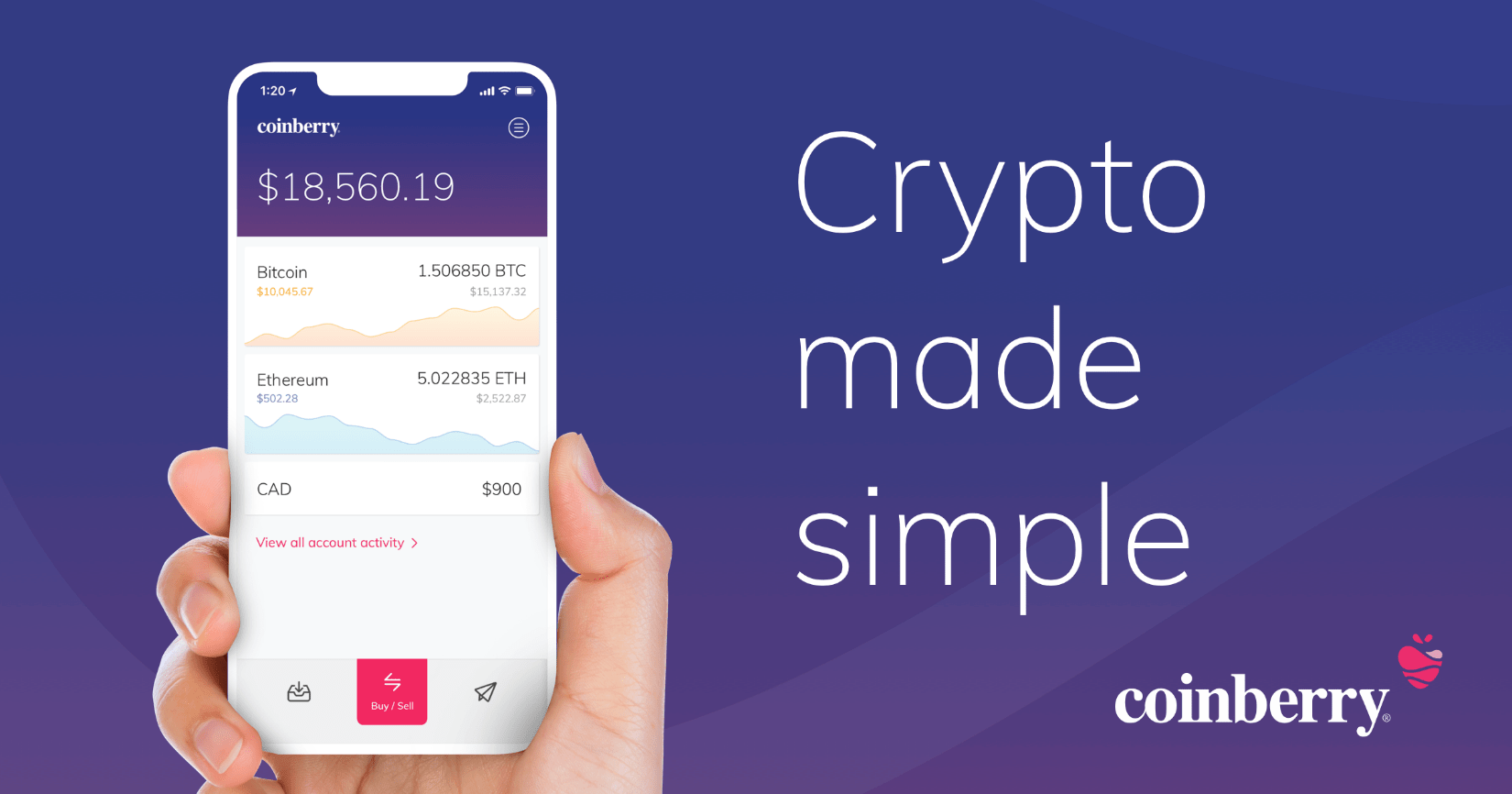 Coinberry
Trading fees: 0.2%
Coinberry is a growing Bitcoin and cryptocurrency exchange. Buying and selling crypto in Canada has never been safer. The platform is more secure than it is in making instant trades on Coinberry.
Founded in 2017 and based in Toronto, Coinberry is trusted by Canadian municipalities. It is the only insured, OSC & FINTRAC registered, and PIPEDA compliant crypto trading platform in the country. You can find more than 15 cryptocurrencies on Coinberry. All funding is done through Interac eTransfer and wire transfer. Also, all fiat and withdrawals are free.
Coinberry is incredibly easy to use, allowing you to buy and sell crypto whenever you like. Coinberry is considered one of the best-rated crypto exchanges in Canada.
Wealthsimple
Trading fees: 2%
Wealthsimple was first known as a robo-advisor for stock investing. In the last few years, it has become a top crypto exchange in Canada with more than 40 cryptocurrencies. Instantly buy crypto online or through the Wealthsimple app, trade as little as $1 at a time, and see no fees across deposits.
Wealthsimple is fully regulated by Canadian financial authorities. It operates as a restricted dealer through the Canadian Securities Administrators' Regulatory Sandbox. Its cryptocurrency is also protected by Coincover insurance service, ensuring your investment is secure in case of a security breach or hack.
Despite the positives, Wealthsimple makes its money off using spreads, which are not transparent. That may be a negative for some investors.

Kraken
Trading fees: 0.25%
Kraken is originally a cryptocurrency exchange aimed at the European market. Since then, it has begun offering services in North America. Over the years, Kraken has become one of the better crypto platforms in Canada. Kraken is best known for providing access to leveraged cryptocurrency products suitable for experienced and intermediate investors.
Kraken offers many crypto products and benefits. It gives access to crypto derivatives and futures, allowing you to multiply a minimal investment into a profit. They also provide a maker/taker model. With larger trading volumes, the commission rate is reduced. The only downside is leveraged products are high-risk. Also, Kraken does not offer a native wallet.
Even if you don't go down the route of leveraged crypto products, Kraken remains a great platform with a competitive trading fee of 0.25%. Have the opportunity to invest in over 65 crypto coins with no minimum deposit.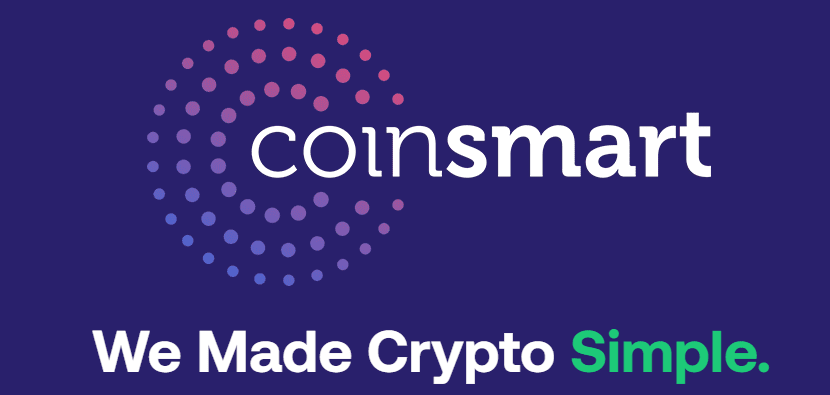 CoinSmart
Trading fees: 0.2%
CoinSmart offers 95% cold storage in security and has one of the lowest trading fees in Canada at only 0.2%. The platform has 16 cryptocurrency coins. In addition, new users are easily verified. CoinSmart is generally considered one of the country's more aesthetically attractive exchanges.
Security is a priority at CoinSmart. They're a Registered Marketplace through the Ontario Securities Commission, a registered Money Services Business through FINTRAC, and a member of the anti-money laundering group TRUST. They're highly secure and publicly traded, with their finances audited annually by a third-party firm.
There are many reasons to go with CoinSmart, including 0% on INTERAC deposits, 0% on bank wire deposits, and 1% on any bank wire withdrawals or EFT withdrawals. For beginner crypto investors and advanced investors alike, this is an exchange to consider.

Coinbase
Trading fees: 1.50%
Coinbase is widely regarded as one of the best crypto exchanges in Canada for beginners. It's heavily regulated and prioritizes security with 98% cold storage. Coinbase is listed on the NASDAQ as a public stock.
There's no platform as easy to use as Coinbase, although the fees can be pretty high. The trading commission to buy and sell crypto is 1.50%, but debit and credit card fees are even higher. When you purchase cryptocurrency using your debit or credit card, you're hit with 3.99% in fees. You may opt for a local bank transfer over to Coinbase as an alternative.
Coinbase offers more than 50 crypto coins, enabling you to diversify your investment portfolio. It's a great exchange if you don't mind the occasional high fees. Coinbase also has somewhat limited trading tools and features on the platform.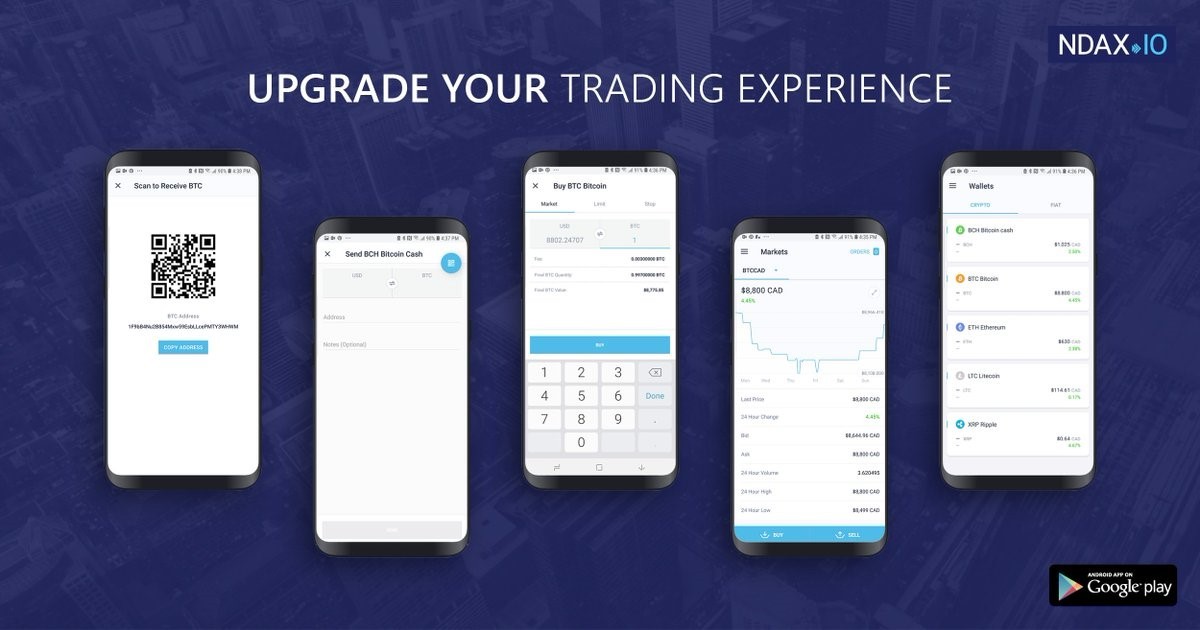 NDAX
Trading fees: 0.2%
NDAX offers some of the lowest fees on crypto trading in Canada. It has an extensive portfolio of cryptocurrency and 24/7 customer service. Impressively, its features are among the best exchanges in the country.
With NDAX, you can access more than 30 crypto coins. It's available on all devices with Android or iOS apps. You can fund your crypto account at NDAX with Interac eTransfers, wire transfers, and bank drafts. Trading fees are limited to only 0.2% on all buy and sell trades. While crypto and fiat deposits are free, a flat fee applies to fiat withdrawals.
All in all, NDAX is a versatile platform. It uses cold storage and two-factor authentication to protect accounts.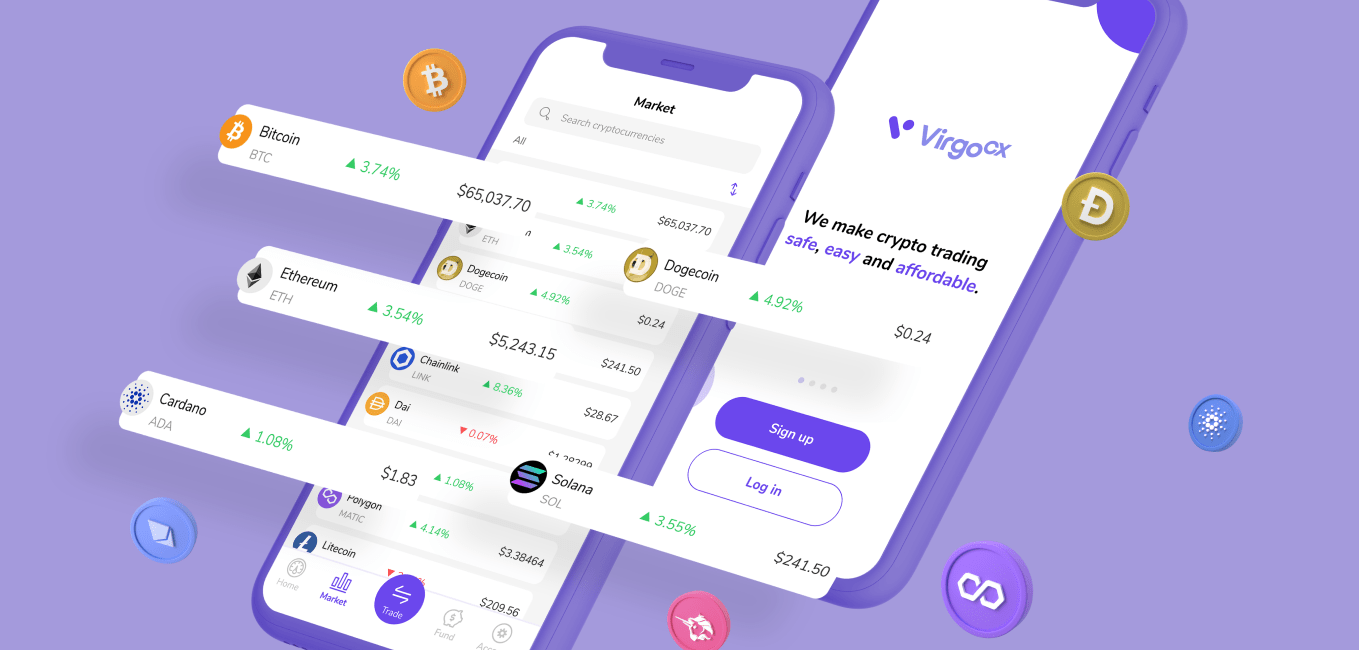 VirgoCX
Trading fees: 0.95%
VirgoCX is one of the newer cryptocurrency exchanges, founded in 2018. VirgoCX offers access to more than 40 crypto coins. In addition, it serves as an NFT brokerage service, OTC, and foreign exchanges.
VirgoCX is one of the only Canadian cryptocurrency exchanges supporting multiple currencies, allowing you to utilize CAD and USD. Fund your account through Interac eTransfer, wire transfers, and crypto deposits. While trading fees are up to 0.95%, all fiat withdrawals and deposits are free.
VirgoCX is registered as a Money Service Business with FINTRAC and is a safe choice for an exchange.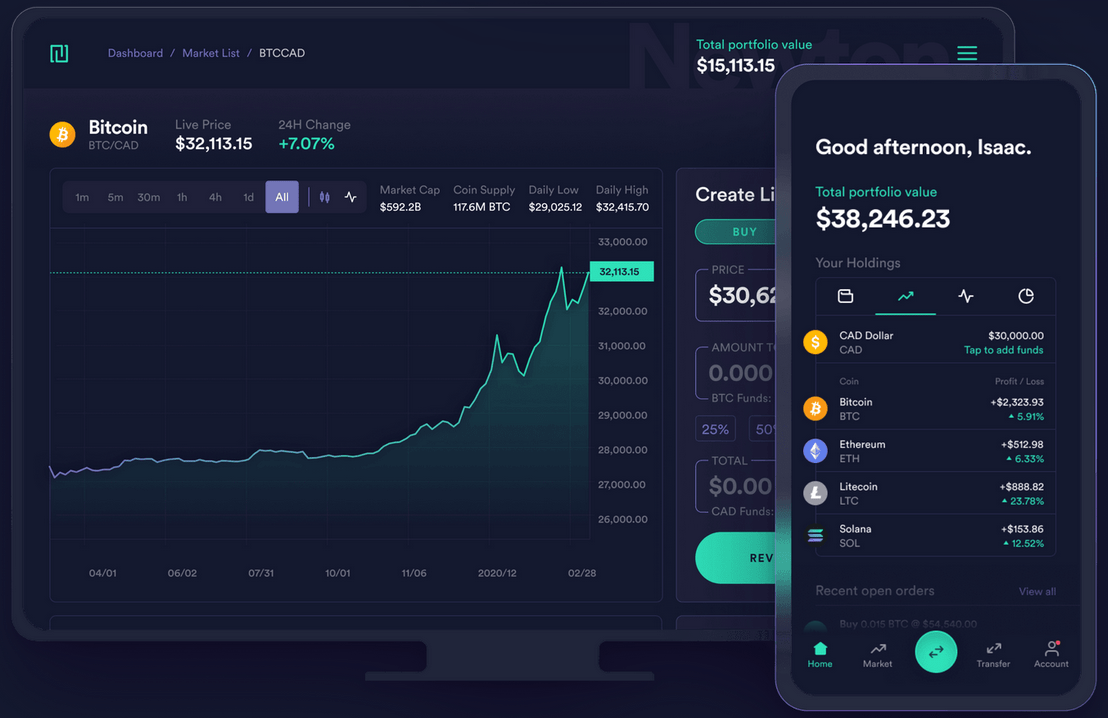 Newton
Trading fees: 2%
Newton is the type of crypto exchange best suited to beginners. It is ideal for novices still learning the ins and outs of investing in cryptocurrency. Newton can be accessed directly online or through an app, allowing you to invest in crypto from anywhere.
On the Newton crypto platform, you will find more than 60 cryptocurrencies, including some that aren't widely available elsewhere. You can fund your account through Interac eTransfer, bank wires, and crypto deposits. There are no commissions and fees charged on deposits or withdrawals. However, trading fees are costly, with a price spread up to 2% on some trades.
Newton is a decent alternative to other cryptocurrency exchanges in Canada. It introduces beginners to what's possible with cryptocurrency investing.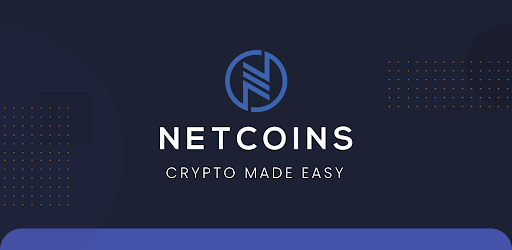 Netcoins
Trading fees: 0.5%
Netcoins supports more than 30 digital currencies with low trading fees. It's another cryptocurrency exchange in Canada that receives a lot of attention. This platform has a growing user base.
Through Netcoins, you can customize your cryptocurrency trading experience with price alerts, CAD and USD funding, and free cash deposits or withdrawals. Netcoins is owned by a publicly traded company and prioritizes security for all of its members. Also, enjoy customer service through live chat, phone, and email. Whenever you have a question, the Netcoins support team will address your concern in a timely fashion.
Netcoins is user-friendly. It is easy to navigate for first-time and regular users. Plus, crypto trading is much easier when you sign up with a platform like Netcoins.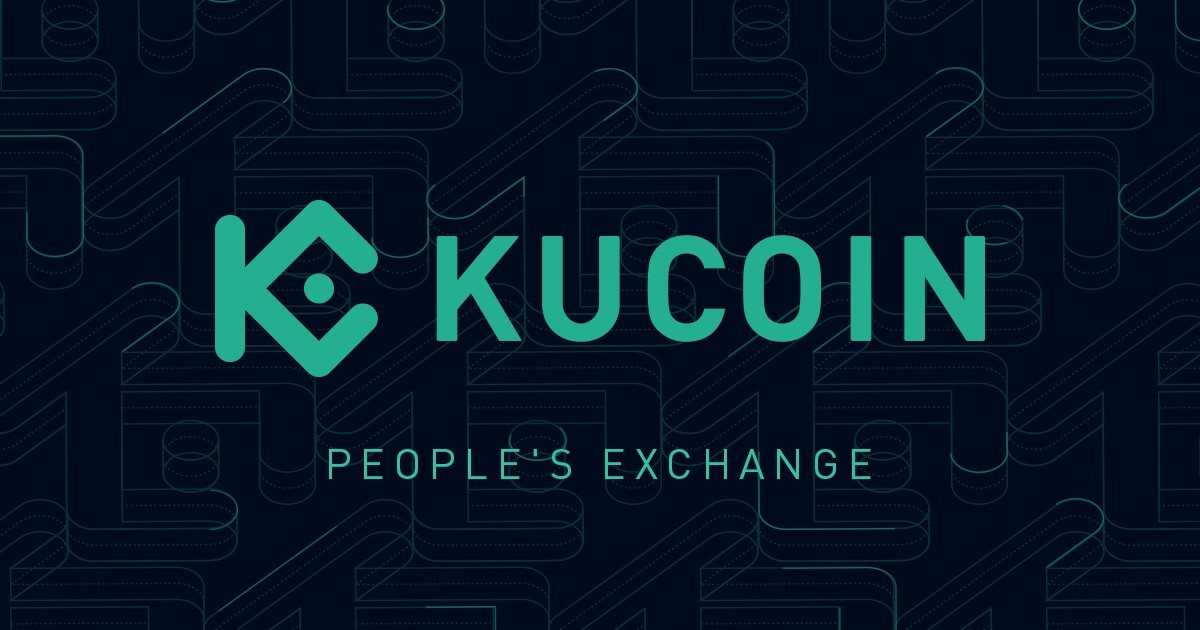 KuCoin
Trading fees: 0.1%
KuCoin is one of the newest cryptocurrency exchanges, with an intuitive design and a strong emphasis on security.
The sign-up for KuCoin is simple and easy. Once an account is vetted and registered, you can access more than 100 different cryptocurrency coins. The only downside to using KuCoin is that the platform does not have the same trading volume as some of the other names on this list. It is also a crypto-only exchange, meaning you cannot fund an account through a debit card, credit card, wire transfer, or traditional bank account. The platform singularly handles cryptocurrency.
Sometimes referred to as 'The People's Exchange', KuCoin has offices in Hong Kong, Singapore, and Seychelles. It is an international corporation with a distinguished reputation in cryptocurrency.