10 Trending Cryptocurrencies To Kickstart your 2022 Trade
No one can deny that the crypto sector has evolved and developed tremendously since the introduction of Bitcoin in 2009. The cryptocurrency market value surpassed $1 trillion for the first time last year, thanks in large part to the growth of Bitcoin. Investment funds from across the globe are taking advantage of the advantages of a decentralised market by investing in a wide range of crypto assets.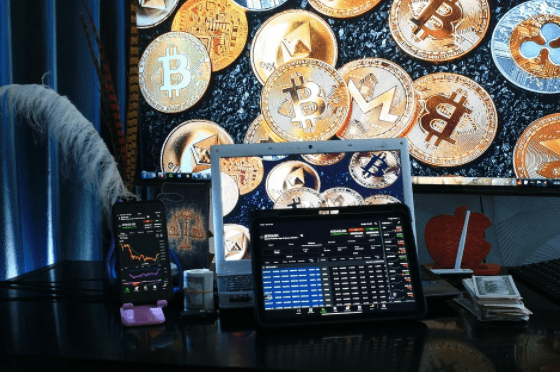 In light of these variables, the industry seems to be on an upward trajectory, and it's unlikely that this trend will slow down very soon. During market turbulence, many investors are scrambling to maintain tabs on the hottest cryptocurrencies that might burst in the future. Altcoins, in particular, have seen their value soar in recent months due to the influx of eager crypto investors looking to get their hands on the newest and most promising digital currency offerings.
Speculations about a crypto boom are expected to drive a rise in crypto investments in March, according to experts. Listed here are the best-performing cryptocurrencies that are most likely to skyrocket in value between now and the end of 2022.
Decentraland (MANA)
The Ethereum blockchain underpins the virtual reality game platform Decentraland. Gamers may design programs that can be monetised using the platform's APIs. Users may create projects and live in the virtual environment of LAND, which the project calls a virtual piece of land. Cryptocurrency is a rewarding investment for the project's future consumers. Dart Europe specialists, who put in additional effort to analyse and thoroughly investigate the market for their Mana Price Prediction, are a solid source of information about what the future of Mana looks like this year.
XRP (Ripple)
RippleNet is a digital payment network that uses XRP as its currency. To provide a faster, cheaper, and more efficient alternative to both digital assets and traditional monetary payment systems like SWIFT, Ripple designed the token. Transactions on the XRP blockchain may be completed within 3-5 seconds, and it is also one of the cheapest cryptocurrencies available on the market.
Axie Infinity (AXS)
Over the last several years, the cryptocurrency industry has grown at an astronomical rate. As a result, the price of Axie Infinity has risen by 39,000 per cent since its debut in 2020 and is expected to be a popular cryptocurrency in 2022.
Axie Infinity is a game in which participants assume ownership of a section of the business. Token-based critters known as Axies are the focus of AXS's Axie-collecting, breeding, raising, and trading features. For governance purposes, the ecosystem uses the Axie Infinity Shards (AXS).
Even though the cryptocurrency market is turbulent, it is rational to infer that AXS Coin is a solid long-term investment. This is since it serves a real-world purpose, fueling a game with a rising user base.
Polkadot (DOT)
Multichain protocol Polkadot is open source and safe, enabling the cross-chain transfer of any data or asset type, not only token-based tokens, to allow for interoperability across blockchains. 
With Polkadot, a decentralised internet of blockchains, or Web 3.0, is now a reality. Polkadot has seen an increase in investment due to the growing popularity of the Web 3.0 idea.
Binance Coin (BNB)
To grow, BNB is making use of the payment system. To facilitate the conversion of cryptocurrency into fiat cash, Binance has launched a Visa debit card. The Binance account's card wallet is linked to the card. Binance Pay, a highly secure and borderless payment tool on the Binance app, is also being rolled out by the company in addition.
During the burning period, the supply will be reduced, and the price will rise. As a result, Binance can generate a sizable profit. According to CoinTelegraph, Binance profited $750 million by destroying $600 million in BNB. According to market capitalisation, Binance is currently the fourth-largest cryptocurrency exchange by trading volume. It boasts one of the best returns on investment in the whole market, making it an excellent investment for 2022.
Solana (SOL)
Investors are keeping a close eye on Solana as it strives to reach new heights. The SOL coin has been setting new market norms for some months now. The crypto market's first bull run began in 2021. 
The cryptocurrency market is expected to erupt in March 2022, resulting in a new round of price rises.
Cardano (ADA)
There is a public blockchain ecosystem called Cardano that has recently begun to enable smart contracts. Cardano is a relative newcomer to the field of decentralised applications, compared to other well-known currencies that have had this capability for some time. Cardano Foundation CEO Frederik Gregaard recently said that the foundation was focused on achieving "maximum adoption and greatest value" to reach individuals in underdeveloped nations, according to the Cardano Ecosystem Foundation. As a result, Cardano is one of the first cryptocurrencies designed specifically to meet the financial demands of emerging economies.
Bitcoin Cash (BCH)
When it comes to the world's best-known cryptocurrency (Bitcoin), Bitcoin Cash is an upgraded version. Some of the advantages of Bitcoin Cash over its parent currency include quicker, cheaper, and more secure transactions. It was unveiled in 2017 and has been in operation since then. It's also the closest thing to a Bitcoin alternative. Bitcoin's price rises have sparked a wave of interest in other crypto-related ventures. Maintaining a secure Bitcoin Cash blockchain is made possible by regular network upgrades to satisfy demand.
Bitcoin Cash is referred to as a "hard fork" in the cryptocurrency community. Not everyone on the original Bitcoin network agreed to a set of upgrades to the blockchain, which led to the creation of an offshoot currency in the process. Bitcoin Gold and Bitcoin Diamond are two further instances of Bitcoin hard forks. Hard forks often don't operate well with the original software, and upgrades are required to ensure a smooth transition.
Litecoin (LTC)
Litecoin is the silver if Bitcoin is the gold. Almost all of LTC's technology is based on Bitcoin. Litecoin, on the other hand, has made it a priority to provide low transaction costs. 
Because it has a transaction speed four times faster than Bitcoin's, investors are drawn to this cryptocurrency.
Bitcoin (BTC)
Bitcoin is the most valuable and widely used on the market today. For newbies in the crypto realm, it is one of the best investments because of its high acceptance rates. As the oldest and most established blockchain network, Bitcoin was built to facilitate the transfer of money. This is why it's so popular, but also why it's restricted in certain ways. The coin's current market value is over $665 billion.
To begin with, Satoshi Nakamoto created Bitcoin in 2008. To put it another way, Bitcoin is a decentralised, open-source ledger that does not have a single point of failure. The ledger is open source and can be accessed by anybody to view the transactions taking place. However, it is more difficult to determine who is responsible for these deals. Bitcoin is now valued at roughly $42,500.
Conclusion
One of the most pivotal years in the history of so-called "altcoins" happened in 2021. People may now invest in individual currencies and blockchains without the requirement for Bitcoin as an intermediary, thanks to the development of crypto infrastructure over the last several months. Solana and Terra rose by 11,000 and 12,000 per cent last year, whilst Bitcoin only regained around 60% of its value last year. Other cryptocurrencies, such as Litecoin and Bitcoin Cash, have also seen gains in the twenties and thirties.
An industry that is still battling for popular awareness has reached an important turning point with this change from brand name to particular value and processes.